'With Punjab and Kashmir in flames, it would not have been politically wise to alienate the West.'
'It would have inclined Western countries towards Pakistan.'
'It would have been a self-goal.'
A revealing excerpt from Debashish Mukerji's The Disruptor: How Vishwanath Pratap Singh Shook India.
VP's first external crisis was the threat of war with Pakistan — a spin-off from the Kashmir upsurge.
Through most of the 1980s — and despite Pakistan's covert support for the Khalistan movement in Punjab — India-Pakistan relations had been placid, but with the cry for azaadi (freedom) starting to resound in the Kashmir Valley in 1989, Pakistan again began considering if an armed attack could enable it to annex the state.
Just as India had done with its Operation Brasstacks exactly three years ago, Pakistan, too, conducted its biggest-ever military exercise close to the India- Pakistan border in December 1989.
But its intention, unlike India's earlier, was not innocent — its army did not withdraw to former positions after the exercise ended. As VP explained, 'Instead of returning to their barracks, the Pakistani army began digging trenches and dumping top-grade ammunition in them.'
'This is done only if an army is preparing for war, because ammunition left exposed to the elements starts losing its potency.'
'Its air force began strengthening its radars close to the border, increasing its sorties near the border and improving its airfields there. It was all a bit too much.'
Further evidence of Pakistan's fresh designs on Kashmir came the following month, when Pakistani Foreign Minister Sahibzada Yaqub Ali Khan arrived in Delhi, ostensibly to discuss matters related to the South Asian Association for Regional Cooperation, of which both India and Pakistan were members.
But his attitude during his meetings clearly showed he had confrontation, not cooperation, in mind.
Hailing from Rampur in UP and related to former President Fakhruddin Ali Ahmed's wife, Yaqub Khan was an old friend of I K Gujral's, but this time, Gujral remembered that he 'avoided looking into my eyes while delivering the message that … the situation in Kashmir was "risky and could lead to perilous consequences"'.
Gujral added in his memoirs, 'He did not use words such as "ultimatum" or "war", but the tone of the hard message was clearly to that effect.'
Gujral sought to remain diplomatic, but eventually had to be blunt.
'I hope you realise and appreciate that my pleas for peace are not out of weakness,' he said.
'Do not under-estimate the strength and tenacity of the Indian state.'
Unmoved, Yaqub Khan, at a later meeting with VP, repeated his threat.
Soon after, Pakistan Prime Minister Benazir Bhutto — in power since December 1988, after her party won the first election held in Pakistan in eleven years after the death of Zia-ul Haq in a plane crash in August — began holding meetings all over her country, reiterating the Kashmiri right to self-determination and Pakistan's determination to fight for it, if required, for a thousand years.
VP — who also held the defence portfolio — and Gujral decided that demonstrating India's superior military numbers would be the best means to check Pakistani recklessness.
If Pakistan was amassing troops at the border, so could India.
'We assessed that as long as the ice was frozen on the passes in Kashmir, Pakistan would not be able to attack,' said VP.
'That gave us about forty-five days to two months' time.
Following the Tamil insurgency in Sri Lanka, led by the Liberation Tigers of Tamil Eelam (LTTE), which broke out in 1983, Rajiv had sent Indian troops to help the Sri Lankan government quell it.
But the move proved extremely controversial, as the Sri Lankan populace resented the Indian presence, more so because India was said to have trained the LTTE in guerrilla combat in the first place.
Towards the end of his tenure, Rajiv had begun to withdraw the Indian Peace Keeping Force (IPKF), but the process had not been completed when the government in India changed.
VP sped up the departure, with the last troops leaving Trincomalee in Sri Lanka by ship on 24 March 1990, well before the deadline, and rushed them all to the India-Pakistan border
A great many troops were also deployed on the eastern border with China, following the border dispute that had led to the India- China war in 1962.
VP and Gujral, working through the Chinese embassy in Delhi, suggested that deployment on both sides of the border could be reduced.
'We started a dialogue with China,' said VP. As it progressed, the then Chinese Foreign Minister Qian Qichen visited India in March 1990. VP added, 'I said to him, 'Look, you have no intention of attacking us and neither have we any of fighting you, so why have we amassed so many soldiers at the border? We can keep up our patrolling strength, but let us withdraw the rest of the troops.' He agreed. It was a major breakthrough.
Four divisions were promptly moved from the eastern to the western border — three to Kashmir and one to Punjab.
By then, the US, too, was worried about the rising tension on the India-Pakistan border, particularly because it knew — though neither India nor Pakistan had acknowledged it yet — that both were already nuclear-capable.
Its fears had been reinforced when VP inducted Raja Ramanna, former director of the Bhabha Atomic Research Centre and the key person behind India's successful testing of a small nuclear device in May 1974 (and someone who had never been in politics before), as his minister of state for defence in January.
This stemmed entirely from VP's admiration for physicists — he had once aspired to be one himself — but the US was not to know that. (VP included another physicist too, also apolitical, in his cabinet — M G K Menon, former director of the Tata Institute of Fundamental Research, as minister of state for science and technology.)
VP acknowledged later that India could have officially gone nuclear during his tenure but that he decided against it.
'Our scientists told me, "We can conduct an explosion any time, we just need a signal from you,"' he said.
'But I realized it would needlessly attract sanctions from Western countries. With Punjab and Kashmir in flames, it would not have been politically wise to alienate the West. It would have inclined Western countries towards Pakistan. It would have been a self-goal.'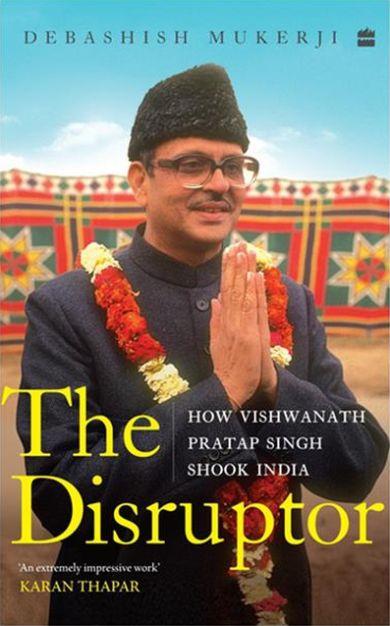 US President George H W Bush Sr (who had succeeded Ronald Reagan) sent Robert Gates, then his deputy national security adviser, to both India and Pakistan in May 1990 to talk them out of starting a fight.
VP assured Gates that India would never do so, but would defend itself robustly if attacked. He said, 'I pointed out to the US delegation that we had been to war with China too and believed China was still occupying our territory, but our relations with China were improving, while those with Pakistan were not.'
'It was because China did not interfere in our internal matters, while Pakistan was encouraging terrorism in India.'
'If my neighbour keeps stoning my house, I'll repair the damage and take it quietly for a while, but one day I might pick up a stone or two and hurl them back.'
Gates went to Islamabad next — though Benazir Bhutto was away, still inciting anti-India sentiment across her country — and told Pakistani President Ghulam Ishaq Khan that every US military analysis had shown that if an India-Pakistan war occurred, India would win.
That warning, coupled with the size of the army India had amassed near Pakistan's border, convinced Pakistan to restrain its aggressive impulse.
Excerpted from The Disruptor: How Vishwanath Pratap Singh Shook India by Debashish Mukerji, with the kind permission of the publishers, HarperCollins India.
Feature Presentation: Aslam Hunani/Rediff.com
Source: Read Full Article