Ever wondered why Hrishikesh Mukherjee's 1973 musical Abhimaan, the story of two singers who happened to be married to one another, has three voices singing for Amitabh Bachchan, but only one voice, Lata Mangeshkar, for Jaya Bachchan?
Here is the inside story.
Kishore Kumar recorded two songs for Composer Sachin Dev Burman: Meet Na Mila and Tere Mere Milan Ki Yeh Raina.
At this point, the singer came to know that Abhimaan was based on his own troubled marriage with the supremely talented Ruma Guha Thakurta, who was herself a wonderful singer. Amit Kumar is her and Kishore Kumar's son,
He decided to stop recording for Abhimaan so Burmanda had to record two duets in other voices — Teri Bindiya Re in Mohammed Rafi's voice and Loote Koi Mann Ka Dagar in Manhar Udhas's voice.
Speaking to Subhash K Jha many years ago, Hrishikesh Mukherjee had said, "It is true that the film was based on the singer Ruma Guha Thakurta's marriage. It was Lata all the way for the songs for Jaya. And what a magnificent job Lata did in Abhimaan!
"Piya Bina Piya Bina, Abb Toh Hai Tumse Har Khushi Apni, Nadiya Kinare, Loote Koi Maan Ka Dagar, Tere Mere Milan and Teri Bindiya Re. Each a everlasting gem!" Hrishida exclaimed.
"Do you know Lata did not charge a single penny for my songs? When I would insist, she would protest, 'Dada, aapse kya paisa lena??'"
What about the variation in the male voice brought about by Kishore Kumar's protest?
"It didn't matter," said Hrishida. "Once I had Lata, everything fell into place."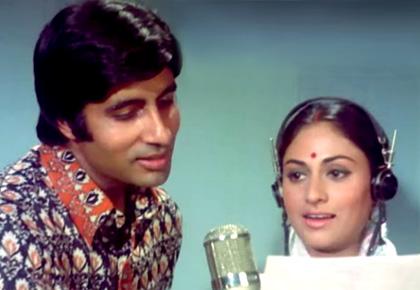 Source: Read Full Article