'This has been both challenging and inspiring for me.'
Videos: Afsar Dayatar/Rediff.com. Reportage: Mohnish Singh.
"After this series, and in times to come, we will see a lot of firsts, just the way I am starting out on the Web," Ajay Devgn says at the launch of his debut OTT show Rudra: The Edge of Darkness.
The six-episode series, helmed by Rajesh Mapuskar, is the official adaptation of the well-received British series Luther (which starred the iconic Idris Elba as the complicated London detective John Luther) and also features Raashii Khanna, Esha Deol, Atul Kulkarni, Ashwini Kalsekar and Ashish Vidyarthi in significant roles.
When a show is adapted from a hit international show, comparisons between the original and the remake are inevitable. But Ajay believes the Indian audience might find Rudra better than Luther.
"If I were to compare our show with Luther, I would say that you could find the action better. But in its Indianisation, we have added drama, thrills and twists."
"My character is possibly the greyest character you may have witnessed," he adds.
"This has been both challenging and inspiring for me, and I am delighted to share the magic of Rudra with my fans across the world. I hope they fall in love with the show as intensely as we have worked towards the making of it."
When asked what was the biggest challenge in playing DCP Rudraveer 'Rudra' Singh, Ajay replies, "Every day is a challenge for every actor. I wondered if I will be able to pull off that day's work, and that nervousness keeps me going. I am not one to spend days or weeks preparing for a role or living the character. I prefer to retain my sanity!"
Produced by Applause Entertainment, Rudra: The Edge of Darkness begins streaming on Disney+ Hotstar from March 4 in Hindi, Marathi, Tamil, Telugu, Kannada, Malayalam, and Bengali.
"Rudra has the mind of a criminal, and one has to think like one to solve cases. But in real life, cops know better otherwise I would have been one!" Devgan says, drawing laughs from the media.
So what was his biggest challenge on the show? He tells us here:
Esha Deol makes a comeback to acting with Rudra, and she says us why she took it up.
"After having two babies, there was an urge to come back and be in front of the camera. Rudra was a perfect set-up with some amazing cast members and a brilliant story," says Esha.
Raashii Khanna plays a role that is 'nowhere close' to what she is like in real life.
The actress says she was very scared because "a lot of people were convinced I was crazy!" It is likely Raashi is playing the character in Luther that brought British actress Ruth Wilson acclaim.
Ashwini Kalsekar calls Ajay Devgn a 'dil ka raja' and can't help but heap praise on him.
"People fondly call him boss, but he was calling me 'boss' on the show. That made me nervous," she says with a laugh.
Atul Kulkarni insists that something like this has never been attempted before, and he explains why.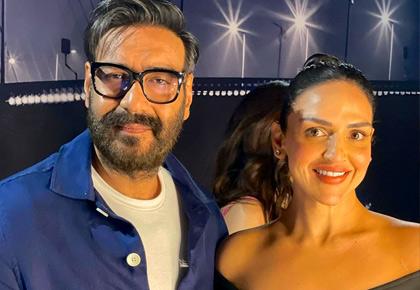 Source: Read Full Article