New Zealand opened the ninth Women's World Cup with a shock win against former champions Norway on Thursday, after a shooting near the Norwegian team hotel in the country's largest city of Auckland that left three dead and six injured.
Police said the shooter was among those killed and the danger from the incident was over, while New Zealand Prime Minister Chris Hipkins said there was no risk to national security.
After an opening ceremony celebrating traditional Maori culture including the famous Haka war dance, a stunning goal from Hannah Wilkinson at Eden Park was the difference in the 1-0 victory over Norway.
The crowd of 42,137 bested the host nation's previous record for an international soccer match.
Authorities deployed extra police and security outside the stadium following the shooting.
"Seeing the heavier police presence, I feel a lot safer now knowing that they're watching out," said Isabella Beeortegui, a 22-year-old student attending the opening ceremony.
"I'm so excited. The energy is crazy. Everyone looks like they're super stoked to be here."
A statement from football's governing body FIFA said it was supporting teams in the vicinity of the incident.
"FIFA has been informed that this was an isolated incident that was not related to football operations and the opening match tonight at Eden Park will proceed as planned," the statement said.
A fan park in the city will remain closed on Thursday, organisers said.
"Everyone woke up pretty quickly when the helicopter hovered outside the hotel window and a large number of emergency vehicles arrived – at first we didn't know what was going on, but eventually there were updates on TV and the local media," Norway captain Maren Mjelde was quoted as saying by newspaper Verdens Gang.
Co-hosts Australia, known as the Matildas, will begin their campaign against the Republic of Ireland at 1000 GMT in front of a sellout crowd of around 70,000 fans at Stadium Australia in Sydney – a record attendance for a women's soccer match in the country.
Women were banned from official facilities in England, the home of the game, until 1970, and female players faced similar discrimination in many other countries.
But the sport has achieved greater prominence in recent years, with large increases in female players and spectators globally.
Tracey Taylor, a professor of sports management at RMIT University in Melbourne, said many members of grassroots football clubs expected the tournament to have a transformative effect for participation in women's sport in Australia.
"They say it's such a game changer for them in positioning the sport, not only globally, but also within the local community and raising awareness," she said.
Still, conditions for female footballers still remain well behind those for men in many countries.
The Matildas released a video this week criticising the "disrespect" for the women's game that forced teams to play on artificial pitches in the 2015 tournament and prize money that still lags the men's World Cup.
Several participating nations, including tournament heavyweights England and Spain, have been in dispute with their administrators over working conditions and pay in recent months.
DEMAND DOWN UNDER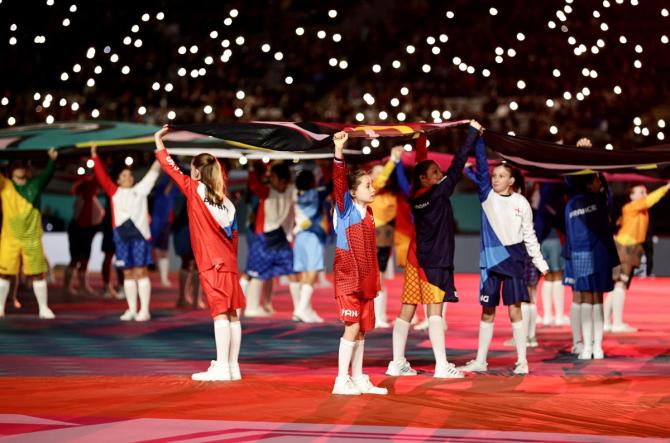 Players like talismanic striker Sam Kerr are household names in sport-mad Australia, with tickets for matches involving the home nation selling out months in advance.
"I'm sure that the whole of Australia will be behind the team tonight," Prime Minister Anthony Albanese said in a radio interview with state broadcaster ABC on Thursday.
"I think that Australians are really realising just how big this event is."
In New Zealand, whose sporting culture is dominated by rugby union and its famous All Blacks, demand has been lower, with tickets remaining for many fixtures.
Fatma Samoura, FIFA's Secretary-General, said tickets sold had already exceeded the total number sold for the last tournament in France, but sales in New Zealand had lagged its much larger neighbour.
"We know that Kiwis are late ticket purchasers when it comes to tournaments that are played on their shores," she told a news conference in Auckland on Wednesday.
"We still have tickets available for some matches. So my only plea is don't wait until the last moment."
New Zealand Sports Minister Grant Robertson on Wednesday urged Kiwis to purchase what he said were "limited" remaining tickets for the opening match.
"It's a once-in-a-lifetime opportunity for many New Zealanders to experience a top-tier FIFA World Cup event," he said.
Source: Read Full Article