'When I was in Shrirampur I thought I would make it to the Indian team. There were a series of events that happened, and even if one link was missing, I don't think I would be here.'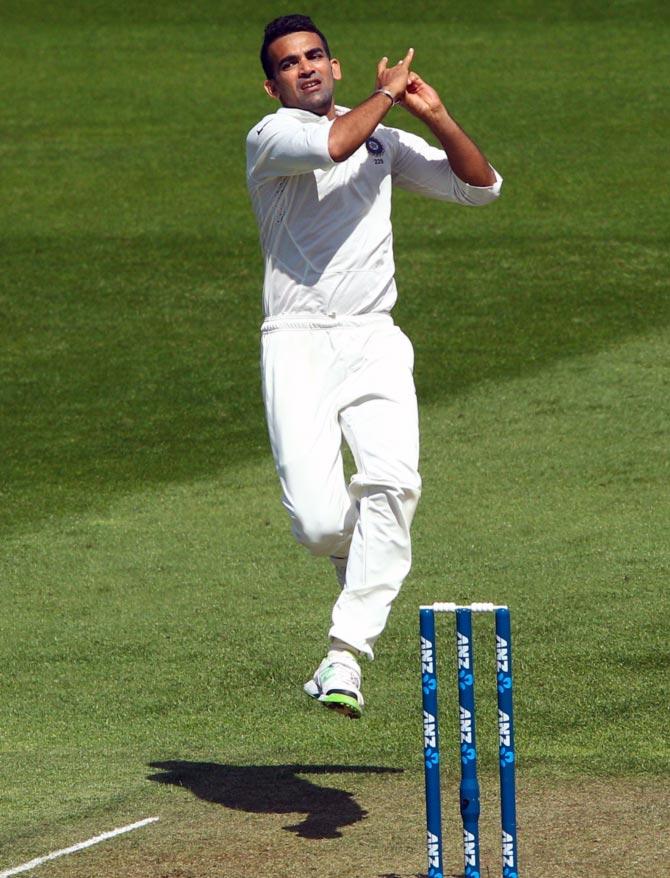 Zaheer Khan, arguably India's finest fast bowler in the new century, called time on his international career on Thursday, October 15, eight days after he turned 37.
With 311 Test wickets — he also had 282 One-Day International scalps — 'Zak' is India's second-most successful fast bowler, after the legendary Kapil Dev, who took 434 Test wickets.
Dogged by injury throughout his playing days, the left-armer came back stronger every time. Few can forget his inspired return to the Indian team after a dream spell with the English county side Worcestershire in 2005.
Zak was a key player in India's 2011 World Cup-winning campaign, claiming 21 wickets in the tournament. In the process, he made amends for that horrific 2003 final against Australia, when Ricky Ponting went after him.
A spate of injuries meant he was unable to return to the Indian team in the last year-and-a-half.
In his final Test — the second game against New Zealand in February 2014 — he claimed 5/170, his 11th five-wicket haul in Tests.
Soon after announcing his retirement, 'Zak the Ripper' — who we may see playing in buddy Sachin Tendulkar's All-Star League — spoke to Harish Kotian/Rediff.com about why he has hung up his boots.
In your retirement speech, which you put up on social media, you said the shoulder may not last the rigours of bowling 18 overs a day. Did you attempt a comeback at the start of this domestic season? When did it dawn on you that it was time to retire?
I was preparing for the season. In that process somewhere I was thinking what exactly I wanted; somewhere along the line that decision came.
How tough was it to finally give up cricket?
It was tougher than I thought. For any cricketer it is the toughest decision that you have take.
You always think that one last push is there and, especially with me, knowing that Zak is back can happen, I was thinking I can give that push.
Somewhere when I was preparing for the season I realised that this is the right time to walk away from international cricket.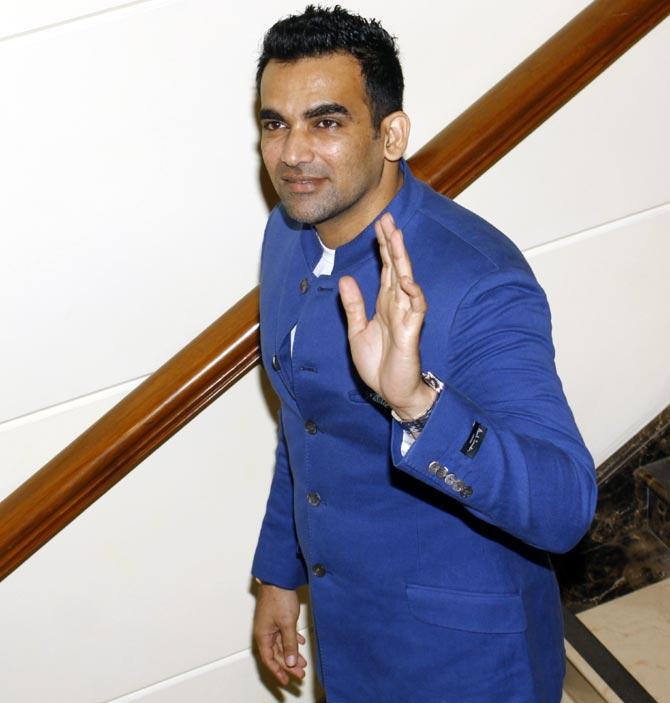 How would you describe your journey in cricket?
It was a special journey. When I was in Shrirampur I thought I would make it to the Indian team. There were a series of events that happened and even if one link was missing, I don't think I would be here. So, leading up to international cricket, that journey was very critical.
It started in 1996 when I came to the National Cricket Club. I remember Sudhir Naik (the former India Test cricketer) telling me to take up cricket seriously, even (Vidya) Paradkar working on my bowling. Then going to the MRF Pace Foundation and working with Dennis Lillee and T A Sekar and getting exposed to fitness training and stuff. Physios, trainers, everyone has played their part.
From Chennai I landed up in Baroda to make my Ranji Trophy debut. From Shrirampur I have gone many places to get to the Indian team; that is why it is special and that is what I am proud of.
Do you think injuries shortened your career?
Not really. I think I have done well with all of it. That's one thing I feel proud of. Whatever things have been thrown at me, and the different situations I have been dealing with, I have dealt well with it.
I have always looked at the learning curve. Every experience has changed me as a person in a better way.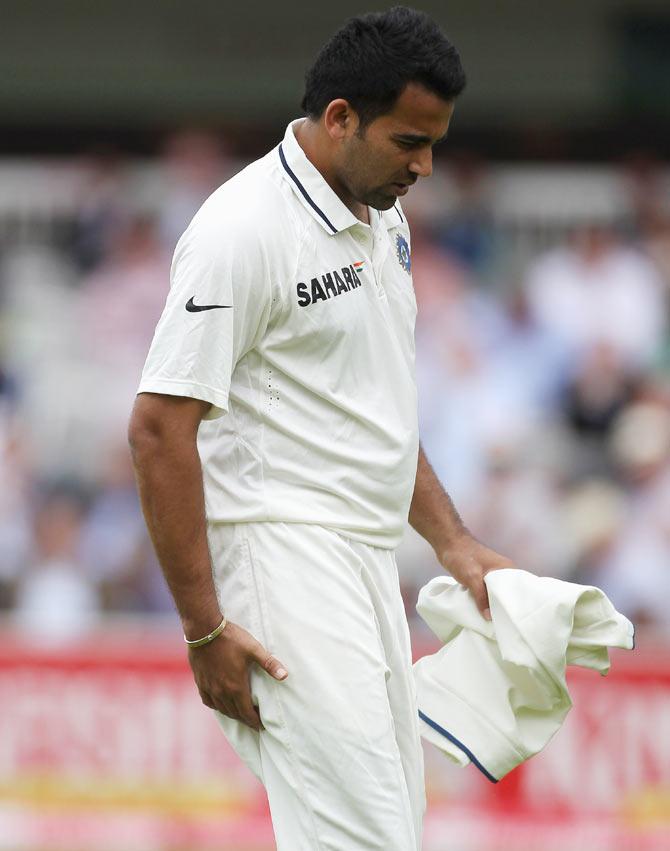 Did you consult your former team mates, your coaches, your friends, before you made the decision?
The decision was made; after that I spoke to everyone. I did meet Sachin (Tendulkar). I had a good word with Ashish Nehra, Ajit Agarkar, with all my coaches, Sudhir Naik Sir, T A Sekhar as well. They were also happy.
Everyone whom I spoke to was talking about the journey as the highlight. It was a wonderful journey they said.
You were a different kind of fast bowler, one who believed that you needed to play continuously to keep your rhythm going. In hindsight, do you think it would have been better had you rested your body and played selectively?
Not really. As I said, I am very happy with the whole journey. I am very proud of the fact that I achieved what I achieved.
I started a long way back in 1996 and today it is 2015. So it has been a good two decade-long journey which I am happy and proud of.
You made your India debut in 2000 and played 92 Tests and 200 ODIs. Would you say you played with one of the best batting teams of our generation, featuring Sachin Tendulkar, Rahul Dravid, V V S Laxman, Sourav Ganguly and Virender Sehwag?
We were winning quite consistently and we were winning overseas too. You could achieve it if you had a good balance of batting and bowling. Anil Kumble and Harbhajan (Singh) playing together and having such a huge batting line-up was a great plus. That is why you see the results which we got during that time.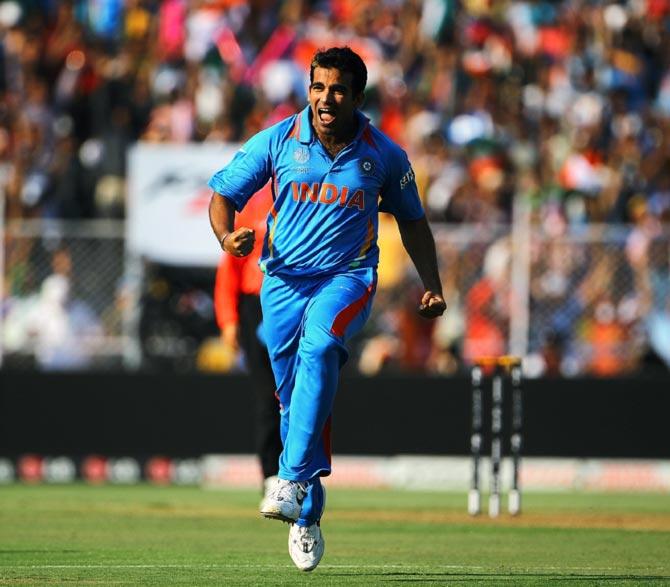 Was the stint at Worcestershire in 2005 the turning point in your career?
The stint at Worcestershire was a distinct point in my career. I wouldn't put it as a turning point, but it was great for my career in terms of bowling that many overs, in terms of playing in those conditions, working out what exactly I wanted to do.
I wanted to cut short my run-up, but I was not finding time. The best practice is match practice, so I got the opportunity there to work on my bowling skills, which helped me in the latter part following the stint at Worcestershire.
The stint kind of helped me become a more attacking bowler, I would say in terms of exploiting a batsman's weaknesses.
Were you were a changed bowler after that stint?
I was enjoying the game. I would say that's what the stint at Worcestershire taught me, maybe. I was there just playing cricket and enjoying the game. I just kind of continued with that mindset from thereon.
How big a change was it for you cutting down on your bowling run-up? Did it actually make you a better bowler in the second half of your career?
It did help in achieving more control on swing, on deliveries, on line and length; with that regard it made a huge difference.
My run-up was not really (suiting) the style of my bowling. It didn't require that long a run-up. So that's why it worked in my favour.
I was more in control. Because I was more in control, my control over line and length was better.
Sachin Tendulkar says you had the ability to out-think batsmen. How did you plan your bowling? Did you watch a lot of videos or work with your coaches?
Not really. As I was in the game I kind of worked it out. As I was playing more and more games I started understanding situations better. I was also helping youngsters in the team understand things and speed up their process of understanding.
The way I approached my bowling was getting it in the right areas and keeping asking questions. So I know if this is the weakness (of a particular batsman) I would keep bowling there or bowling according to the situation.
So if there was a partnership happening and they (the opposition) was coming hard at us, I would come up with a plan to restrict them. That itself is a victory in that particular phase of that game and I would approach it that way.
You said before that fast bowling is strenuous and you have to bowl with niggles all the time. Can a fast bowler ever be pain-free?
It is part and parcel of the game. You just have to take things in your stride and move forward. That is what I have done in my career.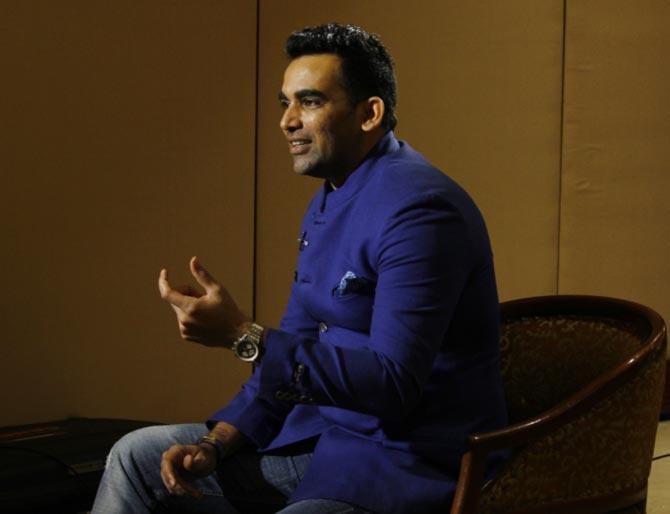 How did you develop and master reverse swing?
In Indian conditions, I would say most of the time the ball would reverse. If you are not able to hide it — and there is a particular way in which you release the ball — you are able to get the maximum out of it. If you don't do that, you are not going to get it.
I started hiding the ball and it just happened to me. I cannot really pinpoint how it happened. I started running in, with the ball in my other hand, trying to hide it, but in that it just kind of amplified the effect of reverse swing.
You mentioned that winning the 2011 World Cup was the highlight of your career. Can you take us through it?
I was very disappointed in 2003 (the World Cup final against Australia) and it was a good learning. After the national anthem (in the final against Australia) everyone was so charged up and I was about to bowl.
That didn't help because I was acting out of character and that is not my natural way of approaching. I didn't go after the batsmen and in the process I lost control and it was hard to get back.
That experience did help me in 2011. When we were standing for the national anthem I was kind of zoned out and we happened to bowl again.
The night before, I was saying to myself that I have worked hard enough, I am getting a second opportunity at this and I know what to do.
So I looked at it as an experience which is going to help me better than the pressure of not doing well in 2003.
After winning the Pakistan semi-final in Mohali we did celebrate our win, but we were very aware that we have to play the final in two days' time. We were very clear that we would mingle with people, but we would not relax.
I remember it was a very hot day in Mumbai and the conditions were very tough. I am glad that we could win the match so easily.
Was the failure at the 2007 World Cup one of the worst experiences of your career?
It was tough. Everyone was planning the next thing, but we had to come back early. It was a tough couple of weeks.
How would you want to be remembered?
I think, as someone who just kept trying and never gave up. That is how I look at myself and the approach I carried on the field every time.
Source: Read Full Article