'I asked him why were he and other writers being targeted.'
'I saw his point of view, that he and others being writers, their work was popular and well-appreciated by people, especially the youth.'
'This made the State fear them.'
P Hemalatha, 74, is more comfortable speaking in Telugu and can converse in simple Hindi.
She met Neeta Kolhatkar outdoors, while we were on a video-call with N Venugopal, her younger brother and the nephew of Telugu poet Professor Varavara Rao, also called as VV.
VV was charged under the UAPA in the Bhima-Koregaon case.
Initially, he was placed under house arrest and later, on November 17, 2018, he was arrested and brought to Pune.
Hemalatha, who comes across as a silent supporter of her husband, is also a fighter.
She accepted VV's proposal when she was in her teens, completed her education till Class 10 and then settled into family life.
Initially, this naive young girl knew her husband as a romantic poet and one who wrote on general issues.
As VV got influenced by the Naxalbari movement, he began to include Hemalatha in the activities, explaining the concept of social justice to her and between 1973-1974, she became the editor, publisher and printer of Srujana, which means creativity.
It was a progressive magazine started by VV. At quite an early stage in life, Hemalatha got to learn of prisons and court procedures.
In fact, she too was charged under sedition for publishing a few poems and writing an editorial on the Railway strike of May 1974, which was called by George Fernandes.
Today, she lives with her husband in the distant suburbs of Mumbai, after the Supreme Court granted VV bail on medical grounds, on August 9, 2022. (This was originally granted by Bombay high court for six months; later, the Supreme Court made it permanent).
Since then, they have moved four houses and are still struggling to adjust in this unfamiliar city.
Hemalatha, who has travelled from Warangal to Hyderabad to meet her husband in jails and courts in the former Andhra Pradesh that included Telangana, now finds herself at sea in Mumbai.
N Venugopal, who has written The Making of Varavara Rao, An Intimate Portrait by a Nephew, is also a poet and journalist.
Currently, he is the editor of the Hyderabad-based Veekshanam, a Telugu monthly journal of political economy and society.
He has written 25 books in Telugu and translated as many other books.
The first of a multi-part interview:
Hemalatha, how were the early days of your marriage? Were you aware of your husband's leanings?
Hemalatha: In 1970, he was one of the founder members of the Krantikari Lekhak Sangh — Revolutionary Writers Association — called Virasam in Telugu, an acronym of Viplava Rachayitala Sangham.
When we married, he wasn't influenced by Leftist ideology.
His family was mainly Congress. He wrote progressive poetry and also wrote romantic poems.
In 1966, VV founded a group called Saahithee Mithrulu (Friends of Literature), which started a literary journal called Srujana.
It was published until 1992, for 26 years. Initially, it was a quarterly, but from 1971, it became a monthly.
It was a Telugu magazine for modern literature and went on to become the unofficial voice of the revolutionary literary and cultural movement.
In 1966, there was a Cultural Revolution in China and this had a huge impact on the youth in Bengal, Andhra Pradesh and other states.
This was a turning point in VV's life. He was first arrested in October 1973, for his writings He was in jail for 36 days under MISA (the Maintenance of Internal Security Act, 1971. It was repealed by the Janata Party government in 1977).
I was allowed to meet him twice a week and they would let us sit at a table face-to-face, in the jailer's room.
Hemalatha, were you shocked the first time VV was arrested? Did this arrest prepare you for the eventual reality that your husband would be jailed many times thereafter?
Hemalatha: Prior to his arrest, in 1970, the superintendent of police called him and interrogated him for over two hours.
They asked him why he had named the Revolutionary Writers Association Viplava.
VV tried to explain how the name exists in literature and he hadn't conceptualised it.
That interrogation shook me a little, but I began to understand, VV had started supporting the Naxalbari movement intellectually and in his writings.
Now, this incident of 1970 is not isolated, police surveillance started from then and continues to this day.
In 1973, he was arrested under MISA for 36 days. We had two daughters, eight years old and five years.
My parents were there for us and we also received support from friends and his colleagues at college.
It did sort of prepared me, but there always was little fear — how are the conditions inside the prison? He should be treated as a political prisoner and not as a criminal.
We were allowed to meet him every week.
It was good he was kept in Warangal jail, as people knew about us.
People know of VV and his work, so we have a lot of sympathy.
In fact, when he was released, there was a huge procession.
It was fascinating to witness that moment. It boosted my morale that we were not alone, but had the support of many people.
One important development took place at this time. Till his arrest, VV was the publisher, editor and printer of Srujana.
Along with him two other writers — Cherabanda Raju and M T Khan (executive committee members of Virasam) — too were arrested and the November 1973 issue was to be published.
The entire focus of this issue was on these arrests. This meant, we needed to replace the publisher.
I approached the district collector because he was the district magistrate and could give me the permission to publish.
I told VV I would take on the responsibility. From November 1973 onwards, till 1992, I remained the editor, publisher and printer of Srujana.
I had taken on the responsibility of publishing Srujana while he was in jail because I felt it was my moral responsibility.
My association with Srujana literally started with VV's first arrest and it happened officially.
I got more involved and interested and I began participate in his activities after May 1974.
I took on the responsibility of calling and conducting the meetings of Sahiti Mitrulu, Friends of Literature as they contributed regularly, even after VV came out of jail.
We would meet and discuss ideas, which I would share with VV.
Besides those who were already working with VV, three radical students from REC (the Regional Engineering College), Warangal, were almost engrossed in building a bond of attachment with the new revolutionary literary cultural wave, which I started carrying with me.
This could have been the reason why I may have been implicated in the May 1974 case.
Venugopal: Prior to his arrest on October 10, 1973, there was a three-day conference of Virasam.
The mood in Warangal was euphoric and Hemalatha saw it closely. She learnt more about Naxal politics and the Naxalbari movement at this conference.
Now, two days after this conference, VV was arrested. So it was a bit of a shock initially.
Till his arrest, VV was the publisher, editor and printer of Srujana and the next month's issue was slated to be published.
That's when Hemalatha stepped into his shoes. This also marks her entry into politics.
Our family took it well in their stride. My father was a strictly religious person and when he learnt of VV's arrest he told us, even Lord Krishna was born in jail, that's how life is.
Since then, my father would stand surety and get bail for VV. The whole family has always supported him.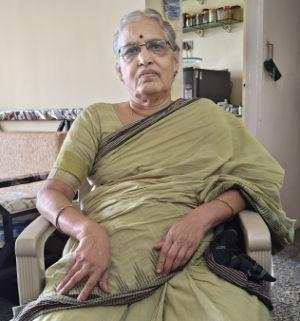 How different was the 1974 Secunderabad Conspiracy Case to the 1973 case? How was he treated? Also, the charges he was put under were far more severe.
Hemalatha: There was a lot of difference. In 1973, he was put away under MISA. Here, he was a political prisoner and the background was totally different.
Earlier too, he was in the Telangana statehood movement, in 1968, 1969 and in 1972.
Before 1973, VV was the founding faculty of Telugu literature at the Chanda Kanthaiah Memorial College, where he later went onto become the principal.
That got him a lot of prestige. I could go to the jail and meet him because there is a lot of social status even inside jail for the principal of a degree college.
The 36 days in jail made him a star overnight. By this time, I had taken the role of Srujana to heart.
The difference in this case was it involved conspiracy against the government by CPML party leaders, Naxal workers and six writers.
However, the chargesheet said: K G Satyamurthy and Varavara Rao and Others versus State.
Later on, in the telephone directory too, it was written as Revolutionary Writers Association vs State.
This case went on till 1989. They wanted to implicate the writers in a conspiracy case.
Naxal leaders had gone underground.
I asked him then, why were he and other writers being targeted. I saw his point of view, that he and others being writers, their work was popular and well-appreciated by people, especially the youth. This made the State fear them.
Feature Presentation: Aslam Hunani/Rediff.com
Source: Read Full Article