Novak Djokovic used his experience to overcome American Ben Shelton 6-3, 6-2, 7-6(4) and reach his 10th US Open final at Arthur Ashe Stadium on Friday.
The 20-year-old Shelton had flummoxed opponents in New York with his big serve, but the 36-year-old second seed Serb harnessed his experience to neutralise a third-set surge from the young Shelton and advance.
Djokovic next faces the winner of the other semi-final, between top seed and defending champion Carlos Alcaraz and third seed Daniil Medvedev.
Already assured of returning to the top of the world rankings when they are updated after the tournament, Djokovic will continue the hunt for his 24th Grand Slam title to match Margaret Court's all-time singles record on Sunday.
"These are the kind of matches and occasions that I still thrive on, that still get me going," Djokovic said on court. "Trying to work as hard as the young guys."
Shelton handed Djokovic a break in the sixth game of the first set with a series of unforced errors, and the unseeded American was unable to convert his own break point chance in the ninth.
In the second set, Shelton's best weapon failed him as he helped Djokovic secure a break with a double fault in the fifth game and he dropped his racquet in frustration as he sent a forehand out to hand the Serb another break in the seventh.
Djokovic was competing in his 47th major semi-final while Shelton was appearing in his first and the difference in experience was apparent as the second seed broke Shelton with a fine forehand winner in the opening game of the third set.
But the American came to life late as he fended off a break point with a 143mph ace in the fifth game to a chorus of cheers from the home crowd.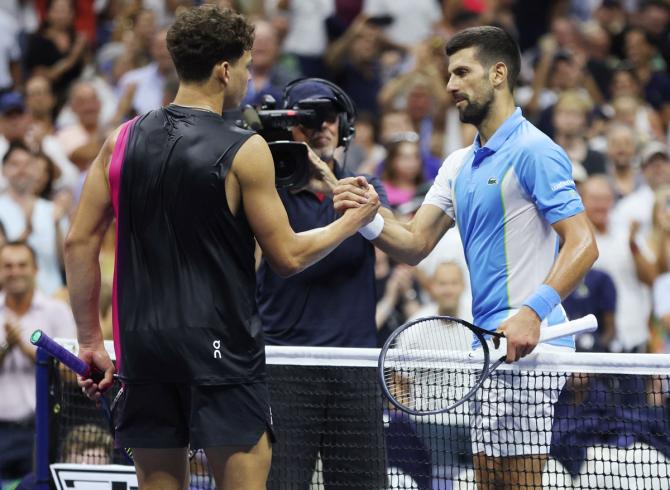 Playing in only his seventh US Open singles match, Shelton triumphed in a 30-shot rally before converting a break point in the eighth game, humbling Djokovic, who was appearing in his 100th singles match at the hardcourt major.
Djokovic broke again in the 11th game but could not stop the set from going into a tiebreak as he swatted one into the net to allow Shelton to break back in the 12th game.
The Serb forced Shelton into a forehand error on match point and made a not-so-subtle jab at the American's favoured celebration as he mimed hanging up the telephone while walking to the net.
"Got to hold the nerves and try to be composed in the moment," said Djokovic. "It was really anybody's game (at the end) of the third set."
Source: Read Full Article