Controversy reared its head on Thursday, October 12, 2023, during the World Cup 2023 match between Australia and South Africa in Lucknow — the culprit being technology this time.
Aussie all-rounder Marcus Stoinis was adjudged caught behind off a Kagiso Rabada delivery during the 18th over of Australia's unsuccessful chase of 312 after a review of the call by the on-field umpire, despite the batsman's bottom hand looking to be off the bat as the ball struck his glove.
Ultra Edge showed a spike, as the ball touched Stoinis's bottom hand.
Third Umpire Richard Kettleborough adjudged that although Stoinis's right glove was off the bat handle, it was in contact with the left one which was holding onto the bat. Television replays appeared to show a gap between the gloves.
'The hand's connected to his top hand, therefore in contact with the bat and we've got a clear spike,' Kettleborough said as he asked on-field Umpire Joel Wilson to reverse his original decision and give the batsman out.
A shocked Stoinis spoke with the on-field umpires before eventually leaving for the dugout.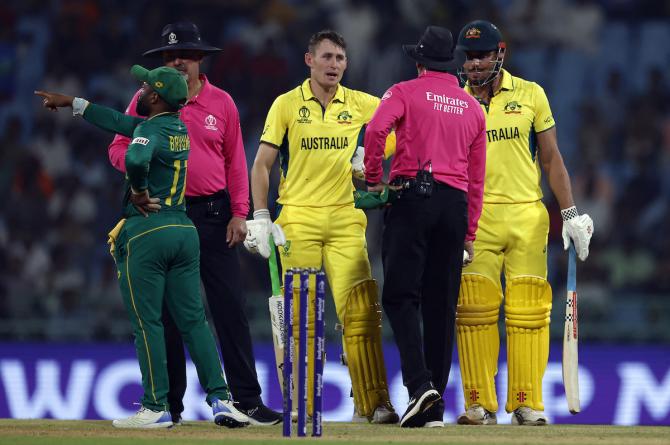 Batter Marnus Labuschagne, who was batting at the non-striker's end, said the team would seek an explanation from the ICC.
'You have got to accept the umpire's decision in these moments. I'm sure there will be some sort of explanation coming from the ICC around the dismissal,' Australia Coach Andrew McDonald said after the game.
'We will get clarity or will seek clarity because it's the World Cup,' Labuschagne said.
'The umpires really did not know what was going on. They saw what we saw so it wasn't too much going on. For me it looked on the field… his hand was off the bat, it hit the glove and because it didn't go to the side on angle Marcus and I were just asking have they checked.
'Because they just checked the spike from the front on. They didn't get the close up, zoom in of the side, that we had and that just looked like there was clear daylight between the two gloves and handle.
'But once again I have been in the third umpire's room and the screen is big, much clear than me watching from the middle in the pixelated screen.
'There was some talk that maybe it hit the handle of the bat. I don't know.'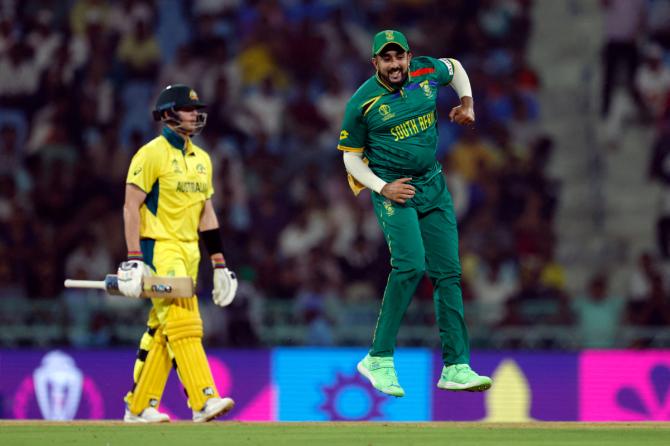 Steve Smith was also ruled out LBW after a South Africa review. As the ball hit Smith's pad, Rabada looked unsure, but Wicket-keeper Quinton de Kock insisted on appealing.
The on-field umpire was forced to change his decision after ball tracking the ball showed it was hitting the leg stump.
'It's hard to contest technology. There was potential that it was going outside leg, but technology had it hitting the stumps,' McDonald said.
'Any time Smith and Stoinis are there there's a chance. They are both quality players and given the opportunity, they would have taken the match closer.'
Source: Read Full Article