It was Groundhog Day for Barcelona at Old Trafford on Thursday as Manchester United fought back to earn a 2-1 win that knocked the Spanish side out of the Europa League, leaving the Catalans licking their wounds after another continental failure.
Last season they also ended up in the Europa League playoffs after finishing third in their Champions League group and were knocked out of Europe's second tier competition in the quarter-finals after a 3-2 loss to Eintracht Frankfurt at Camp Nou.
It was the first time since 1998-99 under Louis van Gaal that Barca failed to reach the Champions League knockout stages in two consecutive years and only the fifth occasion they have been eliminated in the group stage in the last three decades.
After a glorious run from 2005-15, winning four Champions League titles, Barcelona have failed to get past the last 16 in Europe's elite competition in the last three seasons after being humiliated 8-2 by Bayern Munich in the 2019-20 quarter-finals.
They have reached the semis only once since winning the Champions League in 2014-15.
Between disappointments, Barca fell into a financial crisis that was exacerbated by the COVID-19 pandemic.
Restricted by LaLiga's Financial Fair Play (FFP) rules, they were unable to re-sign club great Lionel Messi who left as a free agent for Paris St Germain in 2021.
Crashing out of Europe again is a dent to Barca's finances, whose perilous state led the club's board to sell a stake in their TV rights and agree the sale of their audio-visual division as part of several financial levers.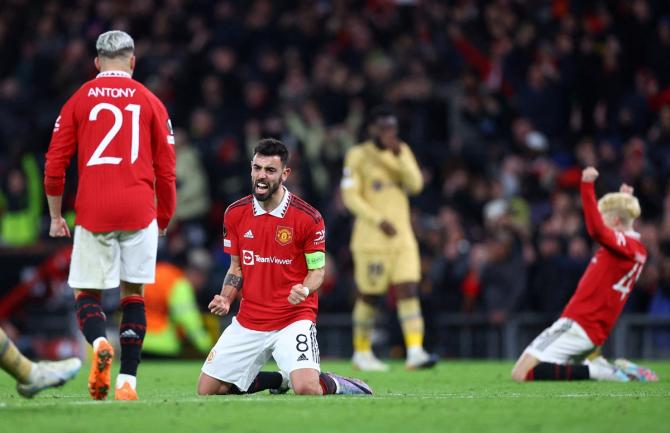 In this year's budget, Barcelona's board predicted that the team would reach the Champions League quarter-finals and win the LaLiga title.
It was a bold and over-optimistic view, with Barca now facing a huge blow to their 2022-23 income after exiting the Champions and Europa League.
This year should have been one of recovery as a revamped Barcelona side, spearheaded by new signing Robert Lewandowski, were expected to be heading in a new direction.
They are top of LaLiga with a lead of eight points over thir bitter rivals, Spanish and European champions Real Madrid.
However, their dreadful results in Europe have taken some of the shine off their domestic form.
"It's a big disappointment but I believe we were better this season than in the previous one, at least we showed up," Xavi told Movistar Plus after Thursday's loss to Manchester United.
"We played against top level clubs like Bayern Munich, Inter Milan (in the champions League) and now Manchester United and were not able to be up to their level.
"Now what is left to us is to be humble and self-evaluate on how we can be better to compete at the highest level in Europe next season."
Source: Read Full Article