'The book captures Rana Kapoor's hunger for real estate leading to bungalows in Delhi, Mumbai, London and other cities; the multiple companies — over 100 — to fund his family's various ventures; the attempt to game the system by showing lower non-performing assets,' notes Joydeep Ghosh.
A banker gone rogue, indifferent independent directors, a lax regulator — Pavan C Lall's Yes Man — brings all these corporate governance issues back in focus.
The book traces the tumultuous journey of YES Bank, and its promoter and former chairman Rana Kapoor.
But unlike Harshad Mehta, this is not a rags-to-riches story.
Instead, it is the reverse — in the end, Mr Kapoor did not have enough money to pay lawyers' fees.
What makes the book interesting is the initial few chapters, which brings out Mr Kapoor's zeal to make it big in a world of more professionally-qualified people.
Coming from an affluent family, he played snooker with Sunil Mittal who went to found telecommunications giant Bharti Airtel.
He studied economics at Shri Ram College of Commerce and then did an MBA from Rutgers, New Jersey.
Interestingly, he was given an opportunity to join Bank of America, Barakhamba Road branch, at a time when every other intern was an IIM-Ahmedabad graduate.
Word on the street, the author says, was that a few calls from Mr Kapoor's well-connected maternal uncle clinched the appointment.
In BankAm, reportedly mentored by the highly-respected and connected Vikram Talwar, Rana Kapoor rose to head the Delhi branch and NRI business — despite being a credit and marketing officer for just five years.
His career mantra: 'While he was driven to meet sales targets and achieve his personal targets, he could at times seem somewhat obsessed by a compulsion to keep pushing the limits when he was ahead…. If he was up, he would go for double or nothing. Triple or nothing. Quadruple or nothing.'
Things changed when Ambi Venkateswaran — a veteran in BankAm since 1975 — became head of India operations.
Initially, Mr Venkateswaran expected a young Mr Kapoor, who had ambitions to head India operations, to settle down.
Instead, Mr Kapoor, besides lending to small companies without following protocols, issued commitment letters worth over $2 billion to half-a-dozen large companies.
When the Reserve Bank of India called, Mr Kapoor was hauled up and he quit.
His next stop: Country head and general manager, ANZ Grindlays, which lasted till 2000, when ANZ sold its Grindlays banking subsidiaries to Standard Chartered.
YES Bank's beginnings were equally controversial.
The original idea came from Harkirat Singh, a Grindlay's veteran and first Indian to head Deutsche Bank in India, who roped in Ashok Kapur, a former colleague and veteran of several banks, including ABN AMRO, to work on the significant yet untapped potential opportunity in the food and agricultural sector.
Enter Rabobank, which wanted to get a bank licence, for a tie-up.
But things were delayed and a non-banking financial company (Rabo India Finance) was started, with a plan to become a bank.
Ashok Kapur introduced Rana Kapoor, his brother-in-law, working with Rabo India, to his partner without revealing their relationship.
The Kapur/Kapoor duo was keener on a corporate bank and investment bank — diametrically different from the earlier vision.
With some directors in Rabobank favouring the latter vision, Harkirat Singh exited.
What started as a three-promoter venture became a two-promoter bank in 2004.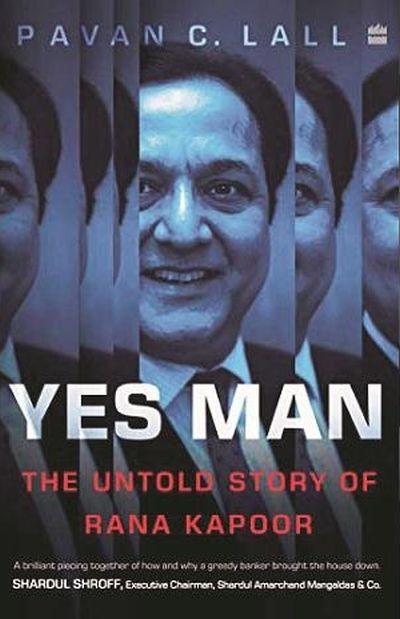 Things went downhill after Mr Kapur's death in the 2008 Mumbai terror attacks.
It was generally known that Mr Kapur, a hard-nosed but gentlemanly banker, was unhappy with his brother-in-law's style of operations.
But his death gave the latter a free hand.
From here, things grew ugly.
While growing the bank aggressively, Mr Kapoor tried every trick in the book to keep Ashok Kapur's daughter, Shagun Kapur Gogia, from joining the board.
He also tried declassifying Mr Kapur's holdings as promoters' shares.
Ms Gogia is a double major in economics and biology, from Tufts University, and an MBA (finance) from the Indian School of Business, Hyderabad.
She worked with ICICI Ventures and had set up Tuscan.
Worse still, when he met Ms Gogia and her mother Madhu Kapur, he started the conversation with 'Who the f#*k are you to be writing letters to me?' Before that, at a party in 2009, Mr Kapoor told Madhu: 'It was our 25th wedding anniversary last year, but that had to be cancelled because your husband died.'
At the same time, YES bank's board loaded up independent directors with no experience in the financial sector.
The rest of the book captures Rana Kapoor's hunger for real estate leading to bungalows in Delhi, Mumbai, London and other cities; the multiple companies — over 100 — to fund his family's various ventures; the spat with Rahul Bhatia (Indigo) over Gautam Thapar's property; the kick-back deals with Housing Development and Infrastructure Limited; and the attempt to game the system by showing lower non-performing assets.
The RBI, on its part, knew things weren't right for a while.
But it chose to let things sort themselves out, arguably for a bit too long.
But when companies –IL&FS, ADAG Group, Cox &Kings, DHFL, Jet Airways, Essel Group and others — fell within months, Mr Kapoor's days were numbered.
Ravneet Gill, the new MD and CEO tried to clean up the books, but the challenge was too daunting.
The bank fell. And the State Bank of India and others had to step in to bail out depositors.
In all, the author actively reports and tries to cover all the angles of the scam.
For the uninitiated, it is an interesting read.
Even for a veteran, the initial chapters can be quite revealing.
Minor complaint: It could have been shorter, say, around 160-odd pages.
Tailpiece: In 2008-2009, during the global financial crisis, Chanda Kochhar became the CEO and Managing Director, ICICI Bank, Rana Kapoor got a free hand to run YES Bank and Shikha Sharma became Managing Director of Axis Bank.
A decade later, all three were ousted. The former two over criminal charges, the latter for too aggressive lending practices.
Feature Presentation: Aslam Hunani/Rediff.com
Source: Read Full Article