The fours students have been served probation sentence and community service. Ritu Jha/Rediff.com reports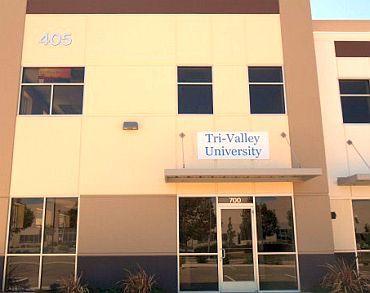 Former Tri Valley University students Vishal Dasa, Anji Reddy Dirisinala, Ramakrishna Reddy Karra and Tushar Tambe, who were facing federal criminal charges, have been spared of serving the one-year jail time. On July 11, the day of sentencing, they told US Magistrate Judge Kandis A Westmore at the federal courthouse in Oakland, California, that "they regret what they have done."
The four students were facing federal criminal charges for conspiracy to commit visa fraud and aiding and abetting the commission of visa fraud at TVU. They pleaded guilty pursuant to cooperation plea agreements on March 22 last year.
The students have been served probation sentence and community service.
Dasa was put on 30 days probation, Dirisinala just one day, Karra on six months and a $2,000 fine, and Tambe three-year probation and 200 hours of community service.
On January 18, 2011, when federal agents raided Tri-Valley University run by Susan Xiao-Ping Su, president and founder of the sham school. Out of the 1,760 students in the school, 98 per cent were from India. On March 25, the jury found Su guilty of 31 counts, all arising from Su's visa fraud scheme, wire fraud, mail fraud, conspiracy to commit visa fraud, use of a false document, false statements to a government agency, alien harbouring, unauthorised access to a government computer, and money laundering.
Susan Xiao-Ping Su's sentencing is scheduled for September 12.
Judge Westmore during the proceedings told Karra that he accepted the money knowing what he was doing. "It's a serious nature of offense," said Judge Westmore.
When Karra requested Judge Kandis to waive the fine and said, "I am sorry. I have suffered a lot stress and I am the only one to support the family." Judge said "your action in this scheme is a little troubling to me."
On May 7, 2011, Karra called at the ICE (Immigration and Customs Enforcement) telephone tip-line and identified himself as a student. He informed that the TVU president was issuing F-1 to students with unauthorised access to Student and Exchange Visitor Information System. On May 12, in an interview with the federal agent he informed of her misconduct and the university had a high ratio of Indian students.
Karra's defence attorney Ginny H K Walia, Ginny Walia Law Offices after the ruling told Rediff.com, "I am pleased with the judgment today. We have been fighting this battle for several years now. These students fell into Susan Su's trap and landed in a lot of legal trouble."
"Judge Westmore was very fair in her sentencing by not imposing any jail time," said Walia.
The students received a probation sentence for a guilty plea to one misdemeanour count. All felony charges were dismissed. Probation essentially is a conditional release that prohibits the defendant from violating any laws. An individual who is placed on probation must not break any state or federal laws during the period of probation.
Additionally, he must comply with all court orders. If one violates probation, the court has the power to impose jail time that the court did not impose in the first place. The court may also impose additional penalties such as extending the time of probation and fines.
"We fought the good fight on behalf of these students. Justice was served. I am quite pleased with the end result," Walia, who succeeded in reducing both probation timing from two years to six months and fine to half.
But Tambe's attorney Kenneth William McGuire, did not seem pleased with his client's probation period. He told Rediff.com, "I appreciate the judge for not giving him 12 months jail time as asked by the court. They were totally inappropriate. My client is ignorant and came from a different country and is not aware of the law. He is humble and is different from the rest of the defendants."
However, Tambe who is pursing his doctorate course in Business Administration from Lincoln University, California said, "I will manage." He was charged for knowingly and falsely making Form-I-20. He took transfer from Globe University, Minneapolis to TVU.
He told Judge Westmore, "I am extremely sorry. I did something wrong unknowingly. I am not bold or smart. I am in too much of stress and try to help myself. I feel like hostage and officers are hostile. I want to finish my studies and go back to India."
Dasa also charged for making false Form I-20 told judge, "I am sorry for what I have done. I regret for it everyday and want to move forward." He works in Los Angeles and pleaded for reducing the probation time. Dasa has a visa issue said he wants to stay in the US.
Dirisinala too proceeded false I-20 and was lucky to get just a day of probation.
Source: Read Full Article