What explains India's love affair with SUVs? They are not exactly "value for money" — the watchword for brands across segments — nor always practical.
Is it for the badge value? Or the butch imagery associated with SUVs? Maybe both, says Alokananda Chakraborty.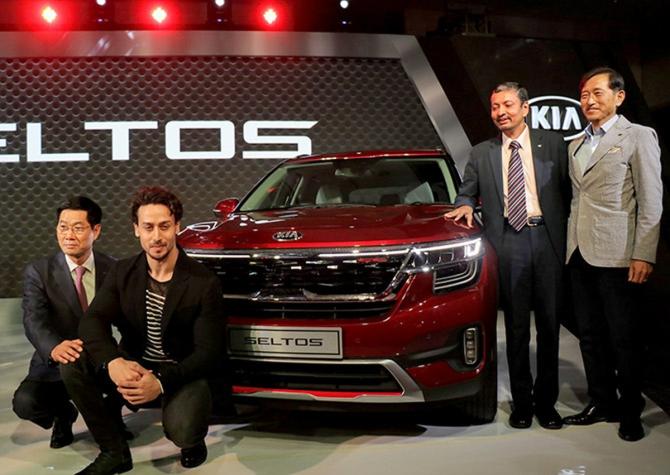 Take a look at car sales figures for February 2021 released earlier by auto industry body, the Society of Indian Automobile Manufacturers (Siam): Passenger vehicle sales (includes sub-segments of cars, utility vehicles and vans) grew 17.92 per cent in February at 281,380 units, compared to 238,622 units in the same period in 2020.
Sales of sport utility vehicles (SUVs) were up 45 per cent over February 2020, whereas car sales grew by just about 4 per cent.
In other words, the growth in passenger vehicle sales was led by SUVs and defied the "supply chain challenges" that Siam Director General Rajesh Menon had been warning us about.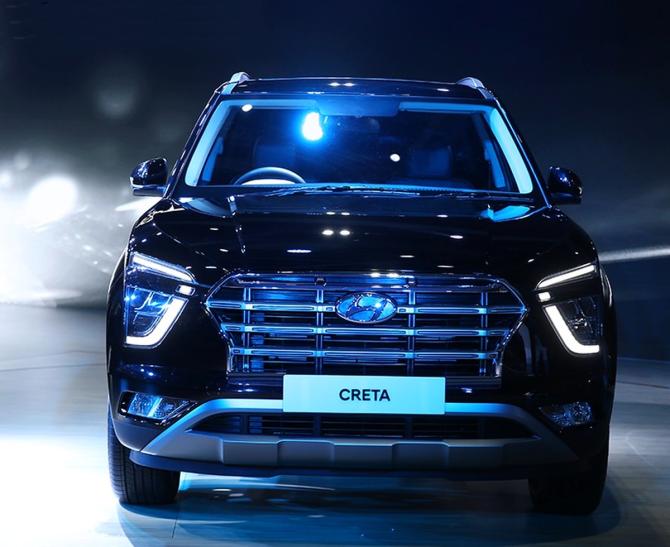 Now focus on the brands in the SUV segment. In February 2021, the top three were the Hyundai's Creta, the Maruti Vitara Brezza and the Hyundai Venue. Kia's Seltos and Sonet completed the top five list.
The February line-up more or less followed the 2020 trend.
The list of top players in the segment for 2020 showed that Hyundai and Kia were the clear leaders in sales across SUV segments, hogging 44 per cent of the market.
Hyundai clocked 180,237 units and Kia 135,295 units, posting 25.5 per cent and 19.1 per cent in terms of share of the market in calendar 2020.
Take segment leader Hyundai Motor India. With 96,989 units of the Creta, Hyundai ruled the mid-size SUV space.
The Korean carmaker got a substantial boost in its share in the segment from the Venue (brand No. 4 in the pecking order).
More than 82,000 units of the sub-4 metre SUV were sold in 2020. With these two products leading the charge, Hyundai sold a total of 180,237 SUVs last year — logging a near 3 per cent gain in market share in the segment.
"What worked for us was the fact that we were able to spot consumer trends early on and were ready to take risks," said Hyundai India's director of sales and marketing Tarun Garg.
From 9 per cent in 2015, SUVs now contribute 42.5 per cent (2020) to Hyundai's overall sales in India.
The runner-up brand in the segment last year was the Kia's Seltos at 96,932 units.
"Kia started with a three-pronged strategy in India. First, we focused on local product development. Second, we developed a wide sales network with 265 customer touchpoints, highest for any new entrant. Third, our premium brand building campaign began much before our first product launch in the country, raising awareness and anticipation for brand Kia," says Tae-Jin Park, executive director and chief sales and business strategy officer, Kia Motors India.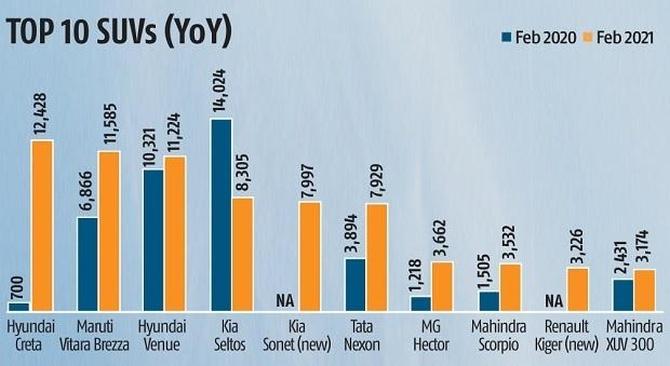 Maruti Suzuki's Vitara Brezza, which led the compact-SUV segment, stood at 83,666 units last year, down from its 2019 figure of 127,094 units.
"While we are the market leader in compact SUVs, overall, this is a segment where we can do better," said Shashank Srivastava, executive director for marketing and sales at Maruti Suzuki India Ltd.
That said, the sedan and hatchback market is still considerably bigger than that of SUVs.
Domestic passenger vehicles sales stood at 24,33,464 units in 2020 (a 17.85 per cent decline over 2019) and SUVs comprised about 29 per cent of that market.
One reason hatchbacks and sedans sell more is that there is hardly any SUV below the important psychological barrier of Rs 500,000.
But the segment has grown steadily over the past five years.
In 2015, the segment accounted for 13.5 per cent of the overall passenger vehicles market, growing to about 29 per cent in 2020.
At the end of the second month of 2021, the segment stands at 33 per cent of the overall passenger vehicles market.
Now you know what makes most players in the segment so upbeat. Just look at the list of SUVs lined for launch in India in 2021.
Swedish carmaker Volvo is looking to add the XC40 Electric to its portfolio in India this year, which would be its first electric vehicle (EV) offering in India.
Bookings will start in June 2021 and deliveries from October 2021; Audi's Q7 will make a comeback; Citroen will follow up its debut offering, the C5 Aircross, with a new compact SUV; Ford is working on a new C SUV, codenamed CX757, to take on the Tata Harrier and MG Hector.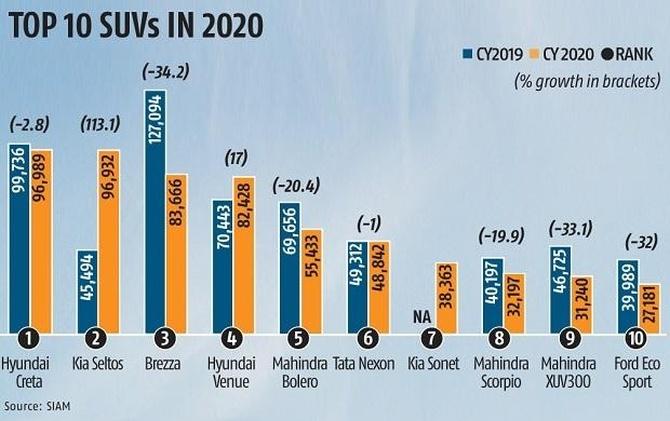 SUV leader Hyundai already has the Kona in the EV segment, which was launched in July 2019, and was India's first EV SUV (the "risk" factor Garg spoke of earlier).
Mahindra, which has an impressive SUV line-up, is hoping to make a strong comeback in the market with the new generation XUV500 and Scorpio this year.
Among those that will get a facelift are Ford EcoSport, Audi Q5, BMW X3 and X4, while the Hyundai Creta family will expand with the arrival of a new 7-seat derivative.
But what explains India's love affair with SUVs? They are not exactly "value for money" — the watchword for brands across segments — nor always practical.
Is it for the badge value? Or the butch imagery associated with SUVs? Maybe both?
If in their early days it was about the unique sense of presence SUVs offered, over the years they have become lighter, more spacious and therefore more comfortable, industry observers point out.
Plus, the technological innovations these vehicles offer. "You are seated higher and that gives you a better view of the road. So you feel safer," said a communication executive associated with an auto brand who drives an SUV.
And the road ahead? Smoother than ever before, thanks to current conditions.
While they are not going to overtake smaller car sales anytime soon, "with journey by train becoming difficult and air travel having its own set of challenges at the moment, driving long distances in SUVs with your family or driving holidays is a trend that's going to catch on over time," sums up Hyundai's Garg.
Feature Presentation: Rajesh Alva/Rediff.com
Source: Read Full Article