Shailajanand Mishra lists The Top Videos of the Week! Take a look.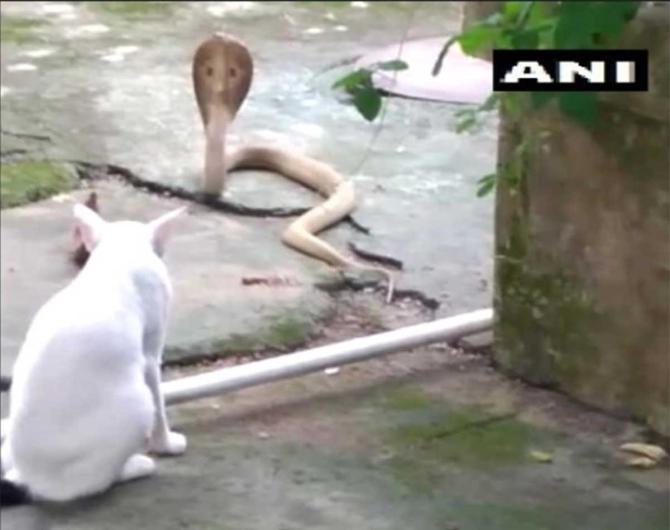 Every week is full of newsworthy events. And we make sure we bring you the most interesting ones, with a special twist.
These videos are chosen by you, through your likes.
So if you'd like to see your favourite video on our weekly round-up, please make sure you like them on iShare.
Why Shivraj Singh was busy with a wedding
Date: July 16
Location: Vidisha, Madhya Pradesh
Madhya Pradesh Chief Minister Shivraj Singh Chouhan took time off his busy schedule for — not one, not two but three — weddings.
And these weren't ordinary weddings. His three adopted daughters were getting married in Vidisha and he performed the kanyadaan ceremony.
Later, a happy Chouhan said, "A big responsibility is going to be fulfilled today. I was a member of Parliament when I adopted these girls. I'm happy that three of my daughters are getting married today."
This real life Kumbhakaran sleeps 300 days a year
Date: July 17
Location: Nagaur, Rajasthan
Heard about Axis Hypersomnia?
It's a rare disorder that causes people to feel sleepy during the day or sleep for long hours.
And it's causing 42-year-old Purkhara to sleep for 300 days in a year.
His family said they sought medical help in the initial days, when he began to sleep excessively.
"This is a one-in-a-million case. It can be caused by a major head injury or because of certain drugs or medicines. It is a disorder that can be treated," said an expert.
Sonu Sood's fan cycles 200 km to meet him
Date: July 17
Location: Mumbai
Superfans can do anything for their idols.
Which was true of this lad as well.
A fan of Sonu Sood's travelled 1,200 km on a bicycle to his favourite star.
Sood met, and interacted with, his adoring fan outside his residence in Mumbai.
The actor's fan following has increased since he began actively helping people after the COVID-19 pandemic began last year.
Farmer's daughters crack administrative exam
Date: July 17
Location: Hanumangarh, Rajasthan
Their circumstances, and their background, could have intimidated them.
But these three sisters had other plans.
Ritu, Anshu and Suman decided they were going to crack the Rajasthan Administrative Service exams. And they did.
Anshu and Sumar are already working in the state's administrative service.
Just why you should not cross railway tracks!
Date: July 18
Location: Kalyan
Shortcuts are not always good.
In fact, they can be dangerous. Very dangerous.
As a senior citizen in Kalyan recently discovered.
He was doing that annoyingly dangerous thing many Indians do, crossing the railway tracks instead of using the foot overbridge.
In trying to save a few minutes, he narrowly escaped death.
Hats off to train driver who applied the emergency brakes and saved the man's life.
Who are the best gym buddies in Bollywood?
Date: July 18
Location: Mumbai
They are workout buddies.
They love getting fit together.
And they like doing it in comfy fitness wear.
In case you don't know who we are talking about, it's Janhvi Kapoor and Sara Ali Khan.
On the work front, Sara Ali Khan will be next seen in Atrangi Re, with Akshay Kumar.
Janhvi will be the highlight of Dostana 2.
Huge sinkhole swallows car
Date: July 19
Location: New Delhi
Going… going…. nearly gone before it was rescued by a crane.
Due to incessant rain, a road caved in Dwarka's Sector 18 in the national capital.
And nearly took a car along with it.
Thankfully, there were no injuries.
Heroic cat protects human family from cobra
Date: July 21
Location: Bhubaneswar
They say cats are selfish, solitary, creatures.
Not always, though. Not always.
There are cats who go all out for their human families. Cats like Sinu who guard their human family from a dangerous, venomous cobra.
A video shot by the snake rescue team shows exactly how Sinu sat face-to-face with the cobra and stopped it from moving into the house.
Feature Presentation: Ashish Narsale/Rediff.com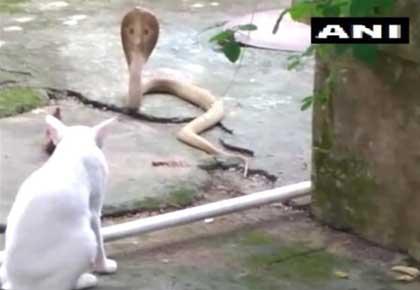 Source: Read Full Article