To say that former president Donald Trump didn't shy away from hiring family members for high-level government jobs is a bit of an understatement. Famously, Trump hired his daughter Ivanka to act as "Senior Advisor to the President," and put his son-in-law, Ivanka's husband Jared Kushner, in charge of negotiating peace in the Middle East, per Vanity Fair (seems simple enough). But apparently, this courtesy extended even to ex-family members.
As colorful a character as she is, it's surprising that we don't pay more attention to Trump's first wife and the mother of his three eldest children, former model Ivana Trump. She was the one who nicknamed him "The Donald" in the first place. Over the years, Ivana's public comments about her ex-husband and their marriage have not exactly been glowing, but by the time he reached the presidency, the pair seemed to have worked through their issues. So much so that Trump was apparently ready to add her to the payroll.
Keep reading to find out what title Trump offered his ex-wife during his time in the Oval Office.
Ivana Trump was offered a big title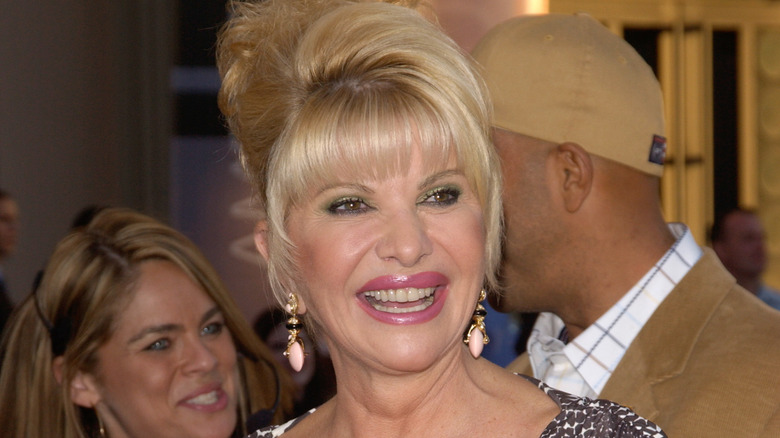 According to Ivana Trump, the former president once offered to make her the United States Ambassador to the Czech Republic (Ivana was born in Czechoslovakia, present-day Czech Republic), but she declined because she was too busy enjoying her life. "My ex said, 'Ivana, if you want it, I give it to you,'" Donald Trump's first wife told the New York Post in 2017. "It's four years in Prague, so bye-bye to Miami, bye-bye to New York in spring and fall, bye-bye to Saint-Tropez in summer." We wouldn't want to give up Saint-Tropez in the summer, either!
Ivana's refusal may have been the best decision for her, but apparently, not everyone was thrilled. Czech newspaper Prague Daily Monitor reported that Czech President Milos Zeman "was furious" when Ivana decided not to take the job and that Zeman and Ivana had met at Prague Castle. Zeman reportedly said that Ivana had acted like a coward and that she should feel a sense of responsibility toward her homeland.
We think it's a little unfair to say Ivana had no sense of loyalty to the Czech Republic; she just wanted to feel loyal while tanning on the beach in the south of France.
Source: Read Full Article