Celebrate Makar Sankranti with a mixed vegetable preparation that uses seasonal winter produce.
Bhogichi Bhaji is a Maharashtrian delicacy, usually consumed on Bhogi, the day before Makar Sankranti, when farmers pray to the gods to bless their harvest.
A bit similar to the popular Gujarati Undhiyo, it uses a different mix of cold season veggies.
The vegetables are cooked in a paste of ground peanuts, sesame seeds and coconut for a nutty, earthy flavour.
It is to be eaten with Tilachi Bhakri, a bajra flatbread garnished with sesame seeds.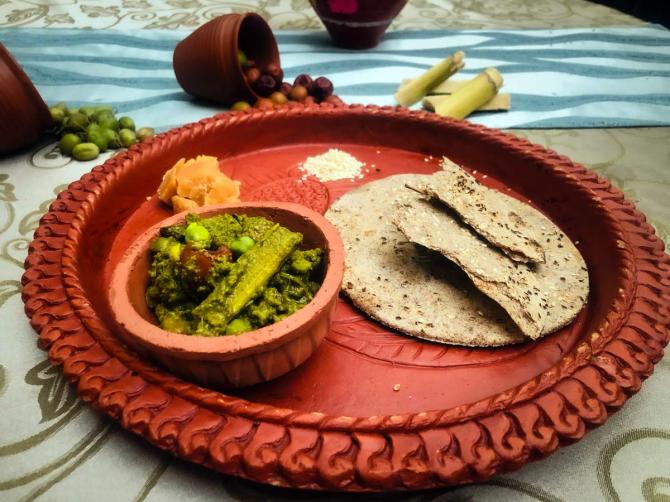 Bhogichi Bhaji And Tilachi Bhakri
Serves: 3-4
Ingredients
For the bhaji
20 gm lightly boiled green chana or hola or chickpeas, alternatively you can use matar or green peas
50 gm ber or Indian jujube, washed and stem removed
5 small baigan or brinjals or eggplant, stalk removed and diced
50 gm carrot, preferably the red desi variety, peeled and diced
80 gm avarekai or hyacinth beans
50 gm papdi or flat beans, strings removed and cut into 1-inch pieces
100 gm green dhania or coriander or cilantro
20 gm sugarcane, cut into long pieces
5 green chillies
30 gm white sesame seeds
30 gm peanuts
80 gm desiccated coconut for an added sweetness, you can also use grated coconut
50 gm oil
10 gm ginger-garlic paste
2 onions, chopped
5 gm rai or mustard seeds
5 gm jeera or cumin seeds
10 gm haldi or turmeric
Salt to taste, about 2 tsp
Water
For the bhakri
450 gm bajra flour
50 gm sesame seeds
Salt to taste, about 1 tsp
Lukewarm water
Method
For the Bhogichi Bhaji
In a heavy-bottomed frying pan, dry roast the sesame seeds until they start to crackle.
Take off heat and keep aside.
In the same pan, roast the peanuts until they change colour.
Take off heat and keep aside.
In the same pan, roast the desiccated coconut until light brown.
Take off heat and keep aside.
First keep aside 1/3 of the roasted sesame for use later.
Transfer the remaining seeds, peanuts and coconut into a blender/mixer.
Grind to a dry paste without water.
Keep aside.
Combine the coriander leaves and a handful of green chillies in a blender and grind to make paste.
Keep aside.
Heat the oil in a frying pan or kadhai.
Add the mustard seeds, cumin seeds.
Once it crackles, add the chopped onions.
Add the ginger-garlic paste and saute till the raw aroma dissipates.
Add all the chopped vegetables, except for the green chickpeas/peas and the ber.
Add the turmeric powder, salt and mix well.
Cover and cook for 5 minutes.
Take off the lid and sprinkle some water.
Cover and cook for another 6-7 minutes till the vegetables are almost half-cooked.
Add the boiled chickpeas or peas.
Add a few tbsp of water so that the vegetables don't burn.
Cover and cook for a few more minutes.
Uncover and stir.
Add the chopped ber.
Add the ground paste of coriander leaves and chillies.
Saute for 10 minutes.
Add the ground peanut-sesame-coconut mixture.
Cook for 5 minutes more.
Take off heat and garnish with the remaining sesame seeds.
Serve hot.
For the Tilachi Bhakri
In a bowl, sift the bajra flour and salt.
Add some lukewarm water and knead into a smooth dough.
Cover with a wet cloth and rest the dough for 10 minutes.
Heat a tawa or skillet over medium heat.
Divided the dough into small round balls of 3-4 cm diameter.
Roll out each portion using a rolling pin.
Place the bhakri on the pre-heated tawa.
Sprinkle some sesame seeds on the bhakri and press lightly.
Flip and cook on the other side for a few more seconds adding a few sesame seeds as well.
Using a pair of tongs, take the bhakri off the tawa and place over direct heat and roast both sides until brown.
Take off heat and repeat for the balance bhakris and serve with Bhogichi Bhaji and a piece of jaggery.
Editor's Note: You can opt to add 2 tsp of the typical goda masala to the vegetables while they are cooking.
For those on a Jain diet, skip the onions, garlic and ginger and use 1 tsp saunth or dried ginger powder.
Chef Rupesh Khandekar is Chef de Cuisine at Hotel Sahara Star, Mumbai.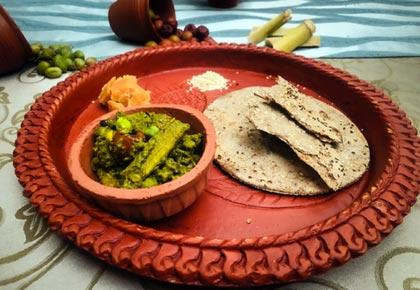 Source: Read Full Article