Here is how to make the quickest malpua that's extremely indulgent and soaking in the yumminess of gulkand and rabri.
This recipe for Gulkand Malpua comes from Maharaj Bhanwar Singh, the chef at the Rajdhani chain of restaurants, and is the only way to end a good meal.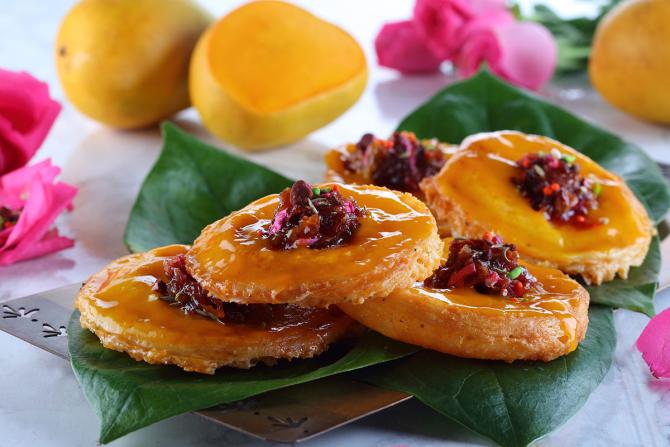 Gulkand Malpua
Servings: 5
Ingredients:
100 gm maidaor all-purpose flour
500 gm aata or wheat flour
1 tsp powdered green elaichi or cardamom
1 cup ghee
250 gm sugar
A few strands kesar or saffron
500 ml milk or almond milk
250 ml water
50 gm mava or khoya or milk solids
2 tbsp chopped pistachios, for garnish
Rose petals, chopped, for garnish
Gulkand or rose petal jam, for garnish
Kesar Rabdi, for garnish (please see the note below)
Method
In a bowl, mix the maida, wheat flour, khoya, saffron, cardamom powder, milk.
Ensure the mixture is of pouring consistency and not too thick.
Keep aside.
For making the sugar syrup, heat the water in a saucepan over medium heat.
Add the sugar and stir until it dissolves.
Take off heat and cool.
Heat the ghee in a frying pan over low heat.
Pour a ladleful of the maida-khoya-milk mixture and spread it evenly.
Lower the heat and allow the malpua to cook till it is light brown.
Flip and cook on the other side.
Take out of the frying pan, drain the excess ghee.
Drop the hot malpua in the sugar syrup and allow it to soak for 2-3 minutes and take out.
Repeat for the remaining batter.
Transfer the sugar syrup-soaked malpuas onto a plate.
Garnish with pistachios, gulkand, chopped rose petals and kesar rabdi.
Serve hot.
Editor's Note: For vegan malpuas, skip the khoya and use almond milk instead of regular milk. And use cashew butter instead of ghee to fry them.
For a sugar-free malpuas, opt to not soak the malpuas in sugar syrup and instead sprinkle jaggery powder or any other sugar equivalent on top while serving.
For gluten-free malpuas, use a mix of rice flour and ragi flour or almond flour instead of maida and aata.
To make Kesar Rabdi from scratch use this recipe.
Maharaj Bhanwar Singh is the corporate chef at Khandani Rajdhani, a chain of restaurants serving Rajasthani and Gujarati thalis.
Source: Read Full Article