Mani Ratnam's spectacle may be steeped in fiction and fantasy, but its entitlement and opportunism feels as real and relevant as ever, notes Sukanya Verma.
After keeping us on tenterhooks for over half a year, Mani Ratnam welcomes us back into the Chola dynasty to share the second and concluding part of his long cherished dream.
Ratnams magnificent adaptation of Kalki Krishnamurthy's five-part literary epic, Ponniyin Selvan: 1 shepherded us through a star-studded assemblage of characters, their motives and mysteries while piquing our curiosity about what lies ahead over a jaw-dropping cliff-hanger.
Its follow-up, Ponniyin Selvan: 2 winds up the saga in all its spectacular and sorrowful glory. On the whole, it's a sweeping journey but bits of it left me wanting more.
It's understood the viewer must be familiar with the first part if here for the second.
These movies are two halves of an ambitious whole and cannot be enjoyed in isolation. You won't know Aditha from Adam if you skipped the 2022 release although a quick recap in Anil Kapoor's voiceover (I watched a rare satisfying Hindi dub) tries to give a vague idea.
Essentially a family drama and political thriller combined in one, the events of Ponniyan Selvan are triggered by a love story gone sour between a crowned prince Aditha (Vikram) and temple girl Nandini (Aishwarya Rai Bachchan). Over the years their resentment has taken the shape of rage and revenge.
Meanwhile, an ailing king (Prakash Raj) must safeguard his three kids and the dangers awaiting them from seen foes and unseen forces eyeing reign over Chola kingdom. Where a technicality regarding the heir drives a wedge between blood relatives, of which a pair of sly statesmen siblings are quick to take advantage, lineage plays a key role in splitting up young lovers.
And so Nandini's scorned stunner conspires a long-harboured vendetta in cahoots with a defeated enemy, the Pandya assassins.
Amidst these incessantly happening occurrences, a raging Aditha, his righteous younger brother Arunmozhi (Jayam Ravi), quick-witted sister Princess Kundavai (Trisha) and their valiant well-wisher, the Vanar clan warrior Vanthiyathevan (Karthi) whose entertaining antics in PS1 lend all its cheer — must brace themselves against multiple threats.
In Ponniyin Selvan: 2, the story has moved forward to tonally darker and emotional objectives yet Ratnam's glittering pageantry shines through every frame capturing the scrupulously put together costumes, sets, song and dance.
More than its exquisite aesthetic, it's the emotional appeal of the final chapter that comes through in a moving, nuanced fashion.
Inner battles outweigh the ones fought on the field and the unchanging nature of politics is highlighted in alliances of convenience and power play between graceful privilege and ruthless strategy.
Ratnam's spectacle may be steeped in fiction and fantasy but its entitlement and opportunism feels as real and relevant as ever.
What bits underwhelmed me? Watch this space for the rest of my review.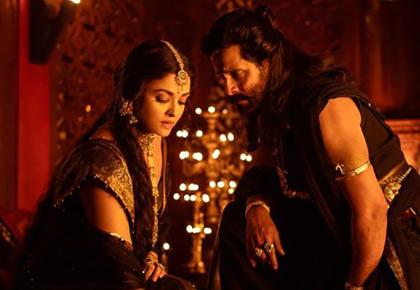 Source: Read Full Article