Rustle up a Prawn Pulau for your family with Nadiya Sarguroh's simple take on this popular recipe.
Ideal for a family of four, it can be enjoyed with a raita and/or chopped onions, tomatoes, cucumbers.
Lightly spiced and full of flavour, this one-pot meal works just as well with chicken instead of prawns.
Nadiya, a lawyer, loves to cook traditional Indian recipes that are easy to recreate without burning a hole in your pocket.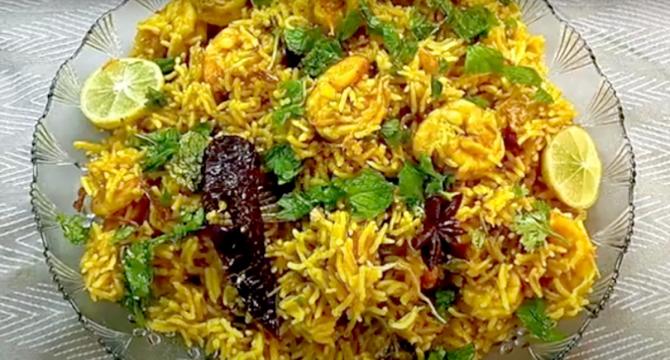 Prawn Pulau
Serves: 4
Ingredients
2 cups Basmati rice, soaked in water for 15-20 minutes
2 tej patta or bay leaves
2-inch stick dalcheeni or cinnamon
2 lavang or cloves
2 whole green elaichi or cardamom
1 chakra phool or star anise
500 gm prawns, cleaned and deveined
2 dried red chillies
2 tsp ginger-garlic paste
6 tbsp birasta or sliced and fried onions
3 green chillies, finely chopped
1 tomato, pureed
6 tbsp yoghurt
½ cup chopped green dhania or coriander or cilantro leaves
½ cup chopped pudina or mint leaves
Juice of ½ a lime
½ tsp haldi or turmeric powder
2 tsp dhania or coriander powder
½ tsp jeera or cumin powder
½ tsp garam masala powder
1½ tsp red chilly powder
Salt to taste, around 1½ tsp
6 tbsp oil
Water
Method
Heat the oil in a large non-stick kadhai or pan.
Add the dried red chillies.
Saute for 30 seconds.
Add the ginger-garlic paste.
Saute for 30 seconds.
Add the fried onions.
Turn the heat to medium-low and add the finely chopped green chillies, spice powders, little salt, prawns and mix well.
Add the tomato puree, yoghurt, turmeric powder, ½ cup water and stir.
Cover and cook for 8 minutes.
Uncover and add the lime juice.
Add the chopped coriander and mint leaves and mix.
Add 500 ml of water, the bay leaves, cinnamon, cloves, cardamom, star anise and bring the water to boil.
Add the soaked rice and more salt, if required and mix.
Cook over high heat till the water evaporates completely.
Turn the heat to low and cover and cook for 15 minutes till the rice is done.
Serve hot and enjoy with a bowl of raita, sliced vegetables of your choice and 1-2 papads.
Editor's Note: Vegetarians and vegans can prepare this pulau by substituting 500 gm prawns for mixed juilenned vegetables and/or paneer.
Chicken lovers can opt to skip the prawns and use 500 gm of leg pieces of chicken.
For additonal flavour, use ghee instead of oil.
Nadiya Sarguroh lives in Mumbai and publishes the food blog HautePot.
Source: Read Full Article