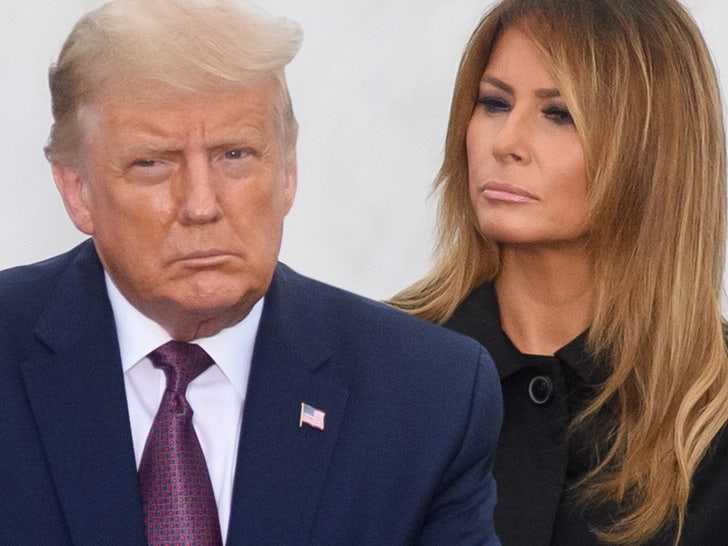 1:48 PM PT — Trump's doctor just revealed the President is being treated with an experimental drug that uses antibodies to try to attack COVID-19. The treatment was administered through an IV.
9:28 AM PT — Biden, who shared the debate stage with Trump this week, has tested NEGATIVE for the virus … according to his campaign.
7:08 AM PT — 10/2 — According to reports, Ivanka Trump, Barron Trump and Jared Kushner have all tested negative.
President Trump and First Lady Melania Trump have both contracted the coronavirus.
The President broke the news with a tweet — at nearly 1 AM Friday in D.C. — saying … "Tonight @FLOTUS and I tested positive for COVID-19. We will begin our quarantine and recovery process immediately. We will get through this TOGETHER."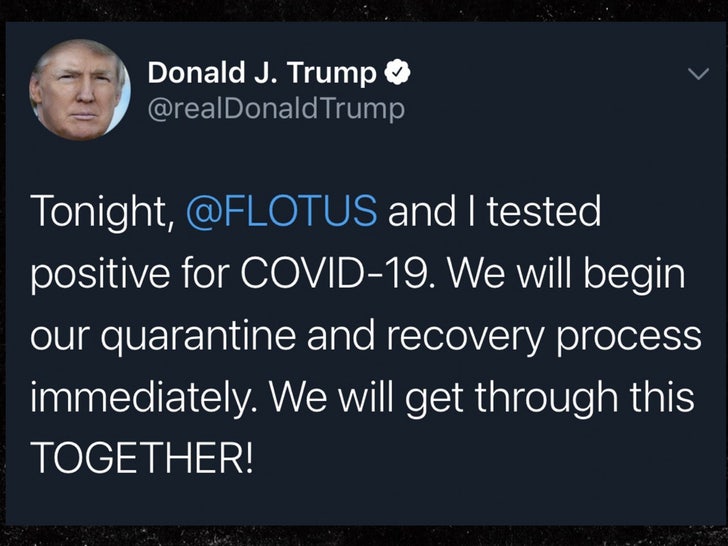 The alarming news comes hours after we learned one of the President's aides, Hope Hicks, had tested positive. Hope had been traveling on Air Force One all week with POTUS … going to and from the presidential debate in Cleveland … and also to his rally in Minnesota.
The impact is far-reaching. Trump came into contact with numerous people over the last 5 days, including Joe Biden on the debate stage, and his Supreme Court nominee, Amy Coney Barrett. And, then there's his treasury secretary — someone who frequently meets with the president — who had a meeting with House Speaker Nancy Pelosi. Vice President Pence has tested negative, but there's still a window of risk since he's been in contact with Trump over the last week.
Trump was not feeling well on Wednesday, according to Bloomberg News, so it's also unclear how long Trump has been COVID positive.
Furthermore, what's unclear — who gave the virus to whom? Did Trump contract the virus from Hope Hicks or vice versa, or did they contract it from someone else?
There's no good time to contract the virus, but it comes at a particularly critical time for the President … less than 5 weeks before Election Day. We don't yet know if he and Melania are experiencing symptoms, but the First Lady tweeted that they are "feeling good."
Trump has made no secret of how much he hates wearing face masks, and has done it in public very rarely since the pandemic began.
The last time we saw him wearing one in public was a week ago at the public viewing for Justice Ruth Bader Ginsburg outside the Supreme Court.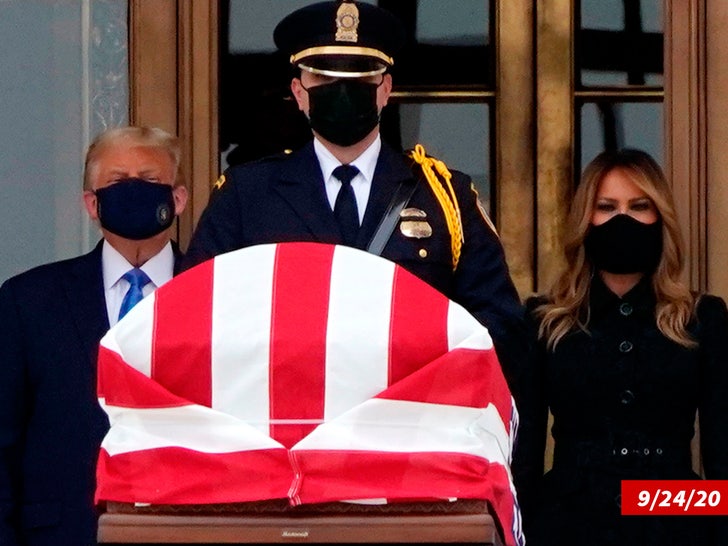 During the debate on Tuesday night, he did pull one out of his pocket as he claimed to have no issue with wearing face coverings. It's worth noting, at 74 years old he is in a high-risk category for COVID-19. Melania is only 50.
As you know, Trump has logged a lot of miles this week — traveling with his inner circle of aides and attending large scale events. Once contact tracing is done … it's possible a large number of people will need to be tested immediately and quarantined.
So far, the administration is saying the Prez and Melania will remain in their White House residence while they quarantine. It's unclear how long that will last, but typically doctors recommend 14 days.
And, if you're wondering … the next presidential debate is exactly 14 days away.
Originally Published — 10/1 10:17 PM PT
Source: Read Full Article