Don't think of ordering from a restaurant this weekend.
Try an authentic, budget-friendly recipe perfect to ring in the Chinese New Year on January 22.
These Steamed Chinese Dumplings may seem a tad cumbersome at first, but who doesn't want to dig into some warm, comforting dumplings on a cold, winter evening?
Have these dumplings with other Chinese dishes you might like to try making at home: Chicken Mushroom Soup, Vegetable Spring Rolls and more.
Or whip up Flavoured Chinese Steamed Rice.
The rice will go excellently with Crispy Chilli Lamb. And Buddha's Delight. Or Mandarin Fish and Tea Eggs.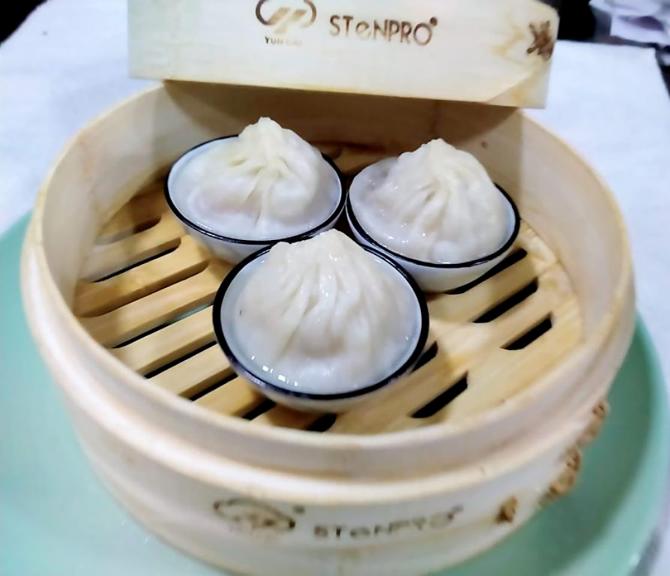 Shanghai Steamed Chicken Dumplings
Recipe: Kind courtesy Jia Mumbai
Serves: 6-8
Ingredients
For the dough
1 cup maida or all-purpose flour
6 tbsp or 90 ml warm water
Pinch salt
For the filling
500 gm minced chicken or finely chopped vegetables, like carrots, mushrooms, beans
1 scallion or spring onion, cut into 3 pieces
3 tbsp shaoxing wine, a type of Chinese rice wine available in gourmet grocery stores, substitute with rice vinegar if needed
½ tsp sesame oil
3 tsp light soy sauce
1 tbsp grated ginger
¾ tsp sugar
3 tbsp water
Pinch ground white pepper
Salt to taste, about 1 tsp
Steamer
Parchment paper to line the steamer basket
For the dipping sauce
Chinese black vinegar, available in gourmet grocery stores
Ginger, thinly sliced
To serve
Method
For the dough
In a mixing bowl, add the flour and a pinch of salt.
Add the warm water, 1 tbsp at a time, and keep mixing until the water is fully absorbed.
Using your hands, knead for 15-20 minutes until you get a smooth, semi-soft dough.
Cover with a moist cloth or plastic wrap and let it rest for 30 minutes.
For the filling
If using chicken, transfer the ground chicken into a food processor.
Pulse for 30-60 seconds.
In a mixing bowl, add the chicken or the chopped vegetables.
Add the chopped onion, sesame oil, sugar, soya sauce, pepper, grated ginger, Chinese cooking wine, salt.
Mix until well-combined, but do not over mix.
Cover the bowl with a lid and transfer into the refrigerator until you are ready to assemble the dumplings.
For the dipping sauce
In each of the small bowls, add 1 tbsp Chinese black vinegar and a slice of ginger.
Keep aside.
For the dumplings
Lightly dust a clean work surface with flour.
Roll out the dough into a long log, around 1 inch in thickness.
Divide into small, equal pieces, and roll out each of the pieces into a ball of about 3-3 ¼ inch diameter.
Cover the balls with a wet towel to prevent drying as you work on the dumplings, one at a time.
Place 1 tbsp of filling in the middle of the ball.
Fold and pinch the edges to create pleats (please see the pic above).
Dip your fingers in a bowl of water and seal the pleats, making sure you leave a small opening on the top.
If the filling ever gets too dry or too moist, place it in the freezer for another 15 minutes.
Line a steamer rack with parchment paper.
Boil water in a covered steamer over medium-high heat.
Place the filled dumplings in the lined steamer basket, about 2 inches apart.
Steam for 10 minutes.
Take off heat.
Place the dumplings in the bowls and serve.
Drizzle extra vinegar on top if required.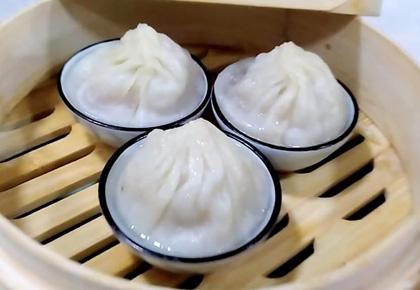 Source: Read Full Article