'As a family, we were not going through a very good time financially.'
'I wanted to be an interior designer, but I didn't have enough money to join the polytechnic.'
'I was about 15-and-a-half, 16, so I said okay, let me just try (acting).'
Rani Mukerji looks like her first name, as she sits across you and regards you with a smile.
She's beautiful.
She's confident.
And she's nothing like her flashy character Vimmi from Bunty Aur Babli 2, whom she says she connected with.
"The first time, Vimmi was super confident," Rani says, referring to the original film, which released in 2005. "This time, she's very real. She goes through real emotions of a girl, who has passed her prime."
Certainly not like Rani, who's still in her prime after completing 25 years in the film industry.
"We should not say that too much. Otherwise, people may say, 'kab se ho raha hai yeh!", Rani tells Ronjita Kulkarni/Rediff.com and bursts out laughing.
Was it fun to relive your movie character Babli again?
It was amazing!
The fact that I could revisit a character that I loved myself… I've always maintained in all my interviews through the years that Vimmi is a character I'd like to be friends with.
Her personality is just so amazing.
She's got the spunk.
She's intelligent.
She's somebody you can always have fun with.
To revisit her was a personal journey of mine as well, since the first time around, I was carefree too.
I was not married.
This time, I'm a mum of a 10 year old (in the film). I'm a mum personally as well.
I connected with Vimmi's character.
Also, Vimmi's growth in the film, as a woman who has come of age, you know, there are certain insecurities, certain aspirations, a certain level of devotion towards family. There's a lot that she goes through in the film.
The film is surrounded with a lot of comedy and funny situations, but deep down, there is something that a lot of women will connect with.
It was amazing to revisit her in a new way.
The first time around Vimmi was super confident. This time, she's very real.
She goes through real emotions of a girl who has passed her prime.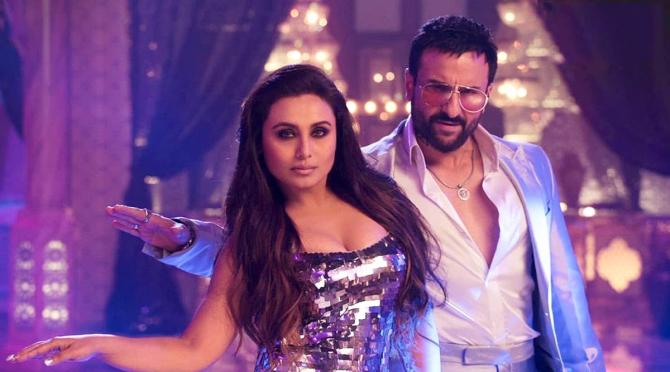 This is your first film that your daughter Adira has watched. What did she think about it?
She loves the fact that I'm laughing and making her laugh all the time.
She likes to see me as a comedian, which I am in the film.
She has a personal investment in the movie because she's styled me as well. The four-and-a half-year-old that she is, she's quite a fashionista herself!
She believes Mama has to be happy at all times, like all kids.
She doesn't like to see me serious or with a straight face.
I think what she enjoys being in my company is when I'm smiling, when I'm mollycoddling her, when I'm pampering her…
In Bunty Aur Babli, she sees that version of me.
She also is kicked about the fact that I have a son called Papu!
She knows Saif (Ali Khan) as Taimur's papa. She was there in a few of my shoots, including in the Abu Dhabi schedule.
She had a wonderful time being with me there. She remembers it because right after that, the lockdown happened. That was one of the last places she went, so she connects this film with all of those happy memories.
When she saw the film, I think she was very kicked because she was getting to see all the things that she had been through in the past two years.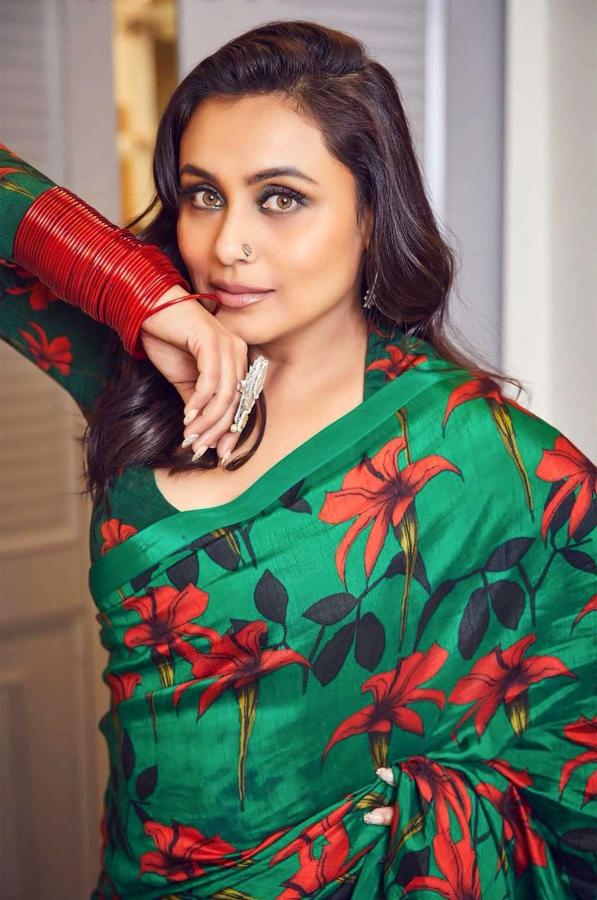 Did she ever get confused about seeing a version of you in films, very different from what you are in real life?
That used to happen before, when she was much younger.
Slowly, she got to know that a mum is an actress and she works in cinema and that's my job.
Very early, we've been trying to educate that Papa goes to office to work and mama goes to do her work.
It's very important for children to respect that both parents are in a profession. It's very important for children because to understand the value of going out there and working and bringing the money home.
Though she's born in privilege, we would like her to believe that things don't come easily.
It's something that you have to work hard for and that's what we're trying to imbibe in her.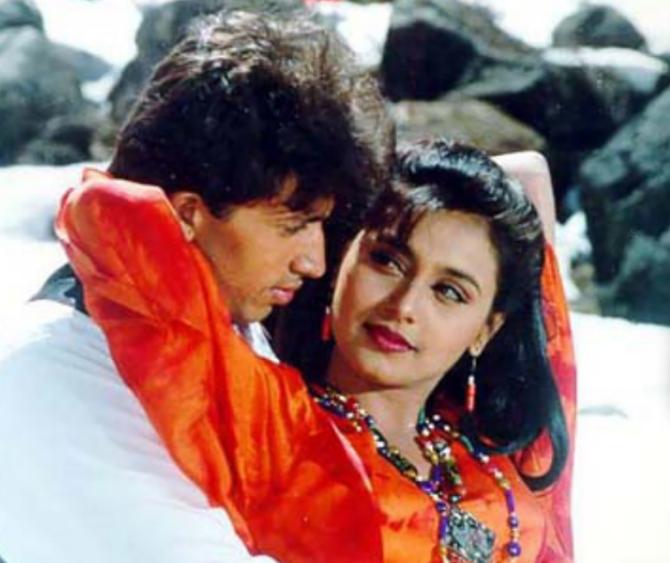 You have been in the industry for 25 years. What's the one thing the Rani of today would tell the Rani of Raja Ki Aayegi Baraat?
I would just tell her that damn good, you listened to your mom! Good girl! (Laughs)
I never wanted to be an actor.
I think my mom realised my dream much before I did.
I don't even know whether my mom realised my dream because it was never my dream to be an actor.
I never really considered myself worthy of being an Indian film actor at that point of time.
I don't think I have a sweet voice to begin with.
It is a very different and distinct voice that I have.
At that point, when I came into the industry, I don't think actresses had this kind of voice.
I wasn't too tall. I'm quite short.
Physically, I don't think I had the makings of the screen goddesses that were up there like Sridevi, Rekhaji, Parveen Babi, Zeenat Aman…
I was not fair complexioned. I came with my unique colour, which is what 99 percent of Indians are.
So there was this whole mould how Hindi film actresses should look.
I never believed that I had the acting talent.
So my mum asking me to do a film, I was quite shocked.
I was like, 'Mom, are you serious? Are you mad?' That was literally my conversation with my mum.
My mum told me 'You know, you've got an offer sitting at home. Not many people have this opportunity. If you don't like it, you can always not do it and continue your academics.'
As a family, we were not going through a very good time financially.
I remember I wanted to be an interior designer, but I didn't have enough money to join the polytechnic.
I realised that I wouldn't be able to join.
At that point of time, I think I was about 15-and-a-half, 16, so I said okay, why not? Let me just try (acting).
I did my first film, and I was godawful in my screen test!
My brother was embarrassed. He told my mum, 'Are you sure because it's going to be embarrassing for me to show my friends.' My brother was always interested in what his friends would feel!
My mother was like, 'Yeah, I think you're right. She's really bad.'
Salim (Khan) uncle gave me my first break, we are family friends.
So my mom went up and told Salim uncle, 'It's very nice that you offered this film to Rani, but she's really bad. I think your movie will flop, so it's better that you don't take her.'
Salim uncle was like, 'I know your reservations.'
I told Salim uncle, 'Mujhe toh kuch nahin aata hai.'
He was like, 'No, no, you look nice on screen. In the screen test, they were very happy with the way you look.'
I was like, okay.
But then I realised that being in films is not only about looks, it's also about talent.
My father took me to Roshan Taneja's (acting) classes.
He told Roshan sir, my daughter has got this offer, and she has to do this film in a month. So can you teach her how to act?
Roshan sir said a very beautiful thing. He told my father see, 'Ram, I don't have a pill that I can give your daughter and she will take it and she'll know how to act. It has to come from within. She needs to do what she has to do.'
That stayed with me.
There is no pill that you can take to learn acting. It has to just come naturally.
Being the sincere person that I was, I went for the classes day and night — I did both the shifts to try and understand as much as I can.
Though people think I'm from a film family, there was never a film atmosphere in my house.
I was born and brought up in Juhu (north west Mumbai).
I studied at Maneckji Cooper school (also in Juhu).
Films were not considered cool at my time.
People entering the industry were not considered cool people like today.
It's very okay with families to let their children join films now. But in my time, I would be scared to even tell my friends that my father is from the film industry. I would keep mum about it.
Also, at the time, I think this whole talk about getting into films is so easy… actually, it's not. I've seen a time where there have been so many strugglers who've tried to get that one debut. That also made me realise that getting an offer was truly special, and it made me even work harder.
I was getting an opportunity, which others were not, so I needed to make the best of it.
So I worked really hard on my first film.
And I realised that, you know, from my first shot onwards, that oh my God, it's coming very naturally to me.
So somewhere, I think I was destined to be an actor.
I can't believe that a person who didn't want to be an actor has actually survived 25 years.
My fans have helped me break stereotypes.
Even after my marriage, and after my baby, they stood by me like a rock and really embraced my films.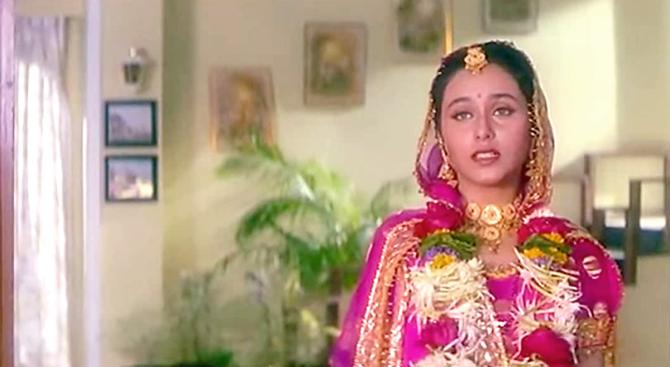 Yes, it's not very common for actresses to stay successful after having babies.
Actually, it is.
If you go to see, we had Hema Malini, Sharmila Tagore… everybody worked having kids.
Because people didn't want to talk about it in the past, they say it's something new and rare.
Actually, it's been happening for years now.
I remember Hemaji telling me that she did Satte Pe Satta with Esha in her stomach.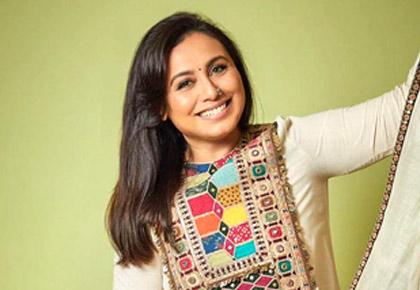 Source: Read Full Article