In spite of its flaws, I enjoyed reading the book, says Vanita Kohli-Khandekar.
Simply for the joy of digging into the life, in pictures and words, of one of the most enduring stars of Indian cinema.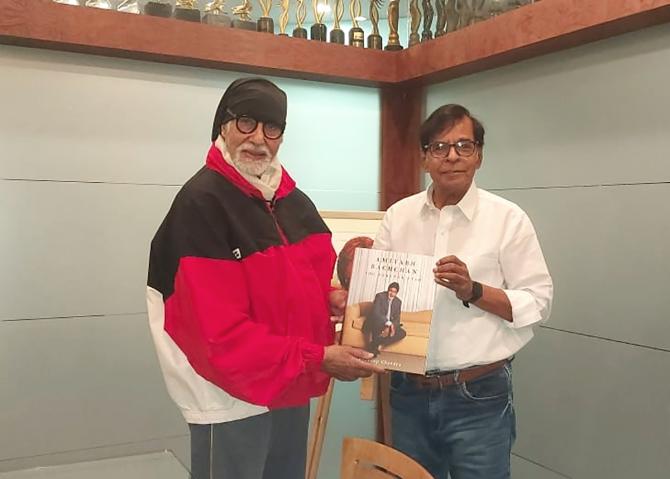 What on earth can another book on Amitabh Bachchan say?
At a very active 80 years, one of India's best known cinema stars has been covered, televised, mimicked, written about, hundreds of thousands of times.
He has played every conceivable role on screen — an angry young man (Deewar, Sholay, Zanjeer), intense lover (Shakti, Kabhi Kabhie), jealous husband (Abhimaan), floundering friend (Chupke Chupke), good-hearted thug (Amar Akbar Anthony, Hera Pheri, Khoon Pasina, Muqaddar ka Sikandar), doddering old man (Piku, Gulabo Sitabo), feisty old man (Kabhi Alvida Naa Kehna, Badla, Baghban, Pink) among many others.
Over 200 films, 14 seasons of hosting Kaun Banega Crorepati and dozens of voice-overs, he has dominated popular entertainment in India for well over five decades now.
It was, therefore, a sceptical me that began reading Pradeep Chandra's Amitabh Bachchan: The Forever Star.
Chandra, a photojournalist, who has worked for The Illustrated Weekly of India, The Times of India and The Week among other publications, has had several exhibitions of his work.
Among the books he has written are ones on M F Husain and Aamir Khan.
He commemorated Bachchan's 61st and 75th birthdays by curating two multimedia exhibitions with other artistes.
Not surprisingly, then, the book is a visual treat with lots of good and unseen pictures.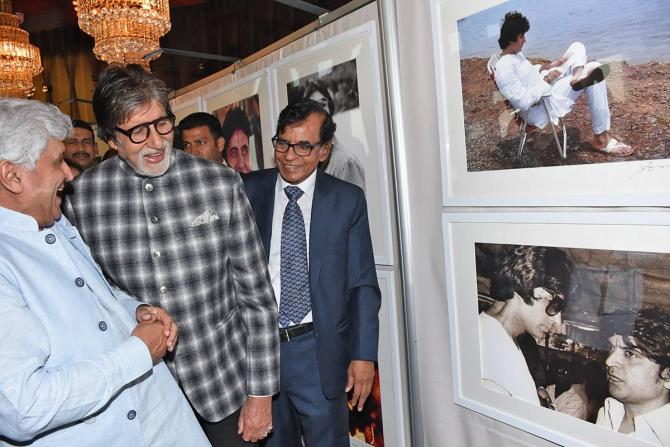 It begins well with Bachchan's childhood in Allahabad (now Prayagraj) and his schooling at Sherwood College in Nainital.
It is one of the rare works about Bachchan that lays out in detail what a superstar his father, Harivansh Rai Bachchan, was in Hindi literary circles.
Bachchan has alluded to this in several interviews but Chandra draws out the background, personalities, life and times of both Harivansh Rai and Teji, Bachchan's parents, well.
For instance, the opposition to Harivansh Rai's iconic poem Madhushala seems baffling now.
His struggles, their relations with the Nehru-Gandhi family, all of it stuff that you knew in bits and pieces, has been put together in one place and makes for an engrossing read.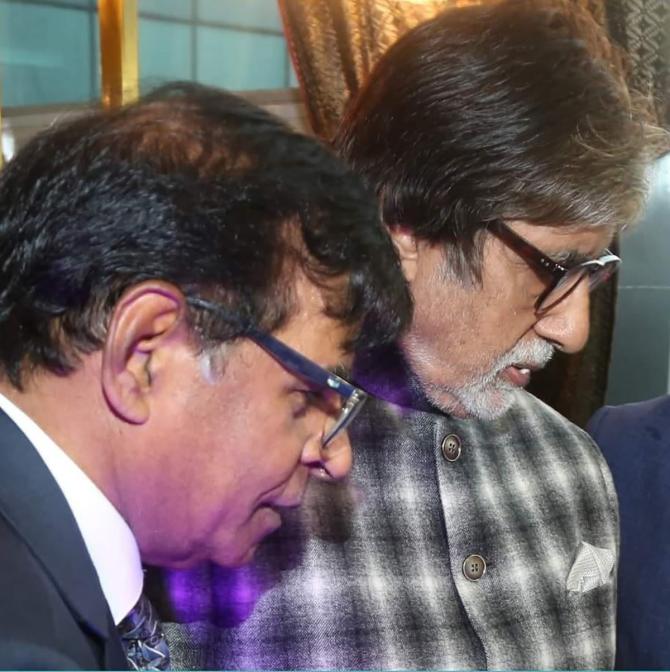 Chandra dwells on Bachchan's love of theatre in school and college, his restlessness with a corporate job in Calcutta (now Kolkata) and his shift to Mumbai thanks to brother Ajitabh.
He speaks at length about Bachchan's early struggles in the sixties and the pile of rejections.
The help he got from Mehmood and his brother Anwar Ali who was Bachchan's co-star in his first film, K A Abbas's Saat Hindustani. And, of course, his success with Zanjeer, Sholay et al.
There is a bit on his foray into politics in 1984 in the aftermath of Prime Minister Indira Gandhi's assassination that is interesting.
Rajiv Gandhi was a friend and when he requested Bachchan agreed to fight the 1984 general elections from Allahabad.
He won by a huge margin against veteran politician and a man who had been chief minister of Uttar Pradesh twice: Hemwati Nandan Bahuguna.
However, by 1987, Bachchan resigned from his constituency in the wake of the Bofors scam where he was named. (A court in London subsequently cleared him).
The bit about the formation of Amitabh Bachchan Corporation Limited or ABCL and its eventual bankruptcy is mentioned but not in much detail.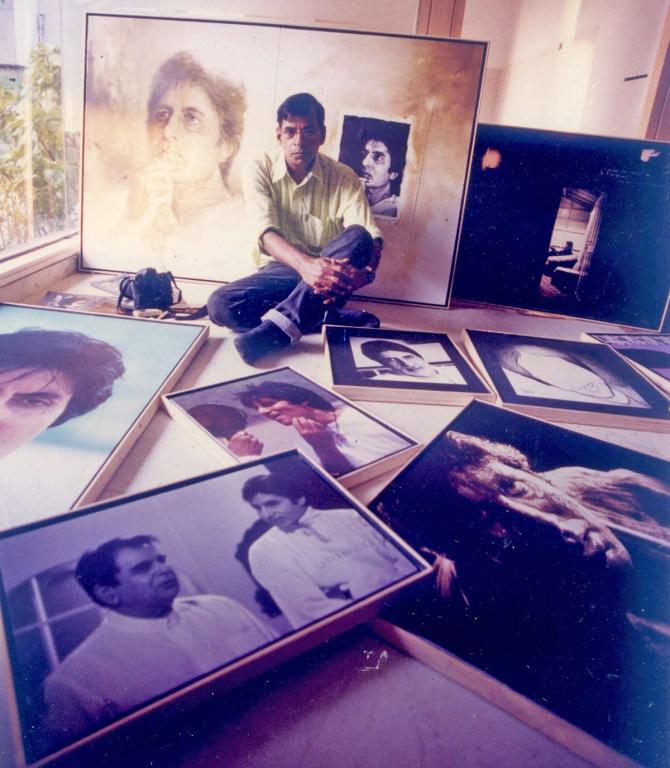 The book comes from a good place and does a sincere job. But except for a superb piece on Bachchan and his craft by Javed Akhtar, it never goes beyond being a chronicle of already published, known facts and events.
It is not clear why Chandra, with so much access to the star over 40 years, has not interviewed Bachchan.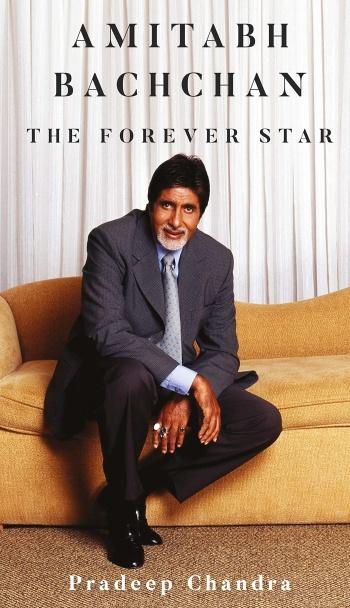 Chandra's chronicle falls in the same category as a bunch of recent ones on film stars which are written for the sake of it.
There were two books on Sanjeev Kumar last year with almost nothing on his craft or cinema, but more on his personal life and his family members.
I have read a book each on Dilip Kumar, Rajendra Kumar which chronicle all that is known or published.
There are two differences between these and Chandra's book.
One, Bachchan is alive.
Two, this one is in a coffee table format.
It is not exactly obsequious, but the book is a paean of sorts.
There is no analysis or perspective, except perhaps for the bit about his parents.
The writing could do with less statement-of-facts tone and some style. And the editing could certainly have been better.
In spite of its flaws, I enjoyed reading the book.
Simply for the joy of digging into the life, in pictures and words, of one of the most enduring stars of Indian cinema.
Amitabh Bachchan The Forever Star
Author: Pradeep Chandra
Publisher: Amaryllis
Pages: 172
Price: Rs 2,500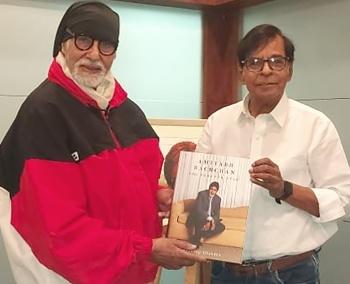 Feature Presentation: Rajesh Alva/Rediff.com
Source: Read Full Article