Half a dozen reasons why Sridevi is to the camera born.
Sreehari Nair lists them out.
As a cinema-lover, there are times when the medium gives you beans of 'superiority'.
For instance, there's a sadistic pleasure to be derived out of re-watching films you once applauded, but that don't seem any good anymore.
Or in revisiting a performance that once shook you up, but now look as mannered as a Victorian-era novel.
Let's accept it: It's when your old ideals look faded that you become convinced of your own improving taste.
Sridevi is one actress, who has constantly denied me this pleasure.
As my cinematic tastes changed, as my benchmarks for determining a performance's worth changed, as my judging of a film performance became linked to my understanding that this was all 'recorded' and 'spliced together', it actually convinced me more of Sridevi's genius.
She is to the camera born.
As her latest film Mom gets rave reviews, here are six of her most joyous acts and why I think they're ageless.
Sadma
That she had to play a woman-child with the curiosity of a newborn calf was part of the brief.
What makes Sridevi's performance so memorable is the way she keeps it attuned to the smallest bit of change in her environment — a thud or a rustle, and we don't get just a reaction but a paroxysm.
When her Reshmi tries to negotiate her way out of a bunch of executive papers, and then stops to ride over a cupboard, she turns fidgetiness into an art — the whole scene then comes alive!
The hallmark of her turn here is not subtlety, but in the way she constantly risks theatricality, and still delivers the jolts.
Lamhe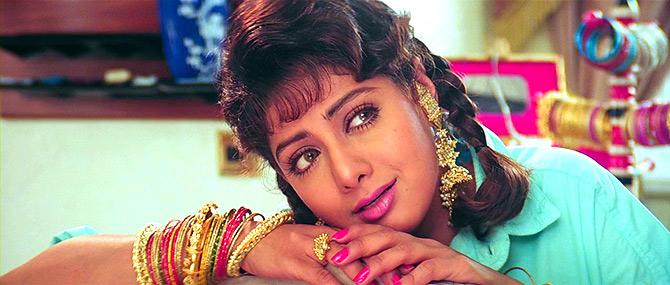 The movie isn't as great as some people would like you to believe.
But, while, in the other actors' performances, you can actually read the director's cues (that is, you can trace their reactions in relation to the camera's movement), her side of the frame almost always remains magically unaffected by the cinematic technique on display — she's in her own daze, her characters' daze.
And she's brilliant with the props made organically available to her within a scene — a pencil she fiddles with or a shopping bag she casually drops.
In Lamhe, Sridevi basically takes a 1990s' Hindi film and imbues it with a spirit of improvisation that's way ahead of the era.
Mr India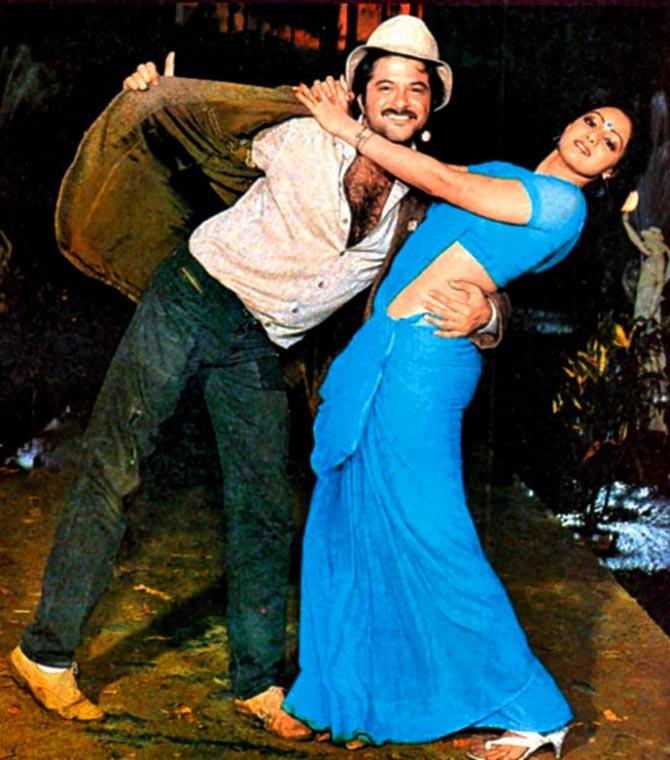 There's a case to be made that the Charlie Chaplin sequence as also the Hawa Hawai dance were probably written into Mr India after Sridevi was cast to play the occasionally-uptight-occasionally-goofy journalist Seema.
It wasn't usual for actresses to louse up on screen and *she* made it fashionable.
Anil Kapoor may be playing the titular role here, but it is Sridevi's face that holds the zany spirit of the film.
Again, while director Shekhar Kapur frequently 'cuts' with the other actors, when our lady's in the frame, he lets her run amok in long takes.
She responds with huffing, puffing, contorting her face, boxing, burping, slapping around and rolling her eyes.
And when that Chaplin costume came off and the rain-drenched sari took over, an entire generation magically grew up!
Laadla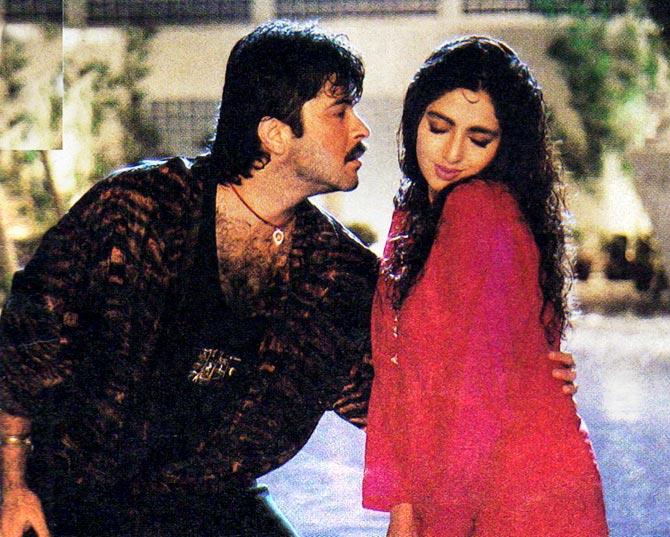 Now here's a badly written, almost 'assumed' character that finds a mention on this list for one simple reason: It's a character and a movie salvaged only by Sridevi's performance.
And for verification, you can watch footages of Divya Bharti playing the same character (post Bharti's untimely death, there was recasting and scenes had to be reshot).
Bharati softens out, tries to make the devilish character likeable, while Sridevi 'gets' it — she doesn't try to embalm a trashy role, she plays trash like trash.
The actress has an irony about the whole thing; she's too inventive and doesn't merely perform the rituals.
And so when she struts and snaps her finger hard, we get it: She is too big for the role.
Judaai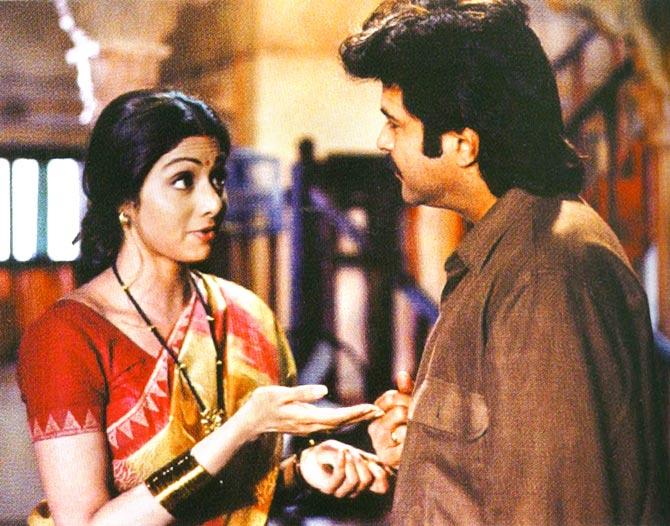 Nobody with a South Indian accent has said the word 'Kalmoohi' better than Sridevi in Judaai.
Though it was one of those nose-upturned roles right up her alley, she leaves no chance for the 'virtuous wifey' part to emerge in her act, while keeping the character just this side of the archetypal vamp.
Again, it's a physical, all-out performance in a role and a movie that hardly matches up to her talent.
She's constantly talking to herself here, or doing her little dodges, while others parrot their way through.
It's to her calibre that she transforms a story about 'What a woman should be like,' into a marital farce.
Her Kajal is perhaps her revenge for the retrograde ideas that the film was constructed on.
English Vinglish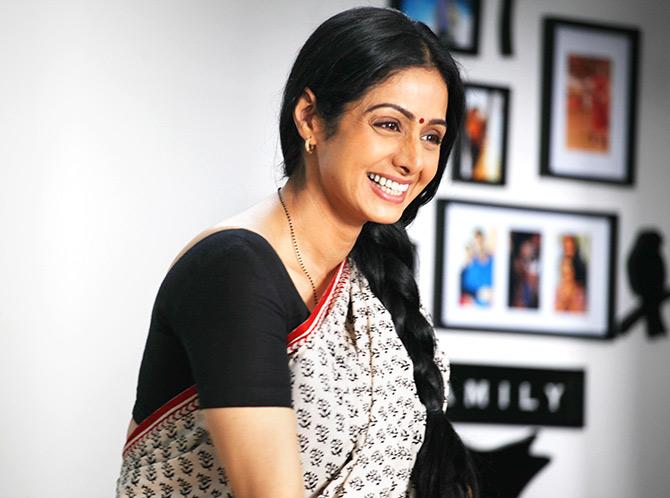 Did she come back like she'd never gone away?
I don't think the greatness of her performance here can be contained in that one flippant sentence.
For, in her Shashi Godbole, she releases some of her own silent frustrations and that gentleness she had cultivated during her sabbatical.
Her taking in of her humiliations feels like an act of Seppuku.
We know she is sourcing her hurt from some place other than the script; and her complexes from somewhere deep within herself.
Her voice seems like it's coming out of a tired mouth; she has a face that battering domestic rituals can give you and yet, she brings to that face an innocence that comes with aging.
It's a marvellous performance, quite possibly the best we have seen in a Hindi movie this decade.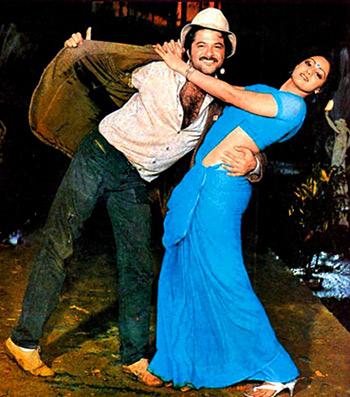 Source: Read Full Article