'While Rocky Aur Rani is a good film, there is nothing compelling in the content for which viewers would be ready to pay a premium.'
Despite Karan Johar's famed magic touch at the box office, his new directorial venture after six years, Rocky aur Rani Ki Prem Kahani, which was released last Friday, has failed to match, let alone overtake, the box office collections made by Christopher Nolan's Oppenheimer in its first weekend (which began from July 21).
Oppenheimer, which has hit domestic box office collections of Rs 90 crore (Rs 900 million), is now racing towards the Rs 100 crore (Rs 1 billion) mark.
On its first day, it hit Rs 14 crore (Rs 140 million) and ended that weekend with Rs 49.50 crore (Rs 495 million).
Despite all the hype, Rocky Aur Rani's collections were Rs 11 crore (Rs 110 million) on the first day and Rs 46.15 crore (Rs 461.5 million) for the weekend.
According to PVR-Inox estimates, ticket sales fell by around 30 per cent on Monday, July 31, 2023. over the first day.
"It has come as a big surprise for us that Oppenheimer collections performed better than Rocky despite being dubbed only in Hindi and no other regional language," said Kamal Gianchandani, chief of business planning strategy at PVR and president of the Multiplex Association of India.
"We expect Oppenheimer to go strong, especially in IMAX screens, and continue for another 3-4 weeks. While Rocky has performed according to our expectations, Oppenheimer has performed more than our expectation," Gianchandani added.
He pointed out that Oppenheimer, which has been shot on IMAX cameras, has been running in over 22 IMAX theatres where ticket prices are far higher.
According to estimates, these tickets account for 20 per cent of the movie's box office revenues.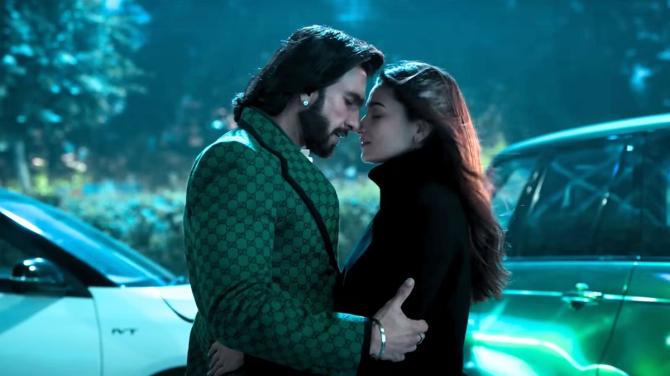 But trade analyst Komal Nahta says the difference is in the content: "It is simply that Oppenheimer has better content. While Rocky Aur Rani is a good film, there is nothing compelling in the content or presentation or any novelty for which viewers would be ready to pay a premium," he said.
Rocky Aur Rani is a weekend film in that numbers will go up again and come down on weekdays while Oppenheimer is seeing steady viewership throughout the week.
Nahta estimates that Oppenheimer will achieve over Rs 100 crore by this weekend.
"For an English film which is so dense, it is no small achievement to cross Rs 100 crore," he said.
As to Johar's film, as it is in Hindi and in more theatres, he thinks it might end up with a higher figure of Rs 110 crore-Rs 115 crore (Rs 1.1 billion to Rs 1.15 billion), especially as there is no other big Hindi film being released this week.
Johar's last film was in 2016, Ae Dil Hai Mushkil, starring Ranbir Kapoor and Anushka Sharma and it did not set the box office on fire.
According to data from koimoi.com, it made around Rs 113 crore (Rs 1.13 billion) at the domestic box office, far behind other blockbusters such as Dangal (Rs 387 crore/Rs 3.87 billion), Sultan (Rs 300 crore/Rs 3 billion), or M.S. Dhoni: The Untold Story (Rs 133 crore/Rs 1.33 billion).
Source: Read Full Article