'I am a non-resident Indian. I didn't come to India to shine a light on its negative aspects.'
'I came to India to showcase what I think are remarkable aspects of India and Indians on a global scale.'
Canadian-Indian film-maker Richie Mehta has worked on a number of films set in Delhi like Amal and Siddhartha. He is best known for his Emmy-winning Netflix Web series, Delhi Crime.
Now, he is back with another crime thriller series, this time mostly set in Kerala.
Poacher stars Nimisha Sajayan (The Great Indian Kitchen, Nayattu), Roshan Mathew (Moothon, Darlings) and Dibyendu Bhattacharya (Rocket Boys).
It is a gripping drama about wildlife crime fighters tracking poachers involved in killing of elephants and the illegal ivory trade.
Mehta recently premiered three episodes of the show at the Sundance Film Festival.
Richie tells Rediff.com long time contributor Aseem Chhabra, "I just couldn't believe that these people were running around, sometimes sacrificing their lives, to save animals."
Richie, I was really enjoying the series but alas, it ended with episode 3 and that also on a cliffhanger.
Originally, we were going to do it differently.
At the end of episode 2, you see the elephants crossing. Without giving things away, I thought either we end in a sublime way or give a kick to the gut.
But then it just ended up working out that way.
Even when we showed Delhi Crime at Sundance, it was a two-hour experience.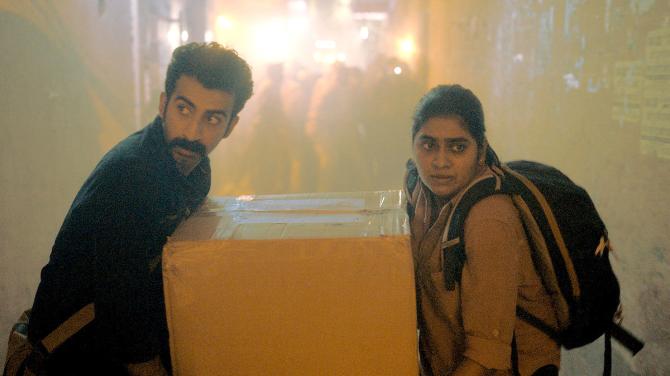 After you spent an intense time working on Delhi Crime, which was such a dark story, why didn't you go back to making a feature film?
I have ideas for feature films but this was something that was weighing on me for a while.
I had a scene in the first episode of Delhi Crime, where Rasika Dugal's character Neeti finds ivory tusks during a random traffic stop.
I made a note to myself that after Delhi Crime I should get to the elephant tusk case.
I had gotten to know some wildlife crime fighters.
When I had the first meeting with them, I just couldn't believe that these people were running around, sometimes sacrificing their lives, to save animals.
While I was making Delhi Crime, I also felt if I do another project in the long form space, I needed to get out of the city. And I wanted to explore the culture of humans in relation to the natural world because it's a different aspect of the life in India.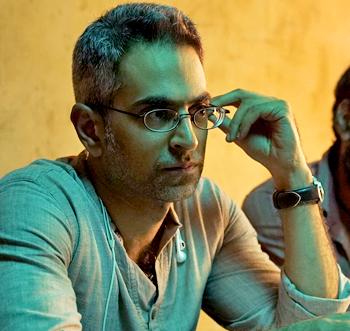 I read that you started off with a mysterious meeting at a metro station at midnight.
That happened. When I was working on India in a Day in 2015, some of the footage I got was of an ivory raid in Delhi.
I called them and it was an NGO called Wildlife Trust of India.
They told me they had had just done the biggest ivory bust in Indian history.
It was amazing, but I knew I couldn't give it the context it needed in India in a Day .
I told them to give me a few years and I would get back.
When Delhi Crime was winding down, I contacted them again and they said, 'You should connect with our wildlife crime fighter.'
I called this guy and he said he was going the next day to the India-Nepal border.
If I had to meet him, it had to be that night, around midnight, and he only had 10 minutes. So I went and met him.
Which metro station was it?
It was Nehru Enclave in Delhi. We stood outside on the street.
When he asked me who I was, I showed him the opening scene of Delhi Crime on my laptop, and he got a good impression.
I said as a storyteller, I wanted to help him with his goals. And that started the process.
Every time I would go back to India, I would spend time with him either in Kerala, or with some of his colleagues in Delhi.
My research process was fun, but in solitude, without knowing what I would get.
I wasn't necessarily getting ready for a series. I was just pursuing it.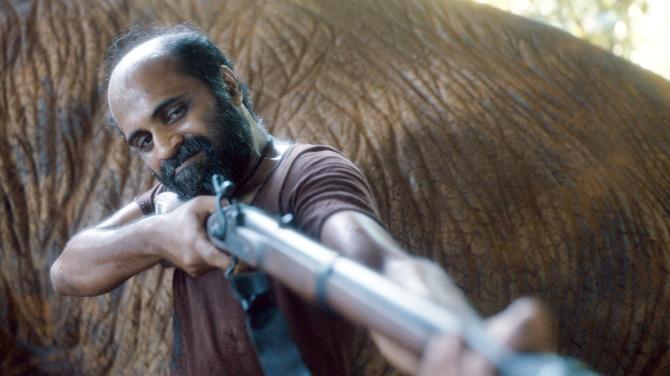 The way you describe the meeting, reminds me of the meetings with Deep Throat in the underground parking lot in All the President's Men.
It was very much like the Deep Throat meetings.
Initially, he didn't trust me. He didn't know who I was. But it's all about instinct.
Once in Trivandrum, we took the train across Kerala together.
We were standing in the doorway of a train and rain was pouring in.
He was telling me stories about a case. I was standing there, my notepad getting wet while I was trying to hide it from the rain.
It was that kind of a thing for a couple of years before the pandemic.
By the time the pandemic hit, I had gathered enough material. And I started to write.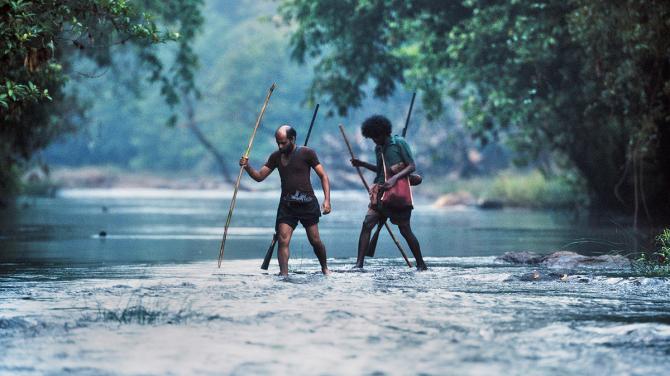 When the show started and I heard Malayalam dialogues and I said, 'Wow, Richie is directing a series in Malayalam.' Of course, soon after they started speaking Hindi and English also. But there is a lot of Malayalam spoken.
Tell me about directing actors, when they are speaking a language that you don't understand.
We had amazing translation done by our translator, Gopan Chithambran.
I found people in Kerala very possessive about Malayalam, in a great way. So he was very precise about his translation.
I had written the script in English and it was inspired by true events.
So he couldn't deviate from what I was trying to say.
We would walk through, Gopan would do his pass, I would go back and confirm what is being said because the syntax is different in Malayalam than in English. Of course, this was very tedious.
When I went on set, we had either Gopan or a couple of our ADs (assistant directors), who were from Kerala.
They listened to every word and made sure the actors said exactly what was in the script. And if they deviated, what did that deviation mean?
We screened a few episodes to some of our subjects, they were very complimentary of the language of the actors.
So that is a testament to Gopan. For me, it's very important that people in Kerala identify with this.
It's their ecosystem we are talking about.
If the elephants are going to be protected, it is only because of them. So it was important that they look at this as authentic.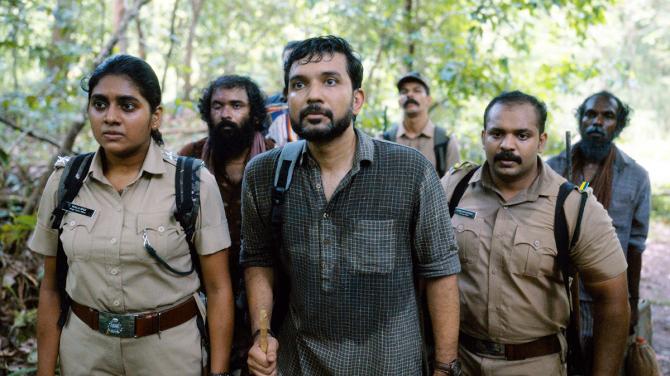 In addition to the dialogues, you have cast some fine actors. I know Roshan Mathew has acted in Hindi films. How did you cast them? I know Mukesh Chhabra was your casting director.
Honestly, I have to hand it to Mukesh.
When I described the Mala character in Poacher, he immediately suggested Nimisha Sajayan.
There was not even a second of hesitation. When I asked who she is, he asked me to watch The Great Indian Kitchen.
You decided to take Roshan's beard off. Why did you do that?
Because some of the real people resemble that look.
Mukesh's team even suggested Dibyendu.
I had wanted to work with him for a while. But with Roshan, we had help from (film-maker) Geetu Mohandas, who was kind of a mentor and advisor.
They are friends, and Geetu was whispering in my ear, 'You have to look at Roshan, you have to look at Roshan.'
He auditioned and it was amazing. This was a world that was very different for me.
With Delhi Crime, I very much knew the cast from before. And many of them had worked with me for years.
The last two episodes of Poacher are mostly in Delhi.
So I have gone back into that world with my old team. But this was super exciting.
You have a big supporting cast, and all of them are such remarkable actors.
A lot of these actors are working on five or six movies a year.
They are very hungry and their work ethic is outstanding. And they can handle anything.
We were in a jungle environment where leeches were climbing up their legs.
Few people would apply salt on the leaches and get them off.
But during a take, the leaches climbing up their legs, which is very disturbing as an idea, when you are trying to concentrate.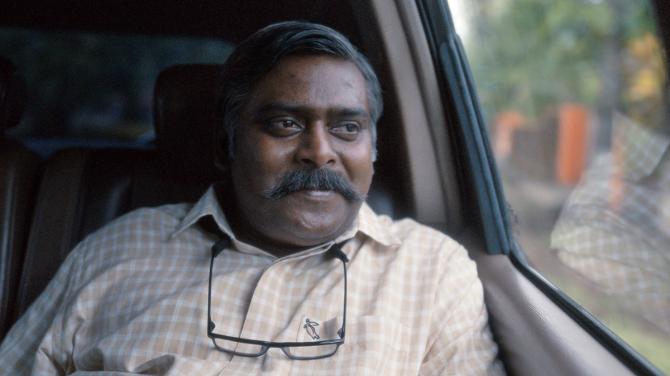 I know you have made a few projects in Delhi. But Kerala, even though it is beautiful, is a new territory. You must have faced challenges as well.
My whole thing was we were trying to do something that helps the ecosystem there.
So we couldn't trample on the ecosystem.
We were literally shooting in the elephant corridors and in the homes of some of these elephants. And we couldn't agitate, bother them. None of the animals you see are real.
Yes, I imagine the tiger was not real. And that beautiful shot of the elephants crossing the road.
Honestly, we were not there to be bullish about my vision.
The jungle is not a friendly environment, especially for humans.
So it was just a question of balance. We didn't want to go there with a massive film crew.
We didn't want anyone to get hurt.
Every day we were standing there, the chance of injury or death, a cobra bite, was high, especially when it was raining, and it rained mostly every day. So that was the challenge.
You stand on the street in Delhi and are shooting, jo bhi hota hai, hota hai.
You have your crew and most of them are from Delhi, we can handle it. But in this circumstance, anything could happen at any time. But not a single person got injured.
We never had an animal encounter. I had one snake encounter personally, and it ended up being harmless.
The character Roshan Mathew plays, was that one person or a composite? He's an expert in snake bites. At the same time, he's an expert on computer tracking, etc. How did you make up such a character?
I can't make that up. He was a real person.
The guy was studying computer science in college and then on the side, at night, he was rescuing snakes.
He developed this balance in his life: 'How do I protect snakes and people from snakes? And how do I continue my computer work? How do I get into crime fighting for wildlife?'
There are many such people in India quietly doing their work.
I am a non-resident Indian. I didn't come to India to shine a light on its negative aspects.
I came to India to showcase what I think are remarkable aspects of India and Indians on a global scale.
Anyone in the world will look at the show and say these people are remarkable.
Feature Presentation: Rajesh Alva/Rediff.com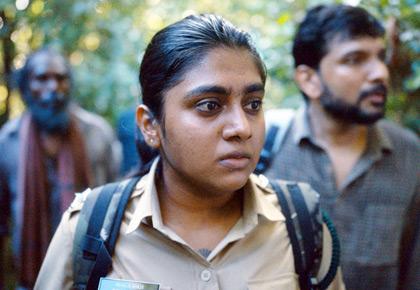 Source: Read Full Article