'It's only in the last seven years, I have taken acting seriously.'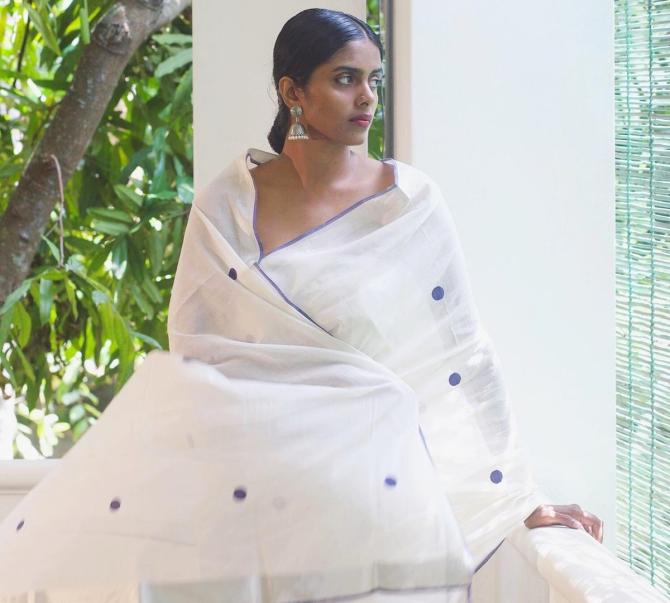 There's a fascinating story behind how Kani Kusruti got her last name.
Her 'progressive' parents Maitreya and Jayasree gave her that name almost 15 years after she was born.
Born in Cheruvakkal, a small village in Thiruvanthapuram, Kerala, Kani was taught by her parents to always follow her heart and think out of the box.
They made her believe that the world is her oyster.
Seventeen years after making her debut in Malayalam cinema, Kani won the Kerala State Film Award for her role as Khadeeja in the film Biriyaani.
Although she studied in a Malayalam medium school and doesn't speak fluent Hindi, Kani doesn't mind it. Yet, she plays Monalisa Paul, a policewoman in OK Computer, and Kaveri Sridharan, secretary to Huma Qureshi's Rani Bharti in the Web series Maharani — and both characters speak unflinching, though accented, Hindi.
Surprisingly, Kani tells Divya Nair/Rediff.com, "I never felt I wanted to act in films. I didn't have the passion to act."
What's the story behind your second name Kusruti?
My parents did not want to mention caste or religion during my school admission.
But the teachers, and the admin staff insisted on it.
'Idhenda vaalum thala onnum ille?' ('Don't you have a head or tail?', indicating first and second name.')
They wanted to put my father's name Maitreyan.
My mother fought really hard for me not have a second name but eventually, we settled for the initial K.
For most part of my school life, I was Kani or Kani K.
But while applying for my Class 10 board examination, they demanded once again that I have a second name.
I came back home and discussed with my parents.
My father was funny, so he said, 'Why don't you put kundi? (ass), kalli (liar) or kundamandi (being silly)'… mostly all bad words.
I was a teen, so frankly, I was a little agitated by the whole thing.
Like, why is everyone making such a big deal about your second name?
Since I had to put something, my father randomly mentioned Kusruti (mischievous) and I said okay.
Now it's on my passport too.
Sometimes when I visit a government office and the staff is bored or something, they'll ask, 'Ayyo mole, sherikyum ulla per ano kusruti? (Kiddo, Is this name for real?)' So they instantly warm up to me.
When I went abroad to study, people called me Miss Kusruti, but I never really identified with that name.
Now everyone knows me as Kani Kusruti on social media.
When people address me as Kusruti chechi, I realise that they are actually talking to me.
It's only in recent times that I have learned to associate with that name.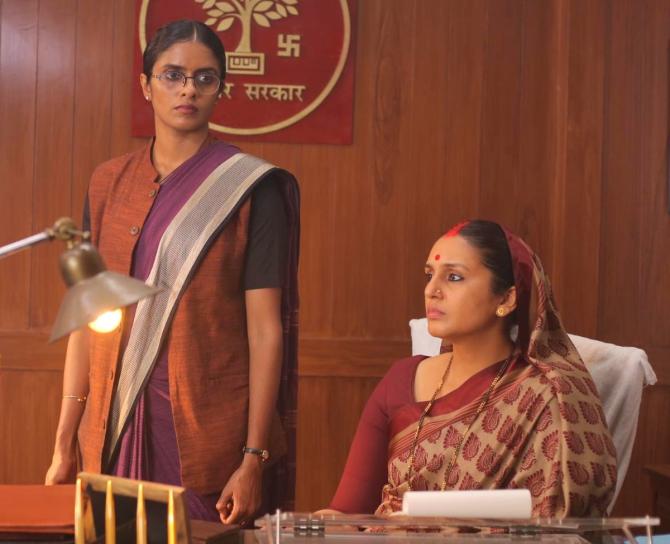 So what is the real Kani like?
Everyone has all sides.
Sometimes one side overpowers the other.
Sometimes we show one side more often than other, or at least with our closest people.
I can't say I'm fun.
But I'm straight-forward.
If I don't like something, I'll be frank.
What kind of influence did your parents have on your childhood and teen years?
When I was younger and living with my parents, they taught me to be sympathetic and kind.
But since I started living alone, I've had my challenges, so I don't know how empathetic I am now.
I am definitely open-minded because of them.
They raised me to be non-judgemental.
Also, when I was a kid, I was hardly ever angry. But these days, I do get angry sometimes.
Although I don't think anger is a bad thing. Sometimes you have to express yourself.
Growing up, we've talked about a lot of things at home.
My mother would initiate these conversations and make me aware.
At 18, when my father shared that letter (external link), some of the things mentioned in it wasn't surprising for me because I've been hearing and following it all my life. Of course, it was overwhelming because the letter was like the culmination.
I have my own emotional needs. But it's a good reference point for me.
Even now, I ask myself, Was I selfish, greedy?
Was it the right choice?
Did I do the right thing?
Sometimes I fail in that, but I am mostly self-aware, and that's because I was taught to be kind.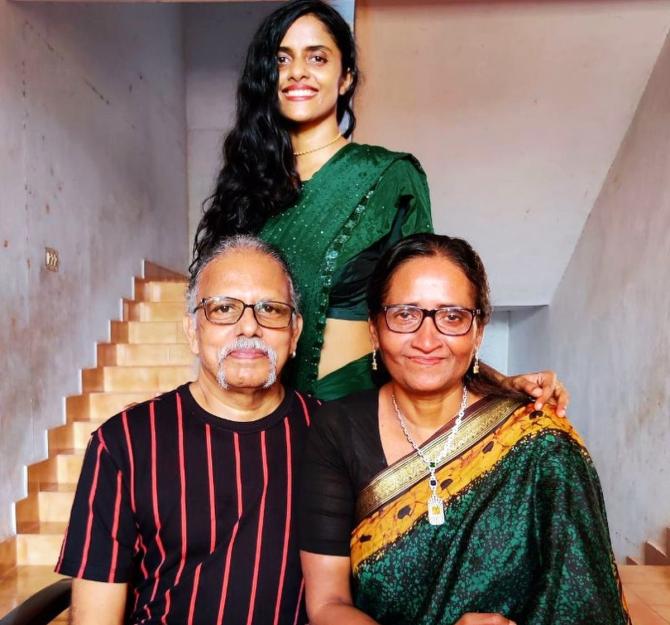 How did you deal with criticism about skin colour and life choices?
When it's with people you know, like my own family, they are very progressive, maybe even more than me.
But with my extended family, I have always faced remarks like, 'Don't wear this colour, it won't suit you,' 'Don't do this, it's not right,' 'The way you comb your hair', 'Don't laugh too loud…'
These things used to really hurt me.
I used to wonder why everyone would say this and why my parents thought so differently.
Apart from my parents, theatre really helped me.
How?
Working in theatre made me see things more objectively. I let go of my inhibitions.
It helped me break my own notion of stereotypes.
I could play different characters, experience life through them, their thoughts.
Did you struggle in the initial days of your career?
I never felt I wanted to act in films.
I didn't have the passion to act.
I took up theatre because I liked the atmosphere.
I've even done production work in theatre. I like doing physical acting, hence I went to study in Jacques Lecoq (in Paris).
I said no to a lot of films because I didn't like the kind of Malayalam films made at the time, especially between 2000 and 2010.
Even as an audience, I wouldn't watch those films in a theatre.
In the initial years of my career, I did films only to earn money.
I took up whatever was offered without thinking so much.
Also, there weren't much choices.
If I really wanted to act, I'd do theatre.
It's only in the last seven years, I have taken acting seriously.
I really enjoy some of the films that are being made, the content, the process etc.
Over the years, I also grew a passion in acting.
But even now, I don't like some of the films or roles that are coming my way. So I take up shooting work just to earn money.
Earlier this year, you were criticised for wearing red lipstick and a shirt while receiving the State Award. Of late, we are seeing a lot of moral policing in Kerala both online and offline.
As someone who has grown up in Kerala, what do you think is influencing this behavior?
I've been a survivor of a lot of things.
A lot of us blame Victorian morality and feel that a certain set of values have come with it.
But I am not sure if it's that. There could be a multiple reasons.
We are still reluctant as a society to accept something new.
We are not supportive of friendships with the opposite sex.
There is a lot of jealousy and frustration when you see someone breaking away from this which leads to trolling and moral policing.
I don't have much clarity on what or why, but the problem exists.
Even some of the most progressive (political) parties advocate some sort of moral policing.
If you compare the situation in Kerala, or even in India, from what it used to be 20 years ago, I do see a change. But it's slow, maybe slower than a snail.
The issue is we don't encourage our children to talk about these issues at home.
In our homes, we are not allowed to be friends with boys, like a girl cannot sit next to a boy.
There is no emphasis on gender studies, sex education or gender sensitivity at school, college or even at home.
So where will they get the values from?
As a public figure, you've often talked about skin colour, body hair and body positivity, even saying no to Photoshop. Do you really think that taking a stand against body shaming makes a difference?
Historically, we have seen that any action has an impact on society or contributes to change.
Some people don't even get a chance to speak or share their opinion with the rest of the world.
I am fortunate to get the opportunity, the platform and the situation demanded that I spoke about it.
It's not something I do intentionally. If it happens as a part of something I am doing, and I feel it is not right, I will talk about it.
A lot of people have been doing this before me and continue to do it.
So it's not about one person making a difference.
I see it as a momentum that is created; it just helps build solidarity and tell someone that hey, you are not alone.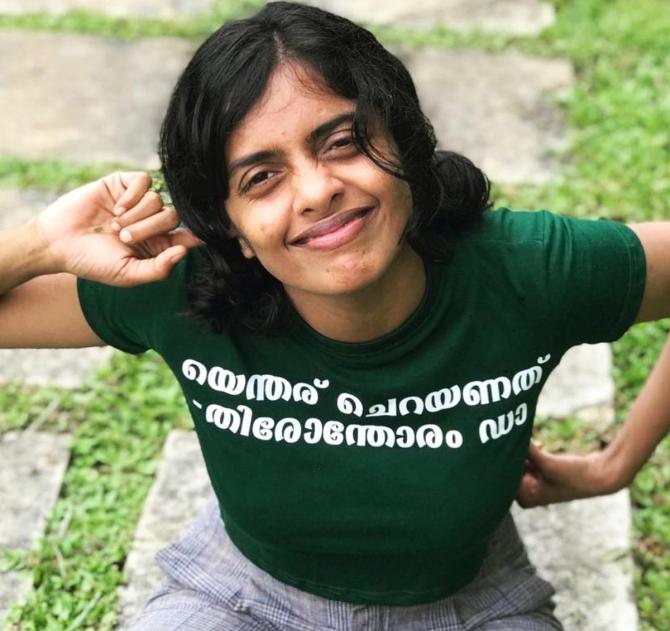 How do you deal with trolls and negative criticism? Do you think twice before posting a picture/video?
I remember a few years ago, I'd posted a backless photo on my social media.
So many people commented, 'How dare you do this? Who took this photo? What will your father say when he sees this?'
To everyone's surprise, my father commented it was a beautiful picture.
If I see a negative comment from a stranger, I try not to indulge.
First of all, there are so many comments; who will read them all?
But if I see that someone close to me has an opinion, then I will engage in a positive conversation and share my views.
What's your idea of beauty?
Growing up in Kerala, I was immune to all kinds of criticism — body colour, hair, clothes etc.
But when I studied in Paris, I noticed how they appreciate different looks and colour.
Although I was self aware, I got to experience that there is no one standard of how one should look.
That's something I carry with me — to look within and embrace who you really are.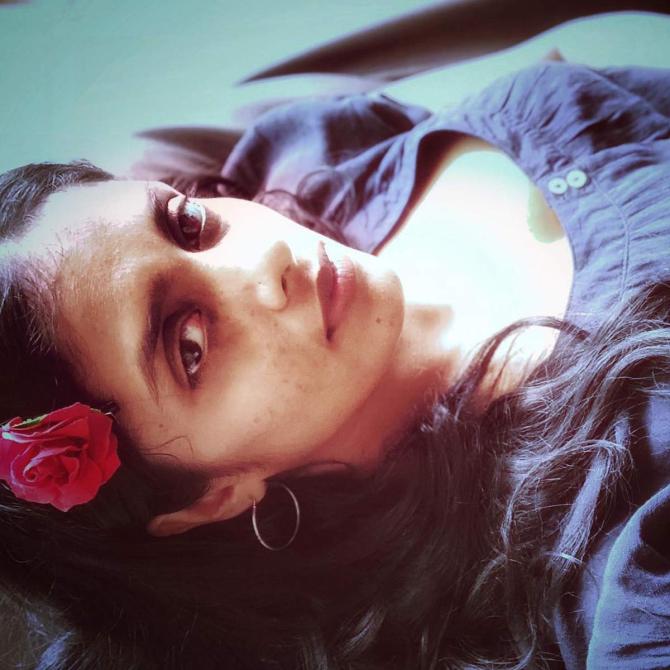 Which are your favourite films?
I used to like the films in the 1980s.
I really liked P Padmarajan and K G George's work even though I disagree with some of the political aspects of the films.
Among the few films I remember are Arappatta Kettiya Graamathil and Kallan Pavithran.
And in recent times?
I admire the work done by Syam Pushkaran, Dileesh Pothan and to some extent, Lijo Jose Pellissery.
I like Syam and Dileesh's consistency of work, not particularly their genre of films. In fact, Syam's writing is very good.
But again, I feel everyone is trying to do the same thing, we are seeing a pattern of the same kind of films — very preachy.
I would like to have more diversity in Malayalam cinema rather than one kind of genre getting repeated again and again.
Among artistes, I really like the late actors Philomina and Meena (Mary Joseph) and K P A C Lalitha and Urvashi.
I also like Grace Anthony; she's coming up in a nice way.
Do you have a dream role?
I am a big fan of Manju Warrier, she's simply amazing.
I wish I could do roles like that.
I like Aishwarya (Lekshmi)'s role in Mayanadi, Nimisha (Sajayan)'s part in Eeda.
I'd love to do a comedy film, maybe a black comedy. I really want to explore humour as a genre.
Feature Presentation: Rajesh Alva/Rediff.com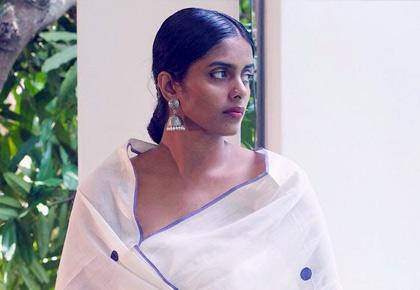 Source: Read Full Article