Emperor Jahangir's ultimate compliment to Kashmir's natural beauty doesn't get old. A magnificent blend of snow clad mountains, serene lakes, tall trees, silver streams and blue skies, the valley is, indeed, paradise on earth.
Of course, the long-drawn-out impact of ugly politics and murderous terrorism on the region is equally tragic.
Nevertheless, its everlasting spirit shines through its breathtaking visuals, compelling an awestruck beholder to experience its heavenly charms at least once in their lifetime.
For those who already have, lucky you.
For those of us still waiting for their turn, Bollywood continues to be our doorway to Kashmir's scenic splendour.
Sukanya Verma remembers its most romantic imagery over the years.
Rocky Aur Rani Kii Prem Kahaani
Can't say we blame Alia Bhatt for daydreaming about snow, saris and Ranveer Singh like a true-blue Yash Chopra heroine in a Karan Johar romance while out and covering a cultural festival in Kashmir's winter wonderland.
Student of the Year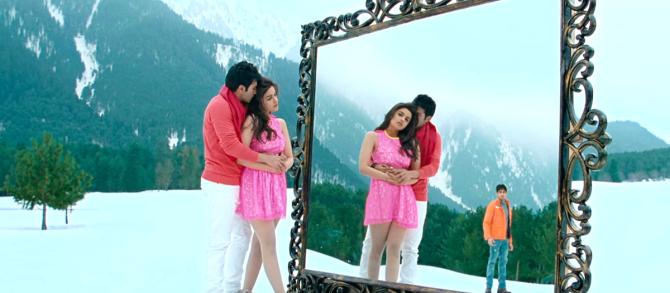 Previously, KJo took a break from his fancy high school shenanigans to explore Kashmir's snow-covered vistas and teach his newcomer troika a thing or two about Ishq Wala Love.
Satyaprem Ki Katha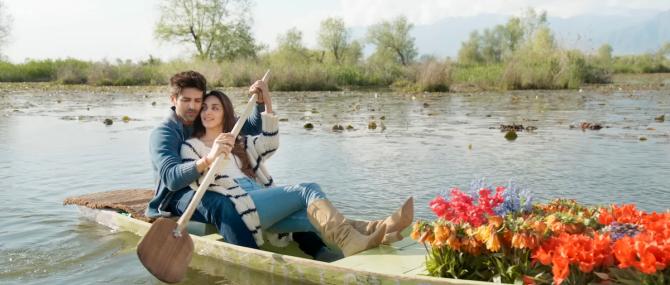 Kashmir continues to be the dream destination for young honeymooners in India as demonstrated by Kartik Aaryan and Kiara Advani in Satyaprem Ki Katha.
Kashmir Ki Kali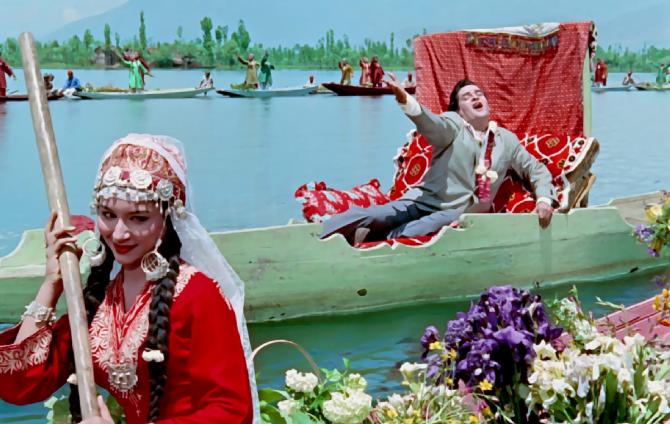 Shammi Kapoor's shikara serenade of Sharmila Tagore in Shakti Samanta's Kashmir Ki Kali captures Bollywood's larger-than-life romance rituals to the hilt.
Rockstar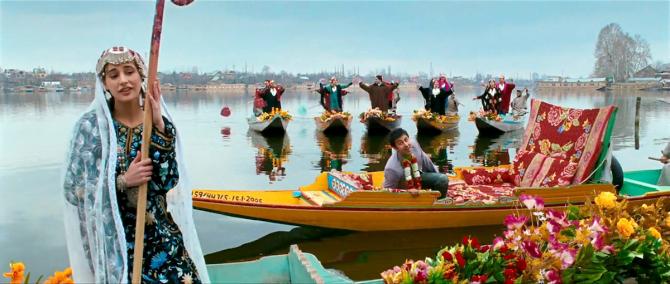 Grandnephew Ranbir Kapoor pays a hearty tribute to the iconic moment and Kashmir's eternal aura in his milestone musical, Rockstar.
Junglee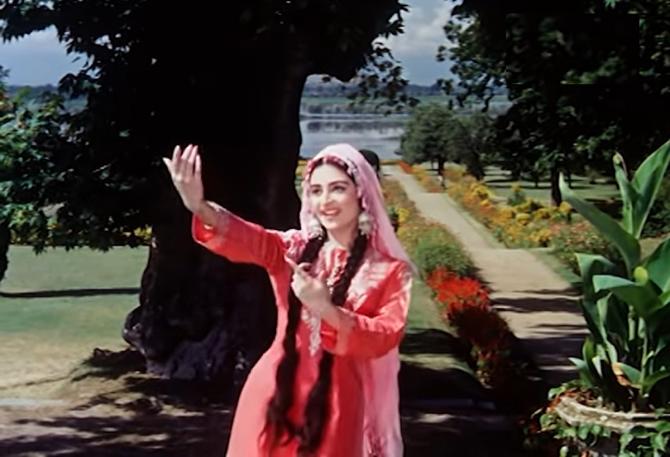 A couple of years before Sharmila Tagore's Bollywood debut, first-timer Saira Banu enjoyed her stint as Kashmir Ki Kali while their common co-star Shammi Kapoor yahoo-ed his way through Kashmir's snow and sun.
Jab Jab Phool Khile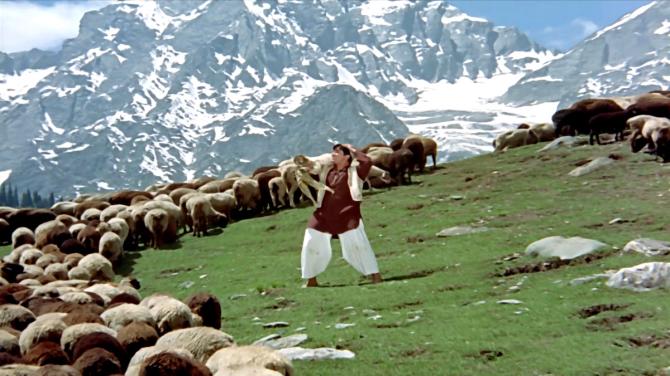 Who can forget Shashi Kapoor's super adorable shikarawala showing off Kashmir's stunning landmarks and allure to tourist Nanda in Jab Jab Phool Khile?
Himalay Ki God Mein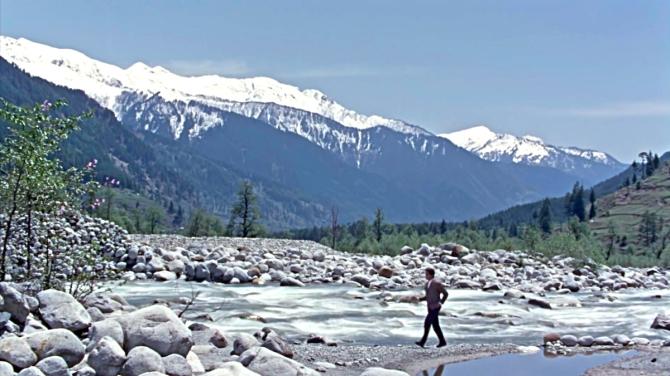 Kashmir's postcard views form the backdrop for the blooming love story between Manoj Kumar's dedicated doctor and Mala Sinha's coy village belle.
Kabhi Kabhie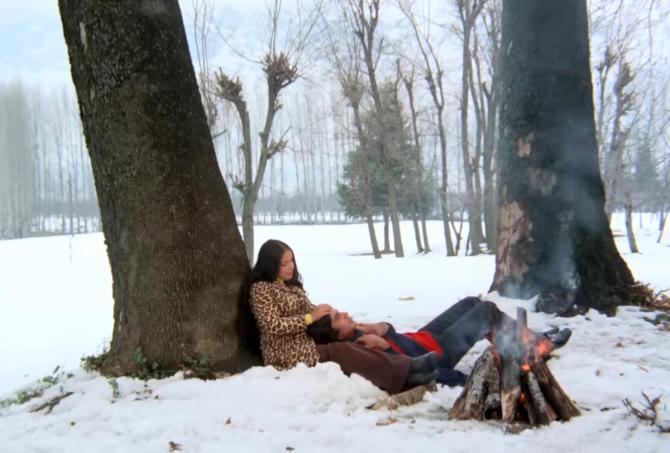 Many have filmed in Kashmir before, but none brought out the passion of its picturesque air as lyrically as the King of Romance, Yash Chopra.
Silsila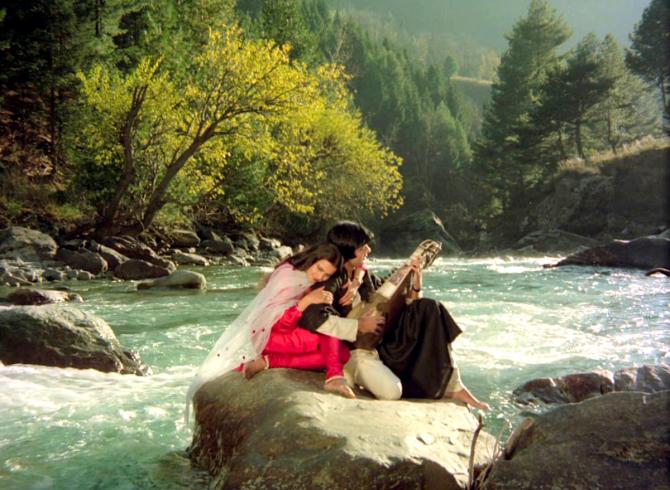 Holland's world famous tulip gardens wouldn't be enough to keep Yash Chopra away from capturing Kashmir's lush greenery and renowned snowfall until he set his sights on Switzerland.
Jab Tak Hai Jaan

It's only poetic that his swan song should feature pretty glimpses of Kashmir as well.
Bemisaal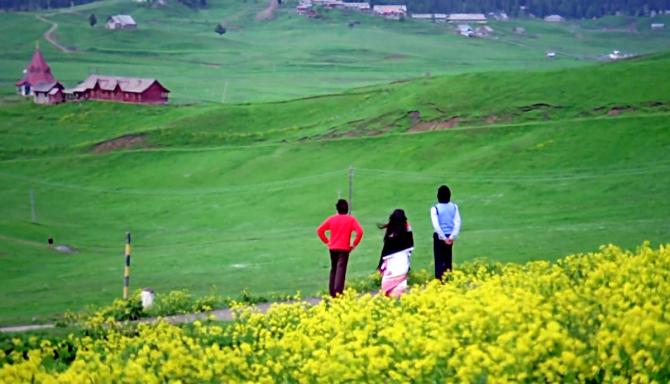 Kitni khubsoorat yeh tasveer hai. Mausam bemisal, benazir hai. Yeh Kashmir hai. Yeh Kashmir hai.
Anand Bakshi pays rich ode to Kashmir's charisma in this melodious Rahul Dev Burman melody of Hrishikesh Mukerjee's friendship tale starring Amitabh Bachchan, Raakhee and Vinod Mehra.
Kasme Vaade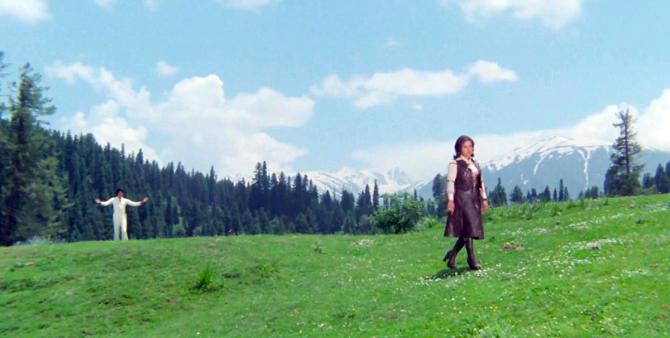 The Big B has shot for quite a few love songs in its dreamy ambiance. Be it the title song of Kasme Vaade reuniting him with Raakhee….
Satte Pe Satta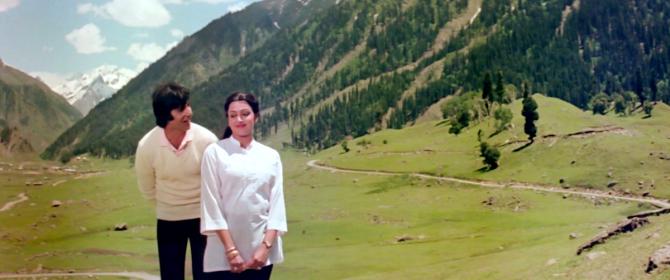 …Or title song of Satte Pe Satte in the company of fellow Libran Hema Malini.
Kaalia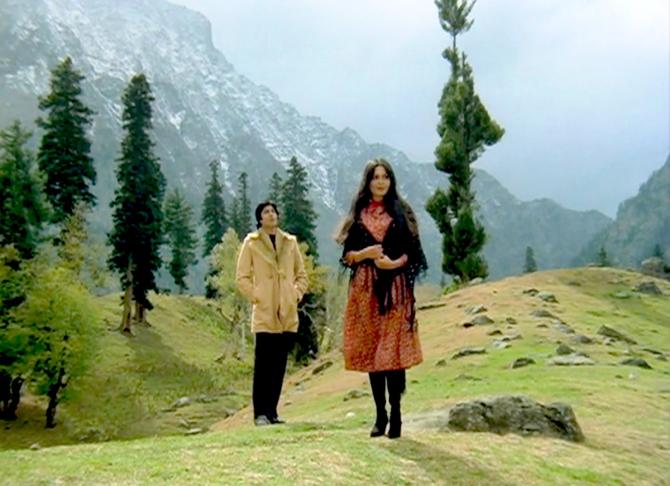 Or declaring his L-O-V-E for Parveen Babi in Kaalia.
Kabhi Kabhie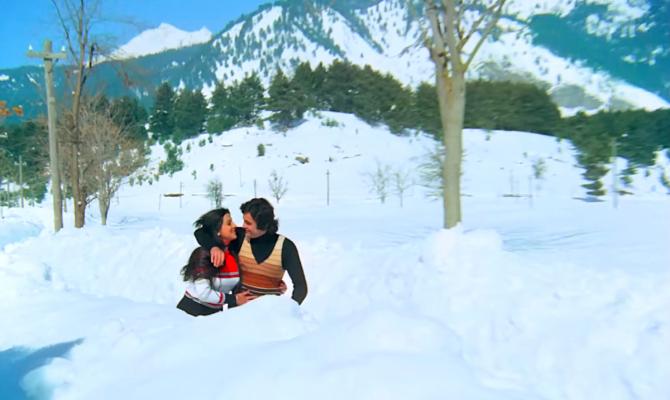 Co-star Rishi Kapoor's association with Kashmir is no less starry-eyed. Be it as the lovestruck Romeo with only eyes for real-life sweetheart Neetu Singh to notice the pristine white winter flurry in Kabhi Kabhie…
Yeh Vaada Raha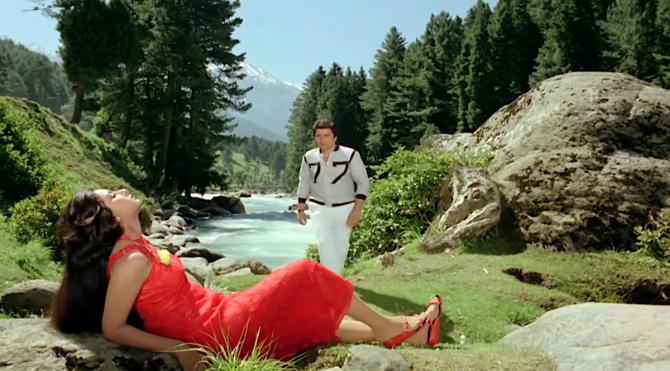 …Or expressively wooing Poonam Dhillon against one of Kashmir's many, many scenic gems in Yeh Vaada Raha.
Love Story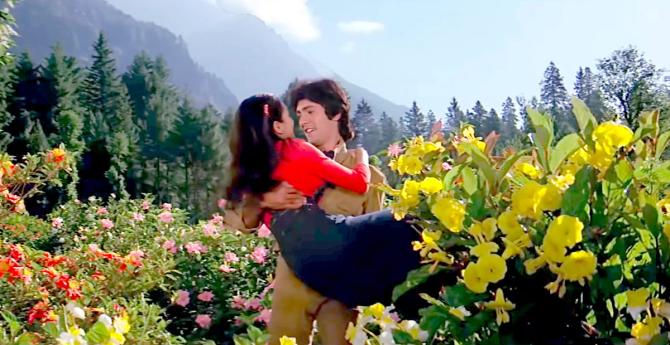 Back in the pre-nepotism era when star sons making their debut in daddy-backed launchpads was perfectly acceptable, two things were a must — R D Burman's soundtrack and Kashmir's natural beauty. Kumar Gaurav and Vijeta Pandit elope from home and set up their dream home in its lap in the blockbuster Love Story.
Rocky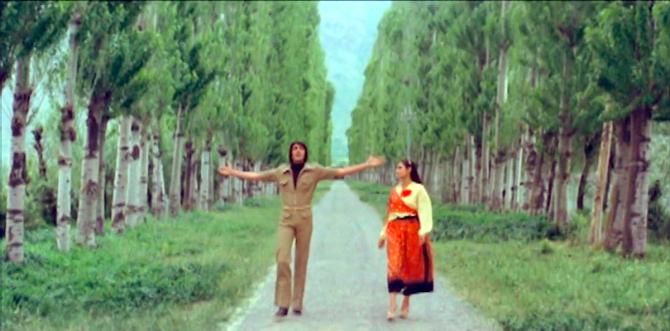 Sanjay Dutt and Tina Munim's destination romance finds a perfect setting to croon Kya Yahi Pyaar Hai in Kashmir's picture perfection.
Betaab
But it would be Sunny Deol's sprawling farmhouse and adventurous treatment of the poor boy-rich girl romance that would leave its indelible mark on Kashmir. Betaab Valley, named after the movie's success, continues to be a popular tourist attraction even four decades after its release.
Roja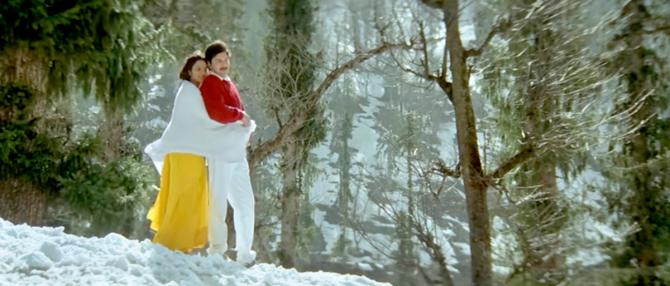 Roja is not Bollywood. Except Mani Ratnam's drama enjoys such a significant place even in its Hindi-dubbed avatar, not mentioning its impact or how it depicts Kashmir's reality and romance would be a tad unfair.
Mission Kashmir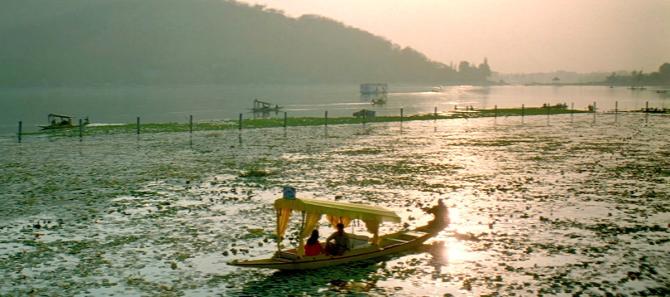 Though Mission Kashmir is mostly concerned with the conflict plaguing the region, it does take a moment to recall its gentle presence in Hrithik Roshan and Preity Zinta's nostalgia for their 'jheelon ka shaher'.
Yahaan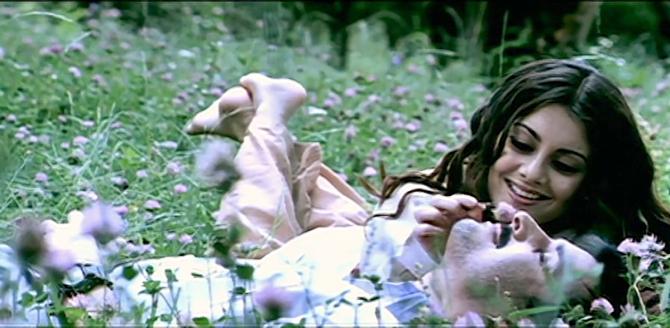 The irony of hell in heaven hits harder in films highlighting this contrast. Shoojit Sircar's love in the time of war is a case in point.
Lamhaa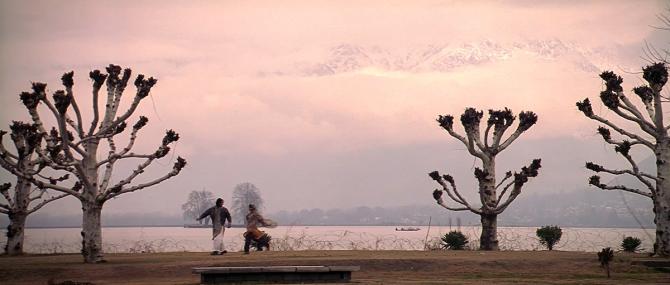 Rahul Dholakia's action-packed documentation of war on terror also cannot help admiring its nature's abundant wealth in these parts.
Haider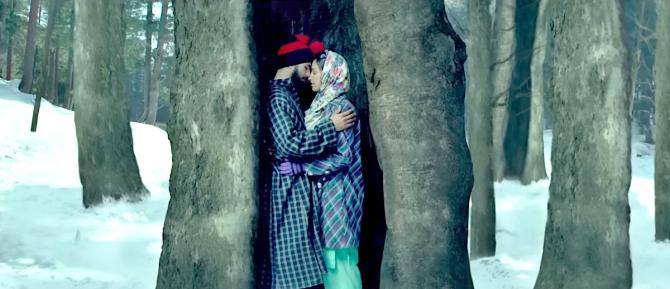 Vishal Bhardwaj's Kashmir-based reworking of Hamlet is a stark retelling for most part but for its serene, snow laden moments between Shahid Kapoor and Shraddha Kapoor.
Fitoor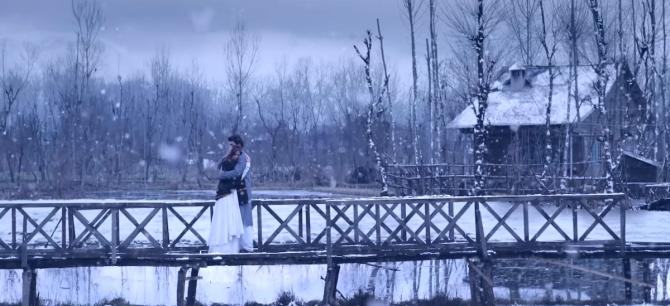 Katrina Kaif and Aditya Roy Kapoor reuniting against Kashmir's pristine snow fall is one of our better memories of this disappointing Great Expectations adaptation.
Laila Majnu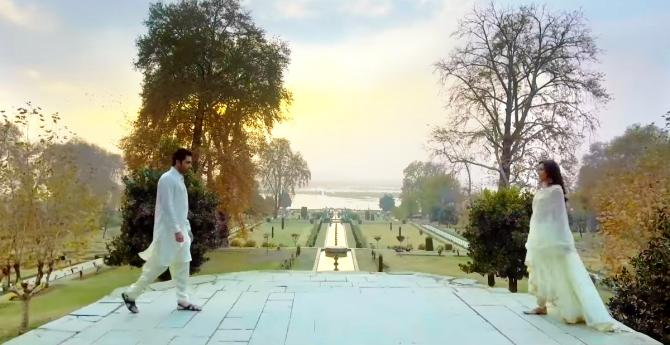 Star crossed lovers Laila Majnu receive a contemporary update amidst some lively music and Kashmir's scenic attractions in all its seasons and sumptuousness in Sajid Ali's under-rated romantic drama.
Notebook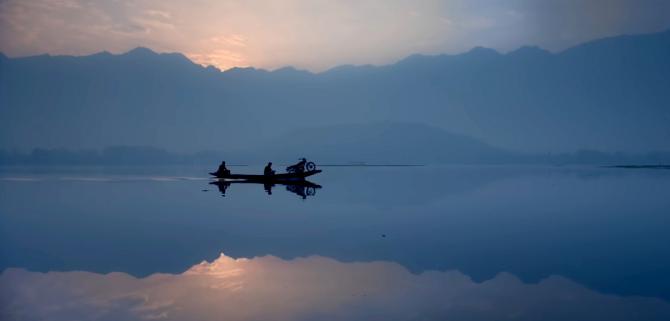 Discover the sublime faces of Kashmir at its natural, elegant best in this luminously shot Salman Khan production.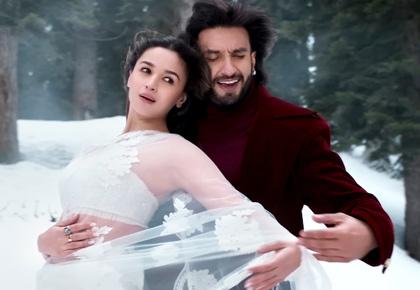 Source: Read Full Article