Shamita calls Nishant a 'snake' during their ugly brawl, and then gets into a physical fight with Moose Jattana.
After a lot of drama, chaos and arguing, Divya Agarwal and Zeeshan Khan win the BB Factory task, thus becoming the new Boss Man and Boss Lady of the house.
Zeeshan and Akshara Singh get into an intense fight when he asks her to clean her basket. Later, when Bigg Boss reprimands Akshara for her behaviour, she apologises.
On the other hand, Neha Bhasin and Divya Agarwal fight over kitchen duties.
At the end of the day, Bigg Boss reveals the report card verdict and it's not good. Hence, the housemates face the consequences yet again.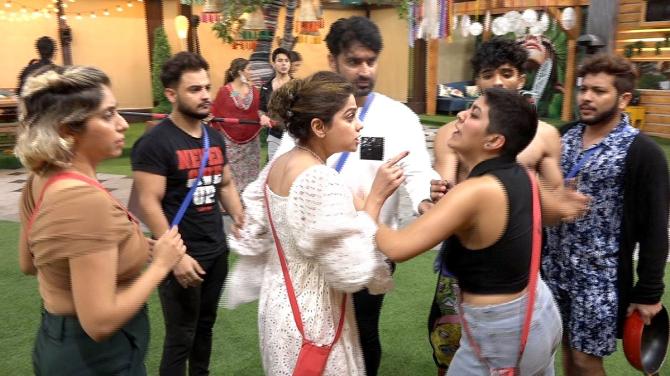 The following day, Bigg Boss assigns a new task as a punishment and the connections have to vote.
Pratik Sehajpal-Akshara and Shamita Shetty-Raqesh Bapat get voted for the punishment task.
Everyone is asked to sit in the garden area as they perform the task.
Shamita gets emotional while talking to Raqesh about her journey in the house so far.
Nishant Bhat and Divya have fun singing and discussing the task. That's when Ms Shetty loses her cool and snaps at Nishant.
Soon the situation turns ugly as Shamita calls him a snake and starts hurling abuses.
Nishant gives it right back to Shamita.
Later, Moose gets involved.
When Shamita and she get physical, the housemates intervene and calm them.
Shamita leaves the task and breaks down.
Karan Johar graces the stage on Sunday Ka Vaar and gets down to business right away.
He pulls up Zeeshan for making a misogynist remark during his fight with Akshara.
Karan is so upset with him that he gives him a time-out.
Next, the host gets annoyed with Divya's condescending tone and asks her to be polite.
Karan then scolds everyone for age-shaming Shamita. At the same time, he tells Shamita that she over-reacted in her fight with Nishant and it was uncalled for. Shamita apologises to Nishant, but the latter doesn't accept it.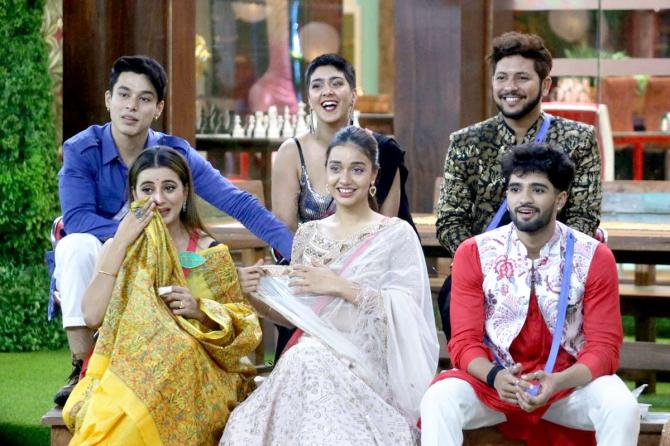 Karan points out that Shamita and Neha have been biased towards Zeeshan and support him even though he's been wrong in many situations. The ladies agree.
He brings up Raqesh and Nishant's friendship and how they haven't taken advantage of it in the house. He asks Raqesh not to get influenced and make his own decisions.
Akshara gets an earful from the host for passing snide remarks during her fight with Zeeshan.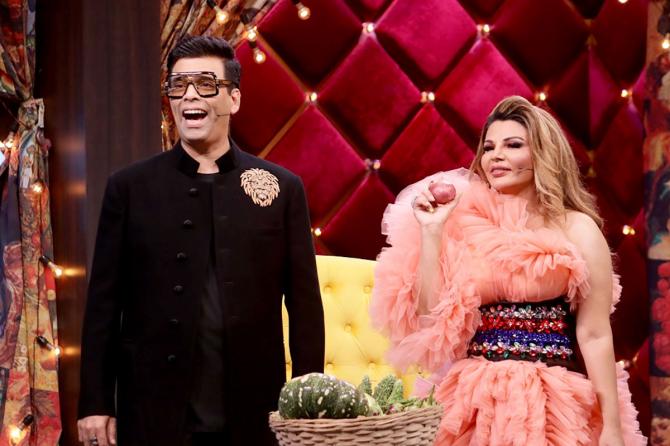 To lighten the mood, Rakhi Sawant arrives on the BB stage and interacts with everyone.
There's some naach-gaana and before she leaves, Rakhi tells Karan Nath to wake up and do something in the house.
KJo reveals its time for elimination and everyone is surprised to learn a jodi will be leaving the house.
He picks Karan-Ridhima, who have got the least number of votes, and asks them to bid adieu.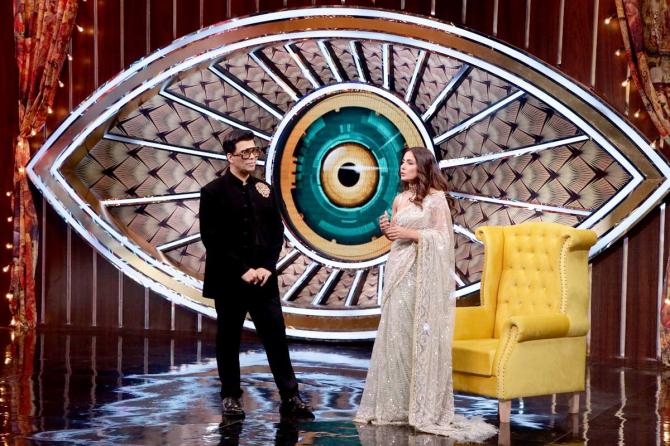 After they leave, former Bigg Boss contestant Hina Khan joins Karan on stage and they chat about the show.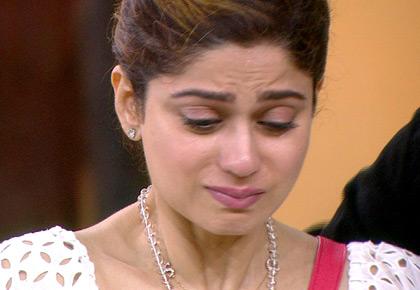 Source: Read Full Article