Salman takes up for Rakhi Sawant!
Weekend Ka Vaar begins with Salman Khan getting upset with the housemates for targeting Rakhi Sawant throughout the week.
He scolds Jasmin Bhasin for her behaviour and hurting Rakhi's nose while putting the duck face on her.
Salman tells Jasmin that even after Bigg Boss reprimanded her, she continued to provoke Rakhi and didn't apologise despite repeatedly saying she would.
Jasmin tries to explain herself, but Salman disagrees with her.
Ultimately, Jasmin apologises to Rakhi.
Salman praises Rakhi for running the show this entire week and announces that she is safe.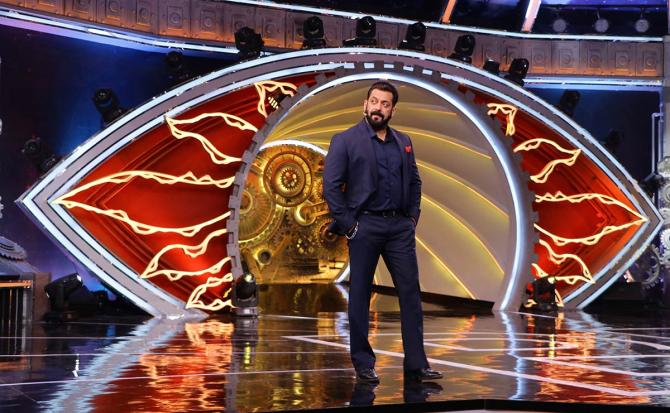 Rubina Dilaik is next, and Salman feels she is looking the worst as she did not try to stop Jasmin and rather enjoyed their drama.
She accepts her mistake.
But that's not all.
Salman then pulls her up for making a certain gesture against Arshi Khan during their fight.
In a stern voice, the superstar asks Rubina what it meant and when the latter explains her point of view, Salman isn't convinced.
He rips her apart for declaring she would not cook food because Arshi and Sonali Phogat ruined her sleep.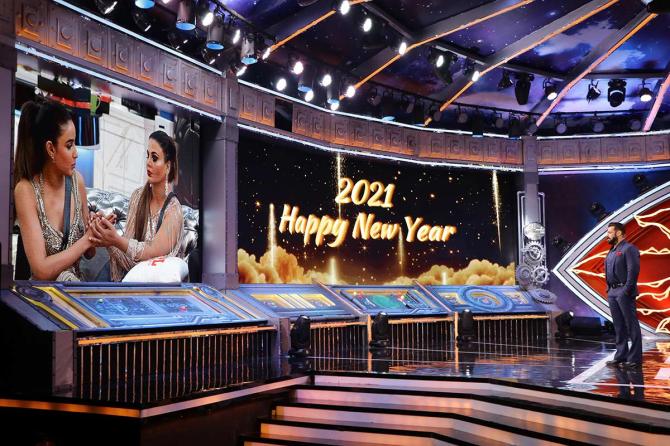 Soon, a fight erupts in the house between Vikas Gupta and Aly Goni.
The latter loses his cool and becomes aggressive.
Their fight turns nasty and the housemates try to stop them.
On the other hand, Arshi argues with Rubina again and ends up dragging her family in the conversation. This irks Abhinav Shukla and he jumps in to defend his wife.
This time the housemates support Rubina and Abhinav.
Rahul Vaidya is upset with Arshi and slams her for commenting on someone's family.
On Sunday, Salman picks on Jasmin once again — along with Nikki Tamboli — for making fun of Rakhi.
He reprimands other housemates for being mere spectators, except for Vikas.
Salman tells Jasmin that she has turned mean and is looking very negative.
Jasmin says she was being provoked, but Salman doesn't agree.
Salman also points out how Arshi was being body-shamed by Aly and Rahul Vaidya.
All the housemates are embarrassed as Salman says that everyone's ruining their image.
He is upset with Eijaz Khan for not taking a stand despite knowing Rakhi got hurt.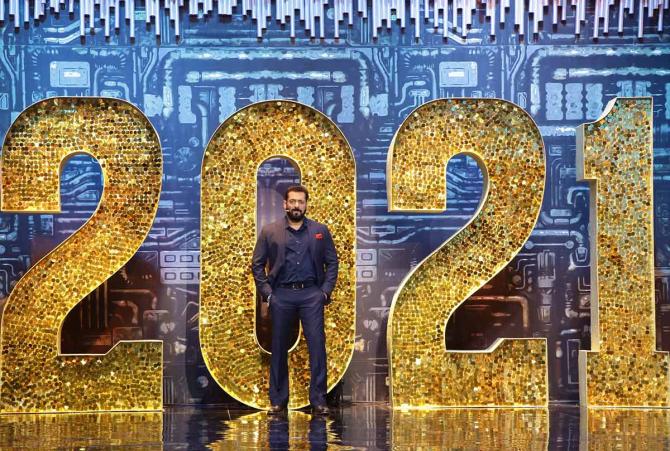 After the grilling session, the caller of the week asks Eijaz about not being friends with Nikki anymore.
He feels she doesn't respect him and therefore, he is no longer interested in playing with her.
Salman scolds Nikki and tells her that she is coming across as very rude and arrogant. He says no one respects her because respect has to be earned.
A clip is shown to the viewers where Vikas is fighting with the housemates for food.
Regarding the same, Salman questions Rubina and others.
Vikas breaks down as no one is willing to understand him.
Rubina, Abhinav and others try to put across their point, but in vain.
During this, Salman also brings up Aly and Vikas's fight. The situation gets intense as Aly hints a few things about Vikas and the latter challenges him to say whatever he wants openly.
Ultimately, Salman asks them to sort things out.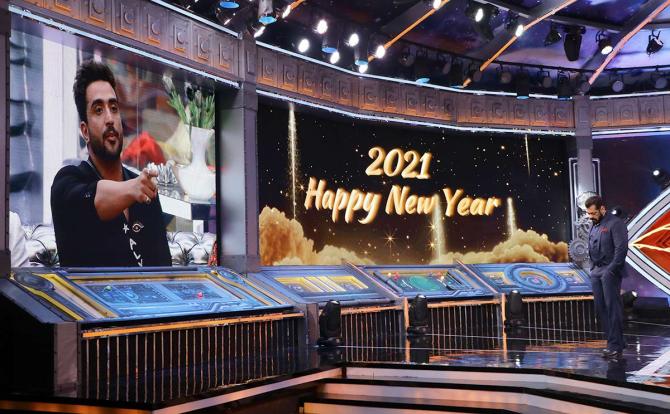 Later, Satish Kaushik and Pankaj Tripathi arrive on stage and greet everyone. They play a fun game with the housemates, promote their film Kaagaz and exit.
Sunny Leone enters the house next and interacts with the contestants.
Salman bids adieu and says that someone will definitely leave the house, but on a weekday.
Who do you think will get evicted?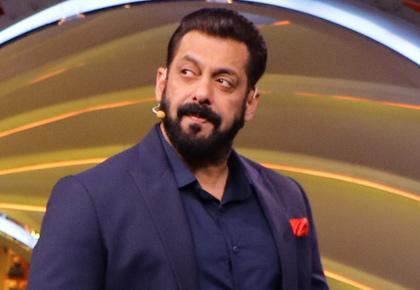 Source: Read Full Article