Of the last 15 Tests played in India, only two reached day five. However, the ICC does not think there is a problem with Tests rarely lasting full five days in India.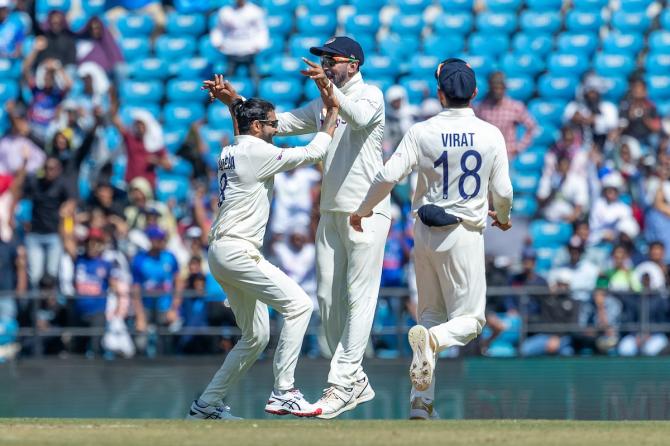 Planning a trip to see the fifth day of a Test match anywhere in the world is a sign of unbridled optimism, but do so in India at the moment and you might find people questioning your sanity.
Each of the first three matches in India's series against Australia have ended inside three days with the hosts taking a 2-1 lead into the final match in Ahmedabad next week.
It reflects a wider, and not wholly unpopular, trend globally as five-day stalemates have given way to three days of frenetic action with a guaranteed outcome.
While playing a contest over five days and potentially ending in a draw has always been a source of amusement in non-cricketing nations, the length of a Test has always been part of the attraction for devotees of the longest format.
Shortened Tests are not an India-specific issue but nowhere has the trend been more evident than in the cricket-mad nation of 1.4 billion.
Of the last 15 Tests played in India, only two reached day five.
Nine ended inside three days, including the 2021 Ahmedabad Test which India won in two days against England on a pitch rated "average" by the International Cricket Council (ICC).
The Indore surface, where 30 wickets tumbled in two days before Australia triumphed by nine wickets on Friday, has been slapped with three demerit points after being rated "poor" by the game's governing body.
The ICC does not think there is a problem with Tests rarely lasting full five days in India, however.
"If it is an issue, it would have been raised by the ICC Men's Cricket Committee," an ICC spokesperson told Reuters.
India have defended rolling out rank turners to suit their spinners but former Australia batter Mark Waugh is among those who felt the Indore track was "not up to Test standard."
Home matches have become must-win affairs since the introduction of the World Test Championship (WTC) in 2019 and many believe it is encouraging home teams to prepare extreme wickets that suit their strength.
Of the five Tests Australia played at home over the new year before arriving in India for the Border-Gavaskar Trophy series, only two stretched to day five.
The other three included a two-day farce in Brisbane, where Australia thumped South Africa by six wickets on a green top at the Gabba.
Pakistan, unable to stage Test matches for security reasons for 10 years until a return in 2019, would appear to be the exception with six of the last eight matches making the final day.
India's batting coach Vikram Rathour said winning home matches had become imperative under the WTC, which may have started influencing pitch preparations.
"Yeah, since the World Test Championship started, there is more pressure on teams to win home games," Rathour told reporters during the Indore Test.
"So you want to win (all) games when you are playing at home."
India need to win the final Test in Ahmedabad, which starts on Thursday, to join Australia in the WTC final in June without having to rely on the outcome of Sri Lanka's two-Test series in New Zealand.
India captain Rohit Sharma, for one, does not get the fuss about duration of Test matches.
"People have to play well for the game to last five days," Rohit said.
"Games are not lasting five days even outside India. In Pakistan, three Test matches were played and people were saying it was boring. We are making it interesting for you guys."
Source: Read Full Article