One of cricket's greatest players passed into the ages on Monday.
Rediff.com salutes the legend.
Of the Indians who have played county cricket since the easing of the qualification rules in 1968, only Farokh Engineer has made a greater impact than the slow left-arm bowler from Amritsar in the Punjab, Bishan Singh Bedi.
For a start there was the simple fact of his appearance. His patka — usually light blue or pink — and his beard made him an instantly recognisable figure and lent an aura of genuine exoticism to the county grounds of the mid-1970s.
He was a popular figure with the crowds, exuding an air (perhaps slightly misleading) of benign joviality, and also of a refreshing generosity of spirit as he clapped batsmen who dispatched his deliveries to the boundary.
When David Hughes of Lancashire hit him for 26 in an over in the Gillette Cup final of 1976, each of the 3 sixes was politely applauded by an apparently satisfied bowler. Then there was his seemingly leisurely action, fit to beguile even the most partial observer.
Lastly, he was consistently successful. In six seasons with Northamptonshire he took 434 wickets at 20.89 apiece, securing over 100 wickets in Championship matches alone in 1973 when the county finished third in the table. Bedi was close to being at the height of his powers when he joined the county in 1972.
India's Test team was in the middle of a period when, under the captaincy of Ajit Wadekar, they could justifiably be regarded as unofficial world champions.
Their position of dominance was largely attributable to the performances of a remarkable quarter of spin bowlers: Bedi himself; the googly and top-spin bowler Bhagwat Chandrasekhar; and the two off-spinners, Erapalli Prasanna and Srinivasaraghavan Venkataraghavan.
There have, of course, been famous pairings of spin bowlers who have held sway for a series or two — Warne and May in recent years, Ramadhin and Valentine and Laker and Lock in the 1950s (Bedi and Prasanna were being compared to these latter pairings after their brilliant performances against Australia in 1969/1970).
But you would have to go back to the South African googly merchants of the Golden Age to find a group of spinners exerting such influence.
The remarkable thing about the Indian spinners was that, for much of the time, there were no fast bowlers to soften up the opposition first.
When India toured England in 1967 — a miserably wet summer — and lost the series three-nil, most of the pace bowlers broke down and in the last two Tests the bulk of the non-slow bowling — to call it anything else would be to defame the Fast Bowlers' Union — was done by the captain, the Nawab of Pataudi, and the reserve wicket-keeper, Budhi Kunderan.
In Australia's second innings in the Delhi Test in 1969/1970, Bedi and Prasanna were on after just 3 overs — and this was not unusual for them.
With the emergence of Karsan Ghavri and Madan Lal in the mid-1970s, the balance shifted slightly, but only Venkat had a career long enough to enable him to savour the luxury of bowling after Kapil Dev on a regular basis.
They were lucky in one respect, though: in India's grandest years, from 1970 to 1973, Bedi and the other spinners benefited enormously from wonderful close catching exemplified and inspired by the prehensile Eknath Solkar. Before and after that Golden Age, whole series could be turned by error-prone Indian fielding.
Prasanna, Bedi and Venkat took 59 of the 70 Australian wickets that fell to bowlers in that 1969/1970 series. On the victorious tour of England in 1971, the four spinners accounted for 177 wickets out of 244.
In the home series against England in 1972/1973, their predominance was even more marked: Chandra, Bedi and Prasanna took a total of 70; the rest (including Venkat and Salim Durrani) 5.
Between December 1966, when Bedi made his debut, against the West Indies (he was the youngest of the quartet) and November 1978, when Prasanna played his last Test, against Pakistan, India played 64 Test matches.
In 52 of those, three of the four spinners played. In one Test, the Third in the calamitous series against England in 1967, they all played.
Chandrasekhar was out of favour for a while from the late 1960s, until his triumphant return in England in 1971. Usually, however, it was one of the off-spinners, Prasanna or Venkat, who missed out.
Of those 64 Tests, Bedi missed four: The first two Tests in Australia in 1967/1968 (when room was found for three pace bowlers and the left-arm spin was provided by 'Bapu' Nadkarni — a better batsman — on his last tour), the first Test against West Indies in 1974/1975 (when he was omitted for some alleged disciplinary offence) and the first Test in New Zealand in 1975/76 (which should have been his first as captain, which he missed with a muscle strain).
In that last Test of Prasanna's at Lahore in 1978, Bedi overtook 'Polly' Umrigar as India's most capped player; he had already become the country's leading wicket-taker. Incidentally, among non-English bowlers, only Courtney Walsh, Albert Trott and Intikhab Alam have taken more than Bedi's 1,560 first-class wickets.
So Bedi rapidly made himself an automatic selection — he would probably have done so earlier but for the presence of Nadkarni and the batting all-rounder Salim Durrani. Bedi, who received no formal coaching, made his debut for northern Punjab in the Ranji Trophy in 1961/1962, when he was fifteen.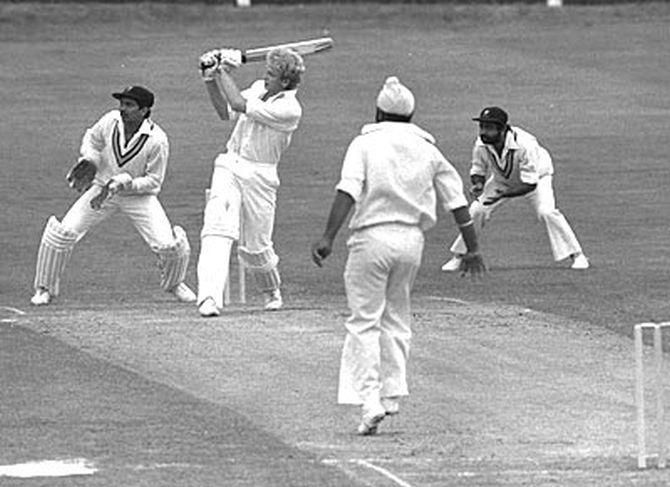 That first Test match in 1966, the second Test against the West Indies at Calcutta, was the first one that Bedi saw.
It probably made a big impression, being memorable not so much for the cricket played as for a dreadful riot that prevented any play on the second day, caused by overcrowding. Bedi did not take long to make his mark.
The West Indies were still a great side and Bedi's victims in his first innings analysis of 2 for 92 in 36 overs were Basil Butcher and Clive Lloyd.
The West Indies won the match by an innings and 45 runs, having won the First Test by 6 wickets.
India came close to winning the third Test at Madras, Gary Sobers and Charlie Griffith hanging on grimly for 90 minutes to save the game.
Prasanna and Bedi bowled superbly the latter taking 4 for 81 in 28 overs in the last innings.
Wisden was strongly critical of Griffith's tactics — he often went down on his knees to fend off the ball with his body — but it was India's fielding that cost them the match.
Bedi had a quiet couple of series in England in 1967 and Australia in 1967/1968 — where he met his future wife — and really began to assert himself in home series against New Zealand and Australia in 1969/1970.
The latter series saw Australia triumph 3-1, but this was not a fair reflection on the magnificent performance of Prasanna and Bedi.
Australia had a formidable batting line-up, with Ian Chappell as accomplished a player of spin as they have produced since the war, but the Indians posed them many and varied questions.
In India's only victory, in the Third Test in Delhi, Bedi's figures were 42-15-71-4 and 23-11-37-5; Prasanna's were 28.4-9-111-4 and 24.2-10-42-5.
In the next Test, at Calcutta, which India lost, Bedi achieved his best Test figures of 7 for 98.
According to Wisden, Prasanna was not in top form, and Bedi had to work single-handed. In the series as a whole, he took 21 wickets at 20.57.
In the preceding series against New Zealand, he took 15 wickets at 20.53, including 6 for 42 in the First Test at Bombay, which India won by 60 runs.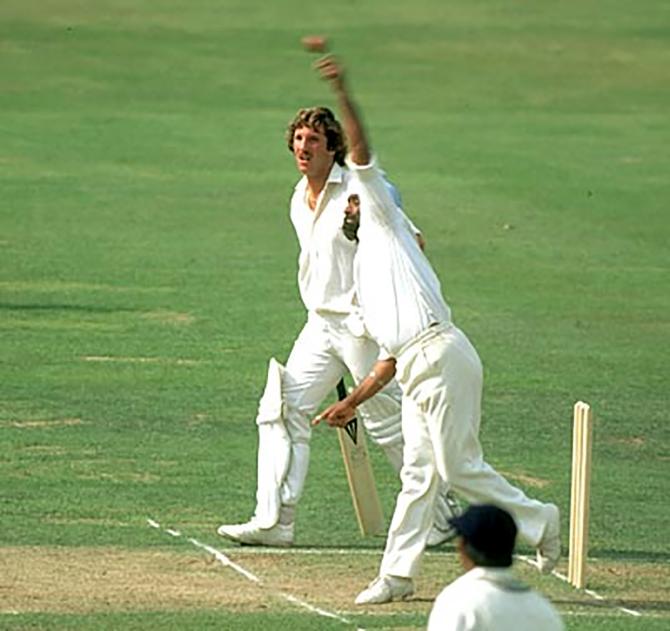 Bedi finished with more Test wickets than Chandrasekhar, Prasanna or Venkat (266 at 28.71), but he bowled far more overs to get them. While he was the most economical of the four, his strike rate — a perfectly respectable 80.3 — was bettered by both Chandrasekhar and Prasanna.
That is not to say, however, that Bedi was a negative bowler. On the contrary, he was always 'at' the batsman, planning and probing. Tony Lewis wrote of his 'fiery aggression'. But Bedi, although a consistent wicket-taker throughout his career, did not often run through a side in the way that Chandrasekhar and Prasanna, when everything went right, could do.
Chandrasekhar was really a one-off: A sort of Kumble with chutzpah. Prasanna was an orthodox off-spinner, but with the classic loop and sharp spin that is rarely — if ever — seen today. Bedi was his ideal partner, but was more often than not in a supporting role, particularly in the early days under Pataudi (who favoured Prasanna and gave him confidence).
In fact, Bedi was far from being a negative bowler but he was perhaps more prepared to wait, to be patient. He was also extremely accurate and, except when conditions really were in the batsmen's favour, very difficult to get away.
Bedi always maintained that he did not mind being hit: Indeed it encouraged him if a batsman went after him (hence his endearing practice referred to earlier, of applauding a successful assailant). Still, you can have too much of a good thing and there is all the difference in the world between an occasional boundary and a sustained assault, and the evidence suggests that Bedi did not relish the latter.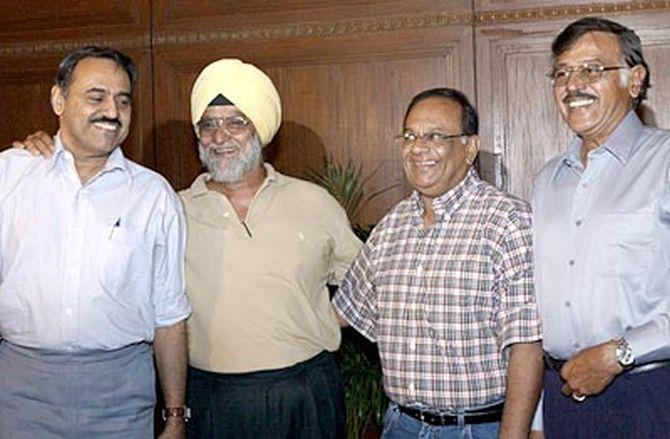 The MCC tour of India in 1972/73 illustrates this. The Test series was absolutely absorbing, dominated to a large extent by the Indian spinners, who still held the English batsmen — lacking Boycott, Edrich and Luckhurst for various reasons — in thrall after their triumphs of 1971.
Despite this, England actually won the first Test at Delhi by 6 wickets. India, through brilliant bowling by Bedi and Chandrasekhar, won the second, at Calcutta, by 28 runs. At this stage in the series, Bedi's figures were 152-62-231-12, and Chandrasekhar's 121.1-44-256-18. India won again, at Madras, by 4 wickets.
England batted first. In each innings, the spinners were on after three overs, Bedi took 2 for 66 and 4 for 38 (in 43 overs), Chandrsekhar's 5 for 90 and 1 for 69 and Prasanna 2 for 57 and 4 for 16. In their second innings, England made 159 in 106 overs. The paralysis of English batsmanship appeared to be irremediable.
But in the fourth Test at Kanpur there was a change of tempo. John Woodcock in The Cricketer reported that Bob Cottam, Bedi's Northamptonshire colleague, reminded the MCC captain Tony Lewis that he had made runs for Glamorgan against Northants by using his feet to the spinner and that Bedi had not liked it.
Lewis promoted himself and scored the first century of the series. It would be an exaggeration to say that Bedi was collared — he took 3 for 134 in 68 overs — but for much of Lewis's innings he was bowling with five fielders in the deep rather than the usual clutch of predatory close fielders. That Test, and the fifth at Bombay, were drawn.
The long-term results of Lewis's innings could be seen when India next toured England, in 1974. A side that was not very different from that which had toured in 1971 and won the series with a brilliant victory at the The Oval suffered a three-nil drubbing.
Wisdencommented on the fact that the England top order were far more prepared to use their feet and attack the spinner than in previous encounters.
All the bowlers suffered, although Bedi emerged less battered than the others: In the second Test, at Lord's, when England made 629, he achieved the truly extraordinary figures of 6 for 226 in 64.2 overs. The 'Golden Age' of Indian cricket was over.
It would be wrong to say that the spell was completely broken. The spinners could still win matches, especially at home, but only one more series was won while the quartet were all still functioning, against New Zealand in India in 1976/1977. In the series against England that followed, Bedi, Prasanna and Chandrasekhar shared 62 wickets.
Bedi, with 25 at 22.96, was the leading wicket-taker and he took 6 for 71 (9 for 100 in the match) in India's sole win in Bangalore — but England, under the inspirational leadership of Tony Greig, won the series. In India's next series win, at home against the West Indies in 1978/79, the leading wicket-takers were Ghavri and Kapil Dev.
But it had been a remarkable period, almost impossible to credit now when orthodox finger spin is held in such low esteem. The true test of a practitioner's quality, in any sphere of activity, must surely be the judgement of his peers. Few would doubt that the world's greatest batsman at the time when Bedi was at his peak was Hampshire's South African opening batsman Barry Richards.
Barred by politics from opposing each other in Test cricket, they had numerous encounters in county games and Richards had no doubt that Bedi was the greatest spin bowler he played against (he had, of course, few opportunities to face Chandrasekhar and Prasanna).
Richards testified to Bedi's two great virtues: His temperament, and his variety. A good temperament is a real virtue in a spinner; it means not simply bearing up when condition are adverse but, equally if not more important, not getting over-excited when conditions are favourable. Bedi was a master in both situations.
As for variety, according to Richards — and Mike Brearley and Tony Lewis made the same observation — Bedi's great skill was that he bowled with the same action all the time but produced an array of different deliveries.
Thus the stock left-armer's ball, turning away from the right-hander's often groping bat, might first be pitched well up and flighted and then be faster and slightly shorter — the batsman could not be sure; there was a beautiful arm ball that frequently deceived batsmen playing for turn and another which floated in and then turned away — Bedi himself said this was not intentional, 'it just happened'. There were degrees of spin and subtle variations of flight and loop — what Ray Robinson deliciously refers to as Bedi's 'waftishiness'.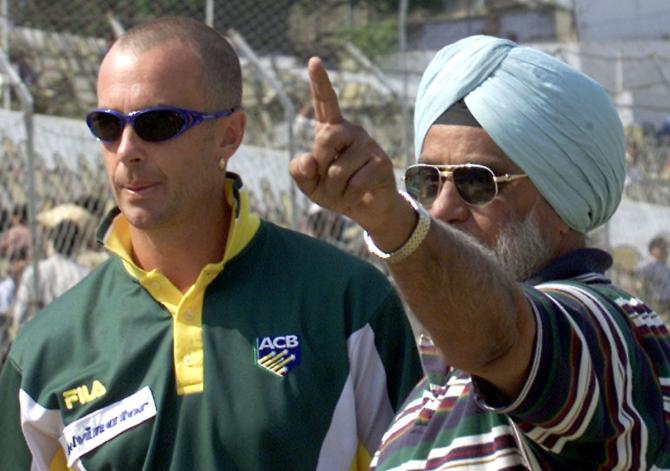 Richards said that on a wicket that was at all helpful, he could not afford to take risks against Bedi: This supports the view that Bedi was not a negative bowler but a constantly probing one. Spectators at the county ground in Southampton on the second and final afternoon of the game between Hampshire and Northamptonshire in August 1973 were fortunate to see a fascinating duel between these two masters.
Hampshire only needed 90 to win and to cement their place at the top of the table. They made the runs for the loss of three wickets and the tension was palpable throughout. Richards finished on 37 not out, Bedi took 2 for 36 in 14 overs.
What is beyond dispute is the sheer aesthetic pleasure derived from watching Bedi bowl. There was a short, seven-pace run-up-a 'light footed skip', according to Brian Scovell, while Trevor Bailey memorably described how Bedi 'sidled u' to the wicket. Then a classical high side-on action with a beautiful pivot: perfection, as Scovell said. And, as the figures suggest, he could bowl all day.
'A delightful cricketer', concluded Scovell. This was doubtless true, in more ways than one. Bedi, however, like many of his breed (the slow left-arm bowler) was a fully paid-up member of the awkward squad. He left Northamptonshire, his contract not being renewed after 1977, amid great and lasting acrimony.
There is a hint of this in Wadekar's autobiography when he says that, on the 1971 tour, Bedi got 'carried away' by the praise he received from English critics and was upset at being little used in the triumph at the Oval when Chandrasekhar and Venkat did most of the bowling.
Strangely enough, although Bedi was a highly accomplished performer in county cricket, his Test record in England was not exceptional. This may explain why he is the only twentieth century player selected by John Woodcock of The Times as one of the '100 Greatest Cricketers' not to have been honoured as one of Wisden's Five Cricketers of the Year. (Interestingly Woodcock chose neither Chandrasekhar, who was a Wisden selection, nor Prasanna.)
On the 1974 tour there was a rift between Wadekar and Bedi which, according to Mihir Bose, may have contributed to the lack of success on the tour. Nonetheless, it was Bedi who ultimately succeeded Wadekar as captain of India.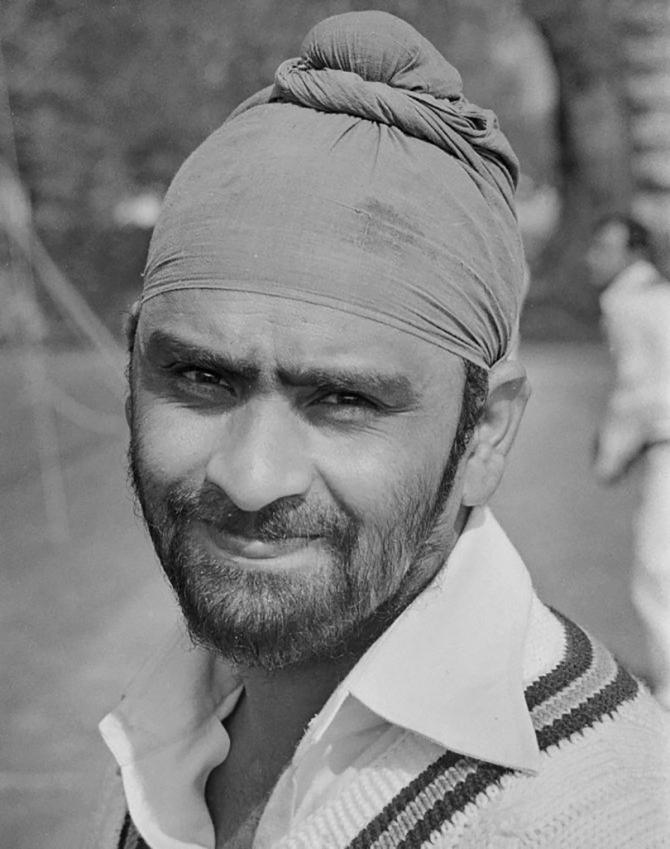 Bedi's tenure as captain was not an unqualified success. He clearly had an acute cricketing brain. The fact is, though, the India lost more games than they won under him and won only one series, against New Zealand at home. One cannot help feeling that he was personally ill at ease with captaincy.
Bose attributed this to his being a Sikh in a predominantly Hindu team. (And 'fretful' and 'mercurial' are two of the adjectives that Bose used to described Bedi's personality.) Whatever the cause, in the 1976/77 series against England, Bedi's increasingly curmudgeonly demeanour provided an unfortunate contrast with the irrepressible flair of Greig, his England counterpart.
Nothing epitomised this more starkly than the strange 'Vaseline' affair when Bedi, on the verge of leading India to their third straight defeat in the series, alleged that the England left-arm fast bowler J K Lever had, in effect, engaged in ball-tampering — not only in the game then underway at Madras, but also in the fFirst Test at Delhi.
Lever appears to have been naive more than anything else but, whatever the rights and wrongs, Bedi did not emerge with credit from the incident, reacting to journalists' questions, according to Christopher Martin-Jenkins, like an animal trapped in a corner.
On the tour of the Caribbean earlier in the year, Bedi had led India to an extraordinary defeat at Sabina Park, declaring the first innings closed with 6 wickets down (two batsmen had retired hurt) to protect himself and Chandrasekhar from injury from persistent short-pitched bowling.
The second innings terminated with 5 wickets down. Initially it was thought that Bedi had again declared, but it transpired that there was no one fit left to bat. Some critics date the hegemony of the West Indian fast bowling machine from this unhappy game.
His most impressive performance as captain probably came in Australia in 1977/78. He had an outstanding season with the ball, taking 54 wickets on the tour, and 31 in the 5 Tests at 23.87. In Australia's victory in the second Test at Perth, he took 5 for 89 and 5 for 105. The series was important and exciting.
It was important because it was the first series to take place in Australia during the 'Packer revolution' and it was vital for 'official' cricket that the cricket played was interesting. The tourists let nobody down.
Australia, under their returning captain, Bobby Simpson, won the first two Tests; India won the third and fourth. In the decider at Adelaide India had to make 493 to win and managed 445.
Bedi played his part as captain in a memorable series, although he later admitted that he had failed to get the best out of Prasanna and Chandrasekhar.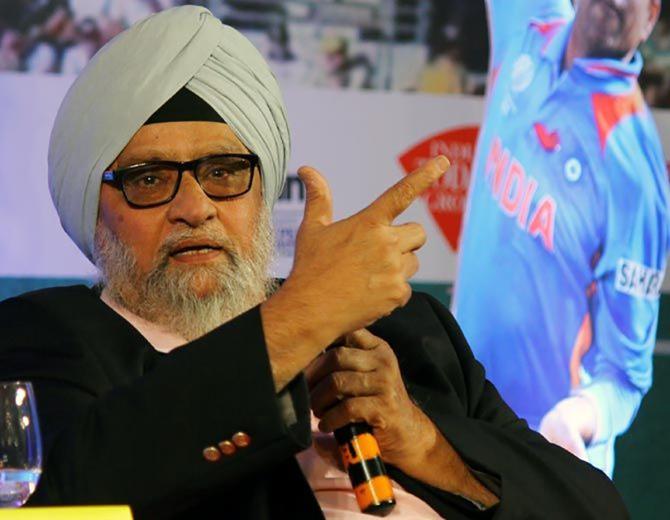 But it is as a bowler and a crowd pleaser that Bedi will be remembered. As a classical exponent of left-arm spin, there is no doubt that he would have prospered in any epoch of cricket history.
One has to wonder, however, whether if Bedi, Chandrasekhar, Prasanna and Venkat had all been playing today, in the era of docile wicket and railway sleeper bats, when bowlers are supposed to score runs and tear around the boundary in the hope of turning four into three, and all is a game of percentages, how many of them would get into a modern Test side, even in favourable Indian conditions.
Obviously not four and almost certainly not three. Probably sometimes two, and quite often one. Venkat might have an advantage, but you would not bet against that one being Bedi.
After retiring as a player, he went into coaching and management. In 1992/93 he was in charge of his native Punjab when they won the Ranji Trophy for the first time. By this time he had already coached the Indian national side.
He caused consternation when he publicly distanced himself from Mohammad Azharuddin's (admittedly bizarre) decision to insert England on winning the toss at Lord's in 1990 when Graham Gooch made 333.
He also caused something of a stir when he said that every woman in England would want to seduce the sixteen-year-old Sachin Tendulkar: he later clarified this, saying he had said they would want to 'mother' him. Again there was controversy in India, if not in England, when he criticised Sunil Gavaskar's decision not to accept honorary membership of the MCC.
In recent years he has cut a somewhat cantankerous figure, inveigling against the evils of the 'doosra' — as deployed not just by Muttiah Muralitharan, but also by Saqlain Mushtaq and Bedi's compatriot, Harbhajan Singh. He has become a sort of Asian Fred Trueman.
But one feels that, with Bedi, the predominant emotion is not rage, it is grief. He is watching a craft — in his hands, an art — decline and vanish.
Can one imagine Bedi operating exclusively over the wicket and firing in medium-paced yorkers at the leg stump? No. Even Wadekar admitted that a bowler of Bedi's type had not been seen in England for years.
Bedi himself told Brian Scovell that English spinners were only concerned with keeping the runs down — and that was thirty years ago. Like other sports, cricket develops and champion succeeds and surpasses champion.
One day we may have another Bradman, another Holding, another Warne; we will, one fears, have more than one pseudo-Murali. But there will surely never be another Bishan Singh Bedi.
Excerpted with the publishers' permission from The Indian Masters by Bill Ricquier published by Roli Books Ltd India
This feature was first published on Rediff.com on September 25, 2006, the day Bishan Singh Bedi turned 60.
Source: Read Full Article