Cheteshwar Pujara, who achieved a landmark hundred Test matches, got a specially created 100th Test cap from the legendary Sunil Gavaskar, the first Indian to get to that milestone, ahead of the start of the second Test against Australia in Delhi on Friday.
Pujara is the 13th Indian cricketer to play 100 Tests or more.
Making his Test debut in 2010 against Australia in Bengaluru, Pujara has scored 7,021 runs in 99 Tests for Team India, averaging 44.15 runs per game with 19 hundreds and 34 fifties with a best of 206 not out against England at Ahmedabad in 2012.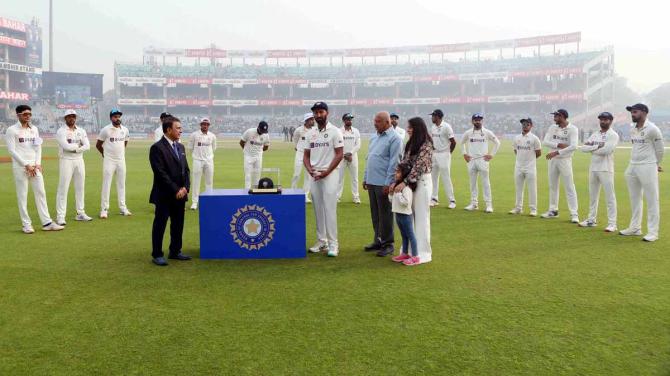 His father Arvind, wife Puja and daughter Aditi attended the felicitation ceremony at the Arun Jaitley stadium before the Test began.
'You have taken the blows, you got up, and you made bowlers earn your wicket. Every single run you scored is a big plus for India,; Gavaskar told Pujara.
'You have been a role model for what hard work, self-belief, and dreams can do.
'Welcome to the 100th Test club, and I wish and pray you that you become the first Indian to score a big hundred in your 100th Test and lay the foundation for yet another win in Delhi.'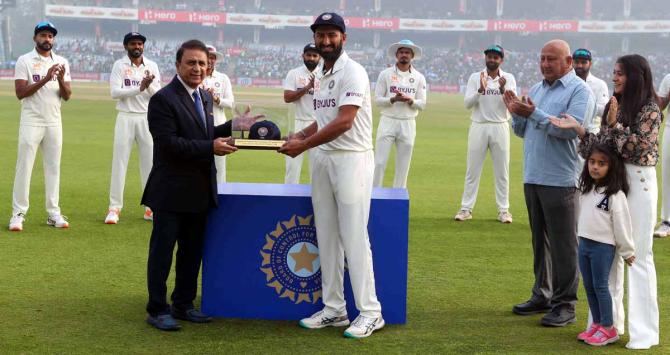 Pujara, who plays only Test cricket for India, said the five-day format is the ultimate challenge for any cricketer.
'It is an honour to receive this cap from you, legends like you have inspired me,' said Pujara.
'I wanted to play for India as a youngster but I never thought I would get to 100 Test matches. Test cricket is the ultimate format, it challenges you just like life.
'To all the youngsters, I would encourage you all to work hard and play Test cricket for India.'
Source: Read Full Article