It was a day dominated by record-breaking performances from Yashasvi Jaiswal and Yuzvendra Chahal as the Rajasthan Royals pummelled the Kolkata Knight Riders into submission.
First it was Royals' spin wizard Chahal, who etched his name in the IPL record books as the highest wicket-taker in the T20 league.
The leg-spinner lit up the Eden Gardens with a magnificent bowling performance, picking up 4/25 as KKR finished on a below-par 149/8.
The four-wicket haul took his tally to 187 wickets from 143 games, taking his tally past Dwayne Bravo's record of 183 wickets from 161 games.
Interestingly, the last time an Indian bowler was top of the IPL wicket-taking charts was Amit Mishra in 2013, and he is currently fourth with 172 wickets from 160 matches.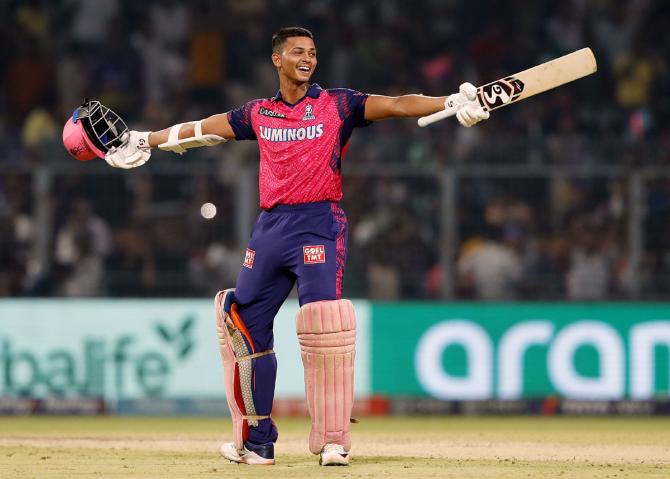 Chahal also continued his good record against KKR, against whom he has taken 11 wickets in the last four games.
Introduced into the attack as late as the 11th over due to two left-handers batting in the middle, Chahal showed that batting styles don't matter to him.
He took just two balls to strike, dismissing KKR Captain Nitish Rana for 22 with Shimron Hetmyer taking a well-judged catch running in from deep square leg.
That wicket took Chahal's tally to 184 the most by a bowler in the IPL followed by Dwayne Bravo (183), Piyush Chawla (174), Amit Mishra (172) and Ravichandran Ashwin (171).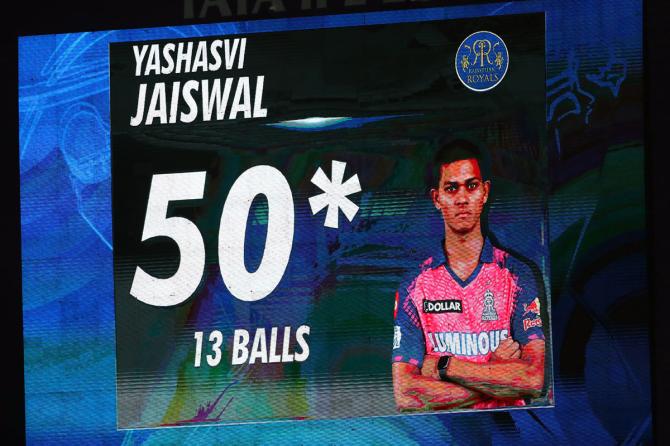 Venkatesh Iyer went after Chahal in his second over, smashing him for a six and a couple of fours as KKR looked to get back on track, but Andre Russell's dismissal to pacer K M Asif derailed the hosts.
Chahal got his revenge against Iyer as he got the left-hander's wicket for 57 in the 17th over and also trapped Shardul Thakur leg before wicket in the same over.
In the 19th over, the Royals leg-spinner tricked KKR's batting sensation Rinku Singh, who holed out to long-off after a struggling 16 from 18 balls.
Chahal ripped apart the KKR batting line-up with his four-wicket haul, including three wickets for seven in his last two overs.
The Royals leggie is also the leading wicket-taker in IPL 2023, with 21 wickets from 12 games at a strike rate of 16.90, including three four-wicket hauls — the most by a bowler this season.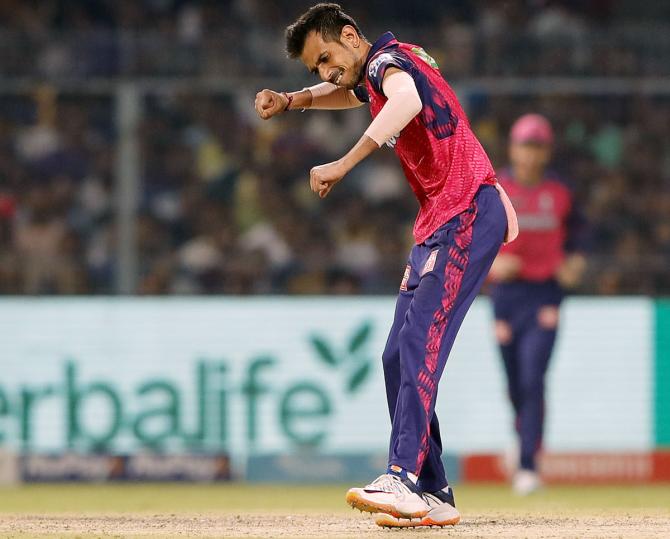 Barely had KKR recovered from Chahal's spell that they were battered black and blue by the young Royals opener Jaiswal.
The gamble of bowling part-time off-spin to Jaiswal proved costly for Rana, whose first two balls were hit for sixes. The left-hander further hit three more boundaries to get 26 runs from the opening over which set the tone for Royals' domination with the bat.
It is also the second most runs conceded in the opening over of an innings in the IPL.
Buttler's run out in the second over could be the only mistake attributed to Jaiswal in the evening, who seemed desperate to make up for that lapse as he smashed pacer Harshit Rana for a four and a six.
Shardul Thakur was showed no mercy by his Mumbai team-mate Jaiswal, who hammered him for a hat-trick of fours as he raced to his fifty from just 13 balls — the fastest half-century in IPL history, beating the record of fifty from 14 balls jointly held by K L Rahul and Pat Cummins.
This is how Jaiswal got to the fifty — 6 6 4 4 2 4 1 4 6 4 4 4 1.
Thereafter, it was an exhibition of some brutal strokeplay from Jaiswal, who smashed every bowler who came up against him.
The fate of the match was all but decided in the Powerplay as Royals got more than half of the target in the first six overs as they raced to 78/1.
Royals Captain Sanju Samson started off playing second fiddle to Jaiswal, before he stamped his authority with an unbeaten 48 from 29 balls.
In the end, Jaiswal finished agonisingly short of his second IPL century of the season, as he was unbeaten on 98 from 47 balls, laced with 13 fours and five sixes.
Jaiswal took his tally to 575 runs from 12 games — the second most in IPL 2023, just one run behind RCB Captain Faf du Plessis.
This is how his run of scores in this year's IPL looks like: 54, 11, 60, 10, 1, 44, 47, 77, 124, 14, 35 and 98*.
Jaiswal is on course for the best showing by an uncapped batter in an IPL season, as he is now just 41 runs short of Shaun Marsh's record of 616 runs for the then Kings XI Punjab (now Punjab Kings) in the inaugural IPL season in 2008.
Source: Read Full Article