'You told me not to go easy on the batters.'
Kuldeep Yadav says his back-to-back brilliant performances against Pakistan and Sri Lanka have filled him with confidence.
In a four minute-long interview on BCCI's Web site, Kuldeep also reveals that Suryakumar Yadav's two-minute pep talk inspired him to a match-winning four-wicket haul on Tuesday.
'Before the match,' comeback man Kuldeep tells SKY, 'I spoke with you and you gave a two-minute pep talk. Your pep talk worked for me. Like, it's natural that after taking a few wickets you get a little relaxed even though you're confident, but you told me not to go easy on the batters. Those two minutes were very important for me.'
'I was mentally prepared that I have to take wickets when I would get to bowl and do my job for the side. There are small things that go unnoticed on TV, such as speaking to someone. Those 2 minutes with you were very important. So, thank you, Surya bhai for that,' Kuldeep adds.
'I am enjoying my bowling, have worked a lot in the last two years. I am feeling very confident, there are elements of rhythm and getting aggressiveness (in bowling) which I am trying to follow,' Kuldeep tells SKY in the conversation.
The left-arm spinner credits K L Rahul for the Sadeera Samarawickrama dismissal, saying it was his advice to bowl outside the off stump.
'KL bhai gave me advice that the ball is spinning so I should bowl a little off stump, aiming for wickets. I will give credit to KL bhai (for that dismissal.'
Kuldeep currently leads the wicket-taking charts in Asia Cup 2023 with nine wickets, including a remarkable five wicket haul against Pakistan and 4 for 43 against Sri Lanka.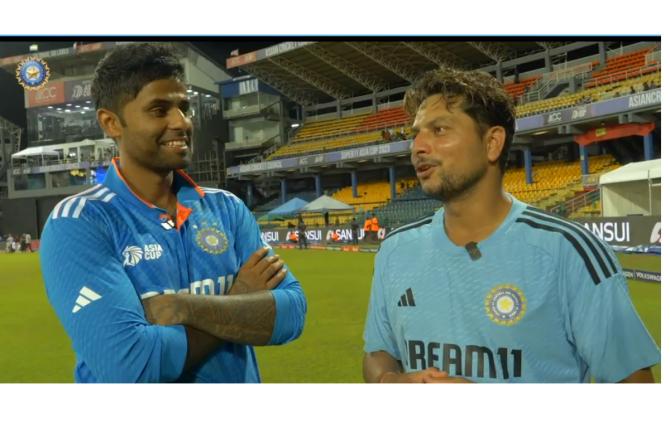 Source: Read Full Article