Through gestures and decisions, the BJP high command has signalled that Vasundhara Raje may not be the lead actor but rather play a supporting role in a high-stakes election in its stamping ground.
Vasundhara Raje, who has twice led a Bharatiya Janata Party government in Rajasthan as chief minister, now finds herself at a crossroads that could lead her into a political cul-de-sac or offer a temporary reprieve, depending on the BJP's central leadership's decision to position her front and centre in the state elections this year.
A question mark looms over Raje's potential role as the first among equals or merely an equal among a line-up that includes central ministers Gajendra Singh Shekhawat, Arjun Ram Meghwal and Ashwini Vaishnaw, as well as Satish Poonia, the former state BJP chief, and Rajendra Rathore, the Opposition leader in the legislature.
Raje stares at an uncertain future, with her only source of solace being the legislators who have openly confirmed their support for her.
A state BJP functionary, not known to be part of the Raje camp, nonetheless conceded, "For 20 years, she has been a leader in Rajasthan and served as CM for 10 years. Naturally, she has a following in every assembly constituency."
Through gestures and decisions, the BJP high command has signalled that Raje may not be the lead actor but rather play a supporting role in a high-stakes election in its stamping ground.
"It's up to our central leaders to declare or not declare a CM candidate, but under their guidance, we are all working together," says Chandra Prakash Joshi, the BJP's Rajasthan president.
Bhajan Lal Sharma, a state general secretary, adds, "People want to bring in a BJP government and we are working hard towards that end."
"Vasundharaji will campaign and be part of our programmes," says Laxmikant Bhardwaj, the state BJP spokesperson.
When asked if she will have a major say in nominating candidates as she did in the 2018 elections, he replies, "Tickets are finalised by our central election committee and the parliamentary board, based on surveys in each seat on who is most suited."
The farming out of tickets is at the crux of electioneering and serves as a test of a leader's clout.
The straws in the wind have not been favourable for Raje in the run-up.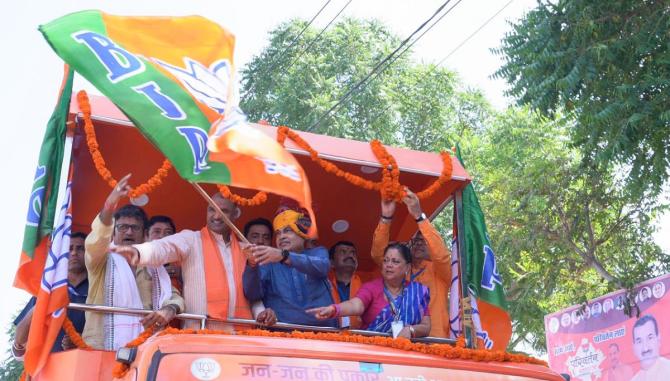 The BJP's four parivartan (call for change) yatras — launched between September 2 and 5 and encompassing 200 assembly constituencies — which were initially expected to be flagged off by Raje, Shekhawat, Poonia, and Joshi, were instead launched by national leaders J P Nadda, the BJP president, and his predecessors Amit A Shah, Rajnath Singh and Nitin Gadkari, ostensibly to rein in a feared joust among the Rajasthan CM aspirants, project a 'picture of unity', and convey the message that a regional satrap like Raje will have to play second string for the central command.
Raje did not feature in the two key committees constituted in August — the manifesto and election management committees.
The manifesto committee was chaired by central minister Meghwal, while the election management committee included Jaipur Rural MP Rajyavardhan Singh Rathore.
Notably, Raje's perceived rivals, Shekhawat, Poonia, or Vaishnaw, were also not part of these panels.
It was suggested that the committees' mandates did not 'befit' their 'statures' as the work involved administrative minutiae.
However, the BJP still needs to put in place a pivotal campaign committee, sparking speculation about whether Raje or another state leader will steer it.
Meghwal's appointment seemingly riled up some of Raje's backers.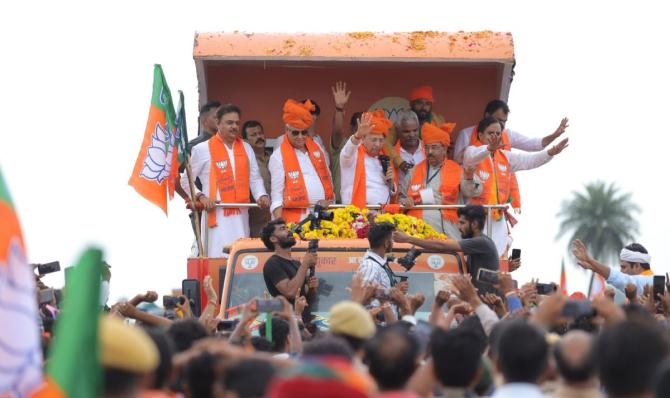 Kailash Chandra Meghwal, the Shahpura MLA, publicly accused Arjun Ram Meghwal of corruption and claimed he would seek his expulsion from the party.
When asked if his demand was a tactic to pressure the leadership to restore Raje's primacy, Kailash Chandra replied, 'This is politics, after all. I will say nothing more.'
On her part, Raje has been blowing hot and cold in her interactions with other leaders.
She participated in the yatra on Saturday, September 9, 2023, which Nadda inaugurated, but not before sending an underlying message that she still commanded her own following.
She prefixed her participation with a day-long temple peregrination, part of her ongoing Dev Darshan Yatra, primarily aimed at mobilising her supporters across Rajasthan.
When asked if such manifestations of dissent could impact the BJP's prospects, Himanshu Sharma, another state spokesperson, responds, "The BJP is cadre-driven. We will win whether we have a CM face or not because Modi's reputation and work surpass everything else we have."
Raje stayed away from a BJP rally in Jaipur on August 20, which highlighted the 'failures and excesses' of the Ashok Gehlot dispensation.
Instead, she addressed a women's conclave convened by a chartered accountant forum in the state capital.
Notably, her known backers such as MLAs Kali Charan Saraf, Ashok Lahoti and Narpat Singh Rajvi were conspicuously absent.
Political observers in Rajasthan believe it is "too late" for Raje to revolt and establish her own party.
Her fate, they say, is inextricably linked to her son, Jhalawar-Baran MP Dushyant Singh's future.
"Any extreme move from her," says a Jaipur commentator remarks, "will jeopardise Dushyant's continuance in the BJP."
In the foreseeable scenario, a BJP source suggests that the best option for Raje would be to refrain from contesting the assembly elections, secure a ticket for her son, and fight the Lok Sabha polls from Jhalawar-Baran, allowing her to plunge into central politics as an MP.
Feature Presentation: Aslam Hunani/Rediff.com
Source: Read Full Article