'When Sanjay died, Indira was consumed by frantic, helpless grief.'
'She became very fragile, very bitter,' recalled Maneka Gandhi.
'She was never normal again.'
'She was never Indira Gandhi again.'
In all the highs and lows that India's most powerful, and only woman, prime minister faced in her life, her younger son Sanjay's death was the most soul-destroying.
He was her prodigal child, the one she had moulded to carry on her legacy, which she herself had fought bitter battles to carve and strengthen.
This must-read excerpt from Sagarika Ghose's fascinating Indira: India's Most Powerful Prime Minister reveals the depth of Indira Gandhi's loss when Sanjay died in a horrific plane crash on June 23, 1980.
Five months after Indira Gandhi's 1980 election victory, Sanjay Gandhi was killed in a plane crash.
Indira was devastated.
From this time on, she seemed to lose her sharp instincts and tough resolve.
The last years of her prime ministership were marked by violent conflict in many parts of the country.
She gave orders for Operation Blue Star, the storming of the Golden Temple in Amritsar by the army to flush out the pro-Khalistan terrorists hidden there.
It was a decision that led to her assassination on October 31, 1984.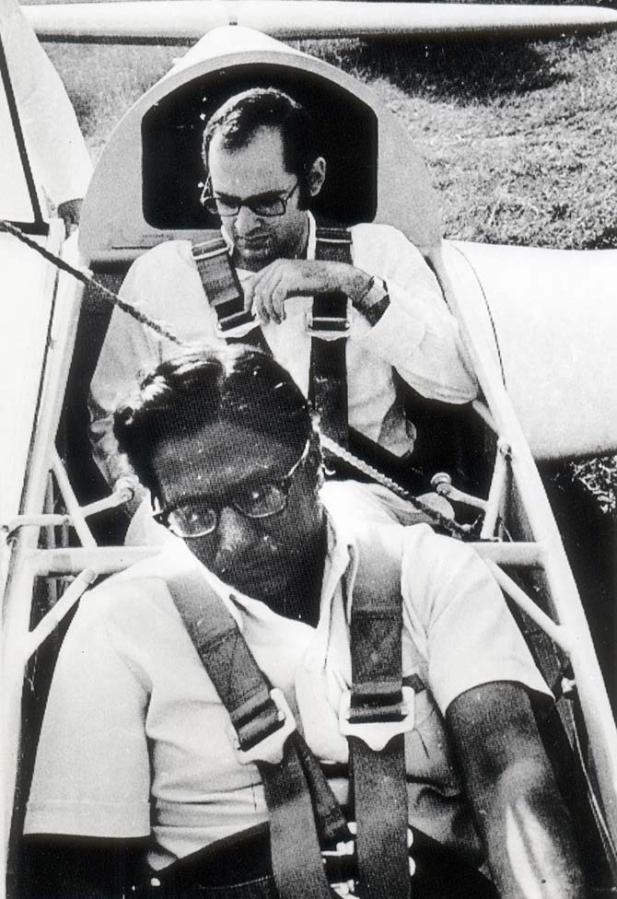 The joy of the 1980 victory was short-lived.
On the morning of June 23, 1980, five months after Indira Gandhi had been sworn in as prime minister, Sanjay Gandhi took his new Pitts S-2A plane for a joyride, lost control while doing aerobatics and crashed.
Both he and the flying instructor, Captain Subhash Saxena — who had initially refused to go with him, knowing Sanjay's inexperience at flying this particular plane — were instantly and gruesomely killed.
Indira had repeatedly warned Sanjay against aerobatics on the Pitts S-2A.
"The evening before he died, we went for a ride on the same plane," recalled Maneka Gandhi. "It was the first time he was going in it."
"In the plane I screamed and screamed for I think two hours and, when we came down, I ran home and told my mother-in-law: 'Ma, I need you to tell Sanjay not to fly this plane. He can fly any plane he wants, but not this one'."
"My mother-in-law said to him in front of me (Dhirendra Brahmachari was also there), 'Maneka's never been so strong about something. If she's saying na jao (don't go), toh na jao tum (then don't go)'."
"She said, 'I'm afraid I have to put my foot down'."
"Then (Indira Gandhi's personal secretary and confidante, R K) Dhawan came in and started saying, 'Arre yeh toh mardon ka jahaz hai. Manekaji aise bol rahi hai kyonki woh aurat hain. (This is a man's plane. Manekaji is saying this because she's a woman)'."
"My mother-in-law asked, 'Sanjay, is it safe?'"
"And I said, 'No, it isn't; it's a horrible plane'."
"Then Sanjay said, 'Do teen din mein theek ho jayega (It'll be fine in two or three days), she'll get used to it'."
"The next morning, he was dead."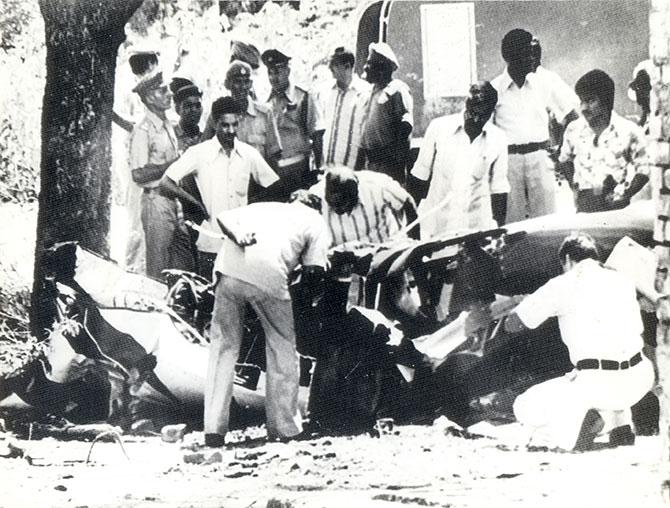 It was a massive, wrenching loss for his mother.
One of the enduring images of Sanjay's death is of Indira visiting the site of the plane wreckage not once but twice on June 23, inspecting bits of debris as if looking for remnants of her son and trying to relive his last moments.
Unkind comments were made that she was looking to find keys to a safe deposit box or vault containing his wealth, but instead it was Indira reverting to a primeval way of dealing with sudden and violent bereavement, returning to the site of death as if still searching for the disappeared loved one.
'Doctor, hamara dahina haath kat gaya (My right hand has been cut off),' she confided to Dr Mathur (Dr Krishna Prasad Mathur was Indira Gandhi's personal physician).
In 1980, Sanjay was at the very centre of Indira's political roadmap, the main organisation man to whom Youth Congress cadres had remained tenaciously loyal even as the stalwarts fell away from Indira.
With none of the heavyweights by her side, it was Sanjay who had become the party's supremo-in-waiting, the kurta-clad karta of the new Congress family, by now the newly appointed general secretary of the Congress.
Sanjay's activities during the Emergency had cost his mother an election, but, three years later, it was his organisational power and strategising that had brought her victory, or so she believed.
About 150 of the 353 Congress winning candidates in 1980 were Sanjay's recruits, impatient young bucks fiercely loyal to Sanjay, who scorned the old-fashioned niceties of their Congress seniors.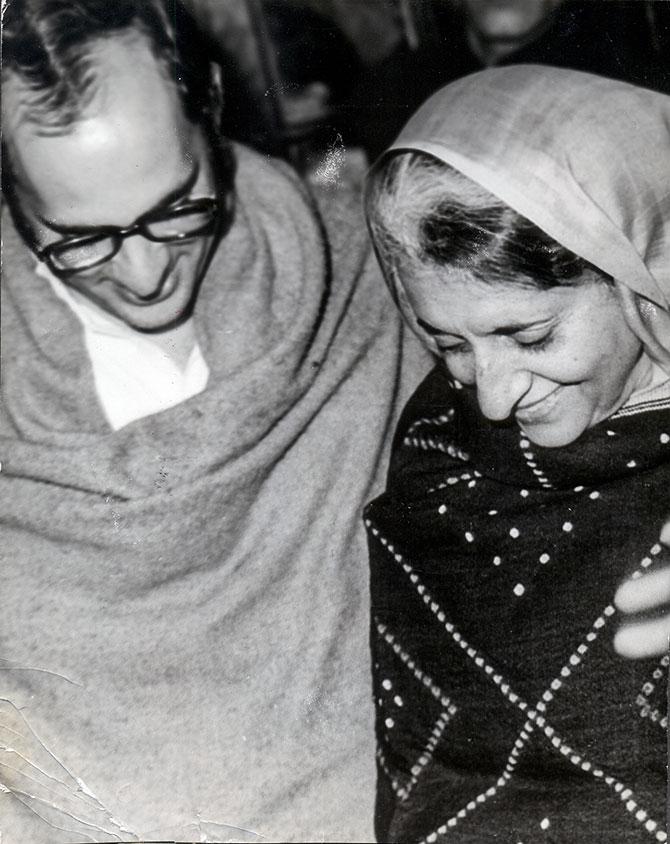 Motilal (Indira's grandfather), Feroze (Indira's husband) and Sanjay were the alpha males in Indira's life.
Brought up by a refined and intellectual father, Indira was paradoxically drawn towards darker versions of men — aggressive, dynamic men on the make who perhaps satisfied her own latent adventurous, defiant side.
Perhaps hers was a subconscious revolt against the high bar set by Nehru, or perhaps insecure about wielding power without too much political conviction, she turned towards brash, power-wielding men rather than towards philosopher-idealists like her father with whom she had never been able to communicate easily and who might disapprove of her methods.
Sanjay, in a way, was the last link with Feroze Gandhi and with Motilal Nehru; he was the last of the dominating men in her life to whom she warmed more intimately than she did with her cerebral father or the gentle Rajiv (her elder son).
If Jawaharlal was the saint-hero, these men were the anti-Jawaharlal, the opposite of saintly.
She did not recognise that none of them could match Nehru's moral strength, telling Jayakar (Pupul Jayakar, a close friend of the Nehru-Gandhi family, wrote Indira Gandhi: An Intimate Biography, published in 1992), 'No one can take Sanjay's place, he was my son but like an elder brother in his support… Rajiv lacks Sanjay's dynamism and his concerns.'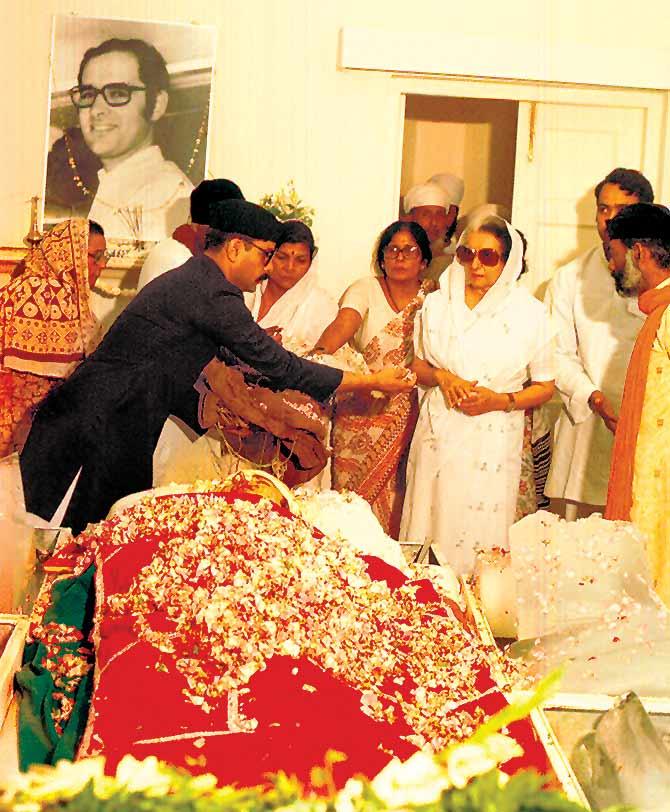 Nehru died at the age of 74, a reigning prince almost to the end, for whom the cup of life had spilled over.
When Sanjay died, short of his 34th birthday, Indira was consumed by frantic, helpless grief.
"She became very fragile, very bitter," recalled Maneka Gandhi. "She was never normal again. She was never Indira Gandhi again."
DO READ: A two-part interview with author Sagarika Ghose
'Indira Gandhi was the James Bond of power politics'
'Indira played politics with the ease of a sleepwalker'
With his death, she also confronted the loss of her family's political future.
Over the years, Sanjay had grown from spoiled younger son to arrogant youth to dark prince of the Emergency, but, by the end, he was a politician of guile and stealth, with the gift of outsmarting opponents and planning patient strategy.
In crafting his mother's comeback, he had not stood on ego and shrewdly let bygones be bygones in reaching out to once-sworn enemies.
He had built the Youth Congress into a loyal fighting force.
In 1980, not only had Sanjay himself won from Amethi by a huge margin, but many of his Youth Congress loyalists had also won.
They were 'innocent of parliamentary proprieties, unencumbered by ideology or idealism', but not averse to using their lung and muscle power to demonstrate their strength.
This 'shouting brigade' of youthful folk now took over Parliament, insisting that the House function only on Sanjay's terms.
Indira looked silently on, gazing at the new generation with awe.
The Sanjay style had begun to place its imprimatur on the government: Independent-minded bureaucrats were summarily removed, humiliated and kept waiting for months for alternative postings, politicians suspected of being 'disloyal' were sidelined, and ministers and civil servants jostled with one another to carry out Sanjay's orders.
Already, all state governments under Janata Party rule had been dismissed and President's Rule had been imposed.
These competitive cycles of dismissals of state governments by Indira, then the Janata and then again by Indira severely undermined federalism and regional politicians for more than a decade.
The worst fallout of this would take place in Punjab where, after being dismissed, the Akalis were unable to return to power.
Sikh rage would spiral into a deadly flame that would claim Indira's life.
Excerpted from Indira: India's Most Powerful Prime Minister by Sagarika Ghose, with the kind permission of the publishers, Juggernaut.
The book is available in bookstores and on Juggernaut.
Source: Read Full Article