Thanks to a big payout by the group's cash cow, Tata Consultancy Services (TCS), Tata Sons is set to earn a record-high equity dividend worth nearly Rs 33,350 crore from the group's listed companies for FY23, up 130 per cent from Rs 14,529 crore in FY22.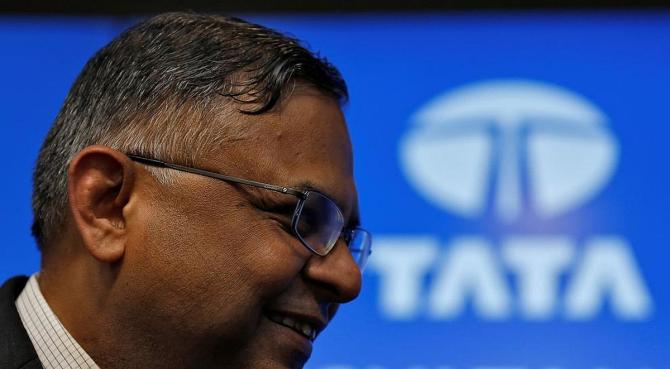 Nearly 90 per cent of this, or around Rs 30,500 crore, is estimated to accrue to Tata Sons while the rest will show up in its profit & loss account for FY24.
This is because nearly 80 per cent of the dividend payout by TCS for FY23 was done before the end of the financial year through three quarterly interim instalments and a special one in January this year.
In comparison, other group firms such as Tata Steel, Tata Motors, Titan, Tata Consumer and Tata Power pay dividend after the end of the fiscal year.
Tata Sons is expected to earn a dividend income of Rs 30,418 crore from TCS in FY23, up from the Rs 11,374 crore in FY22.
This will make Tata Sons the seventh-most profitable company in the country in FY23—after ICICI Bank, which reported a net profit of Rs 34,026 crore in the recently concluded financial year.
The analysis assumes that Tata Sons' dividend income is its net profit.
Besides dividend, Tata Sons earns interest from its treasury operations, a brand fee from the group companies, and profit on sales of investments.
In the last five years, dividend and the proceeds from share buybacks by TCS accounted, on average, for 96 per cent of Tata Sons' revenues.
As a result, analysts expect Tata Sons to report all-time high revenues and profit in FY23.
It had reported revenues of Rs 24,177 crore and a net profit of Rs 17,171 crore in FY22.
In FY22, the holding company is estimated to have earned nearly Rs 27,500 crore by way of dividend (total dividend declared) and share buybacks from the group's listed firms.
TCS had spent Rs 18,000 crore on share buybacks in March 2022.
Of that, Rs 13,000 crore had accrued to Tata Sons.
TCS declared an all-time high equity dividend of Rs 42,090 crore in FY23, up 167 per cent from Rs 15,738 crore in FY22.
Tata Steel is the second-biggest contributor to Tata Sons' dividend pie in FY23 at Rs 1,427 crore, followed by Tata Motors at around Rs 298 crore.
Tata Sons' expected dividend income for FY23 does not include the likely contributions of Tata Elxsi, which is yet to declare its annual results and final dividend for FY23.
The company had paid an equity dividend of Rs 265 crore to its shareholders in FY22. Of that, Rs 112 crore had accrued to Tata Sons.
Tata Sons has a 42.22 per cent stake in Tata Elxsi.
Tata Sons directly owns equity stakes in 14 of the 26 listed group firms. However, its revenues and profits are mostly dependent on the profitability, dividend payout and share buybacks by TCS.
FY23 is a milestone year for Tata Sons because 13 of the 14 listed group firms in which it holds direct equity stakes declared equity dividends.
This is the highest in a decade.
Tata Motors resumed dividend payments in FY23 after six years.
On the operations side, the record high dividend income in FY23 will allow Tata Sons to invest further in sunrise sectors such as e-commerce and loss-making legacy businesses such as aviation and broadcasting.
In the last five years, the group's holding company cumulatively invested nearly Rs 56,000 crore worth of fresh equity in its group's various listed and unlisted ventures.
Source: Read Full Article