Glass shortage in China and the rising prices of imported glass used in finished solar panels have already hit the cost of solar panel imports.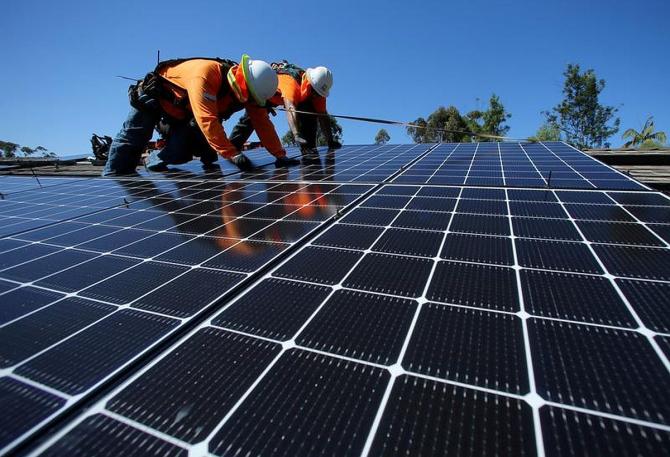 The proposed 40 per cent basic Customs duty (BCD) on imported solar cells and modules from 2021-22 onward is likely to increase power tariff by around 20 per cent per unit (kilowatt hour).
While the duty is yet to be notified by the ministry of finance, the industry sees solar tariff going up with no considerable help to domestic manufacturing.
Given the average solar tariff in the country is around Rs 2.5 per unit, it is likely to cross the Rs 3-mark after the duty is levied.
At the same time, projects tendered in the second half of the year will also need to factor in the BCD in their tariff, given their delivery will happen next year, said an executive.
There is a 14.5-per cent safeguard duty on imported solar gears from China and Malaysia. This will expire in July this year.
Pinaki Bhattacharyya, chief executive officer and managing director, Amp Energy India, said the imposition of BCD will slow down the race towards the 175-gigawatt target by 2022.
"Although this removes considerable uncertainty, the rates are too high and will increase the cost of solar power for distribution companies and consumers alike.
"This will increase the cost of manufacturing power as well as other industries in India.
"The government should have provided direct manufacturing subsidies to manufacturers to help them scale up their capacities.
"This would have been beneficial to the sector," he said.
The ministry of new and renewable energy (MNRE) has also informed about the duty imposition in advance, so that the bidders for solar power projects and tendering agencies across the country factor in the same.
"All the renewable energy implementing agencies and other stakeholders must take note of the BCD trajectory and include provisions in their bid documents, so that bidders take the trajectory into account while quoting tariffs.
"In all bids, the last date of bid submission is subsequent to this office memorandum.
"In all such bids, the imposition of BCD shall not be considered as a change in law," read the MNRE notice.
Glass shortage in China and the rising prices of imported glass used in finished solar panels have already hit the cost of solar panel imports.
The cost of solar modules imported by India have increased 22 per cent since June last year.
India imports close to 90 per cent of its solar cells and modules, of which nearly 80 per cent is from China.
Domestic solar equipment makers import glass panels and are the largest suppliers in China.
The price of a solar module glass has increased 150 per cent in the past six months, revealed industry estimates.
At the same time, BCD could prove to be counter-productive for large-scale players in the Indian solar manufacturing space.
Leading players, such as Adani Green, Vikram Solar, and Waaree Energies, are situated in special economic zones (SEZs) and come under the duty regime.
SEZ manufacturing units are considered on a par with foreign companies and hence, Customs duty is imposed on them.
According to the industry data, of the 3,100-megawatt (Mw) cell manufacturing capacity in India, 2,000 Mw is situated in SEZs.
In module manufacturing, 3,800-Mw out of the 9,000-Mw is inside SEZs.
Gyanesh Chaudhary, managing director of Vikram Solar, urged the MNRE to consider exempting BCD levy on manufacturing units located in SEZs.
"The imposition of BCD on SEZ units will make them highly uncompetitive, resulting in under-utilisation of capacities, loss of investment, and jobs.
"There will be a question mark on the very existence and survival of module manufacturers in SEZ units.
"We urge the MNRE to consider our request and bring forth clarity in favour of building a true Atmanirbhar Bharat," said Chaudhary.
Photograph: Mike Blake/Reuters
Source: Read Full Article