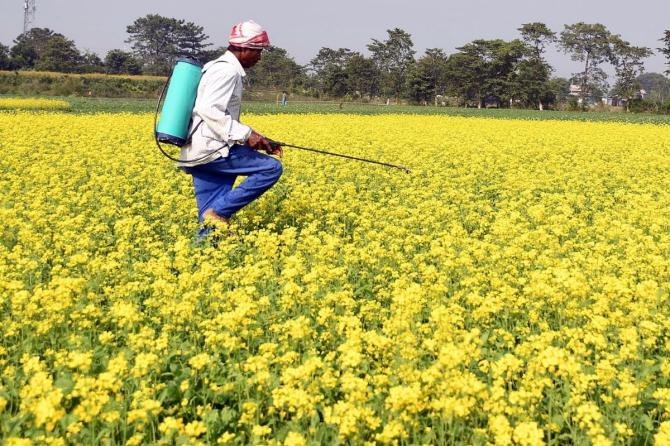 The long dry spell in August, which was broken recently, is adding to farmers' woes as the crops have become vulnerable to pest and insect attacks, and this may result in loss of yield or higher expenditure.
According to industry players, crops such as cotton, paddy, and to some extent, pulses are most vulnerable to pests and diseases if the monsoon remains patchy for the rest of the season.
The agricultural input survey data shows that at an all-India level, around 38.8 per cent of the irrigated area is treated with pesticides while the figure is 36.1 per cent for unirrigated areas.
The area treated with pesticides was the highest in case of cotton, followed by arhar, jute and paddy.
According to industry sources, the situation so far this year hasn't reached the stage yet where the possibility of pest attacks is manifold.
However, all eyes are on the monsoon trajectory over the next few weeks when several crops enter their early maturity stage.
Overall, sales of pesticides and insecticides have been robust during the 2023 kharif season despite the delayed onset of the monsoon in several parts of the country and late sowing of crops.
The southwest monsoon has been almost 36 per cent below normal till August 21. This comes after the rains were 5 per cent more during July.
"The 2023 kharif season has shown a rather intriguing pattern. Following a period of dryness, the subsequent good rains in July have ensured timely completion of sowing activities, with only a marginal drop in crop areas. One remarkable development has been the significant growth in herbicide consumption across key kharif crops like rice, soybean, groundnut, cotton, and pulses," Tirth Shah, executive director, GSP Crop Science, told Business Standard.
Shah, however, warned that due to the recent dry spell, there have been some instances of insect infestations and fungal diseases in soybean, groundnut, and pulses.
"If the expected revival in rains fails to materialise, then cotton could be most vulnerable to pest attacks, closely followed by soybean and pulses," Shah said.
Region-wise, Shah said that the cotton crop in Maharashtra, Gujarat, Telangana, and Rajasthan is most susceptible to pest attacks if rains don't turn out according to forecast.
Similarly, soybean in Maharashtra, Madhya Pradesh, and Rajasthan is another crop, which is vulnerable.
This is followed by groundnut in Gujarat and pulses in Madhya Pradesh, Rajasthan and Gujarat.
Also, at risk of pest infestation is rice in West Bengal, Jharkhand and Chhattisgarh if the rains become weak, said Shah.
Rajesh Aggarwal, managing director, Insecticides (India) Limited, said he did not expect any fall in sales due to the late onset of monsoon this year.
"Areas with good and moderate rainfall are showing good prospects and demand (for pesticides and insecticides) is high in these areas," Agarwal said.
He said in most places of the country, there has been fair rainfall during this season and incidents of pest infestation has been normal.
Meanwhile, N K Rajavelu, CEO, crop protection business, Godrej Agrovet, feels that if the dry spell extends beyond a tolerable limit, it could affect the health of the kharif crops.
"There could also be chances of flower drops, failure of pollination and fruit set. The increased crop weed competition may further deteriorate the crop," Rajavelu said.
Critical kharif crops like cotton, soybean, groundnut, maize, and rice are currently in their flowering stage, he said.
"This stage requires optimal moisture levels, making the prolonged dry spell a concern due to its potential to directly impact yield through increased pest incidence, flower, and fruit drop. And, in severe cases, it can lead to complete plant desiccation," Rajavelu said.
In some parts, he added, chili and tomato seedlings — ideally suited for transplantation after 30 days — have been delayed to nearly 40 days due to the dry conditions.
Farmers are awaiting the first showers after the spell to transplant these seedlings.
Grape farmers in Nashik are also grappling with the possibility of drought, leading to withheld pruning and spraying activities, which could affect the subsequent flush and yield.
Feature Presentation: Rajesh Alva/Rediff.com
Source: Read Full Article