SoftBank-backed hospitality major OYO is planning to reduce the number of shares it aims to sell through public listing because of reduced capital requirements and technology headwinds.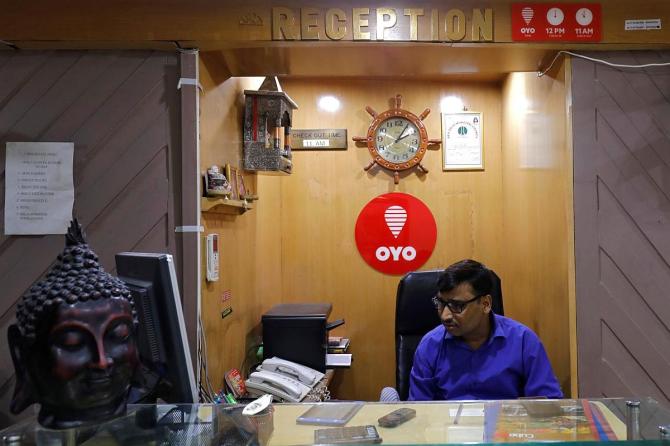 This comes at a time when valuations of start-ups, including that of OYO, have taken a hit.
"OYO earlier filed papers for its IPO (initial public offering) based on its funding requirements at the time.
"But those tailwinds are behind it now. The company does not find the need to dilute its equity to that extent anymore," said a source close to the company.
The firm plans to sell just a third of the new shares it originally planned, according to a Bloomberg report.
Shares from OYO's existing investors will not be put up for sale through its inbound IPO, according to sources.
Besides SoftBank, the hotel aggregator counts Airbnb as one of its backers.
Founder and CEO Ritesh Agarwal, in an internal town hall, told employees that OYO's revenue for FY23 is expected to be over Rs 5,700 crore, up 19 per cent from Rs 4,780 crore in the previous financial year.
The firm expects to report adjusted Ebitda (earnings before interest, taxes, depreciation, and amortization) of around Rs 800 crore in FY24.
"The company is taking measures to keep a healthy cash runaway and is continuing to operate in a cost-effective way.
"We have a current cash balance of Rs 2,700 crore and we hope we will end up consuming very little of it for existing operations," a source claimed Agarwal as saying during the meeting.
The company, he said, was witnessing sustained growth in India, Indonesia, and the US.
This is OYO's second attempt at going public.
The Gurugram-based firm had filed preliminary papers for a Rs 8,430-crore ($1.2 billion) IPO back in September of 2021, looking for a valuation of $11-12 billion.
OYO had, however, postponed its public listing due to a market slump.
After filing its papers yet again over a year later, the company was asked to refile its DRHP (draft red herring prospectus) by the Securities and Exchange Board of India.
Sebi in January this year had asked the firm to refile its public listing application with updates and revisions – including sections, such as risk factors, outstanding litigation and Basis for Offer.
OYO is yet to refile its DRHP. Queries sent to OYO did not elicit an immediate response.
OYO's IPO comes at a time when valuations of start-ups across the board are being re-evaluated.
The firm's own valuation took a tumble after SoftBank, one of its biggest backers, revised the company's estimated value to $2.7 billion after the June quarter last year, according to media reports.
The company had once touched the $10-billion valuation mark after a funding round in 2019.
Nevertheless, the hospitality firm is witnessing an uptick in its Ebitda margin and revenue.
The firm had also – through an addendum to its DRHP – reported its maiden positive adjusted Ebitda of Rs 63 crore, a 24 per cent year-on-year increase in revenue, and a 69 per cent increase in monthly booking value (GBV per month) for its hotels in the first six months of FY23.
However, the company is still not profitable at the net level.
The company recently said it planned to double the number of its premium hotels in India in 2023 and aims to add around 1,800 premium hotels this year.
This, it said, came on the back of a surge in business travel as well as demand.
Prevailing volatile market conditions led many companies to put their IPOs on the backburner last year.
In December, Snapdeal – another Softbank-backed company – deferred its IPO plans through which it was aiming to issue equity shares worth $152 million, citing poor market conditions.
Earlier, in October, Imagine Marketing – the company that owns the wearable brand boAt – and online automobile marketplace Droom Technology had withdrawn their listing plans.
A month before that, PharmEasy parent API Holdings withdrew its DRHP.
Source: Read Full Article