Most political leaders in Punjab have come out in the open to oppose him, unlike the early 1980s when political leaders were scared of speaking against Bhindranwale, observes Sudhir Bisht.
February 23, 2023, will go down as a black day for Punjab as the police station in Ajnala, district Amritsar, was run over by hundreds of people led by Amritpal Singh, all flag-bearers of the renewed Khalistan movement in Punjab.
These men were demanding the release of Lovepreet Singh Toofan, who was arrested on February 18 on the charges of rioting and kidnapping.
Lovepreet is a close aide of Amritpal Singh, a Dubai returned self-proclaimed transporter (some say he was a truck driver), who until a few months ago was a far cry from his present persona of a hard-core Sikh leader.
Those who stormed the police station argued with the station-in-charge that Lovepreet was not at the place where the alleged crime was committed, so his arrest was politically motivated. Sensing danger and fearing a mauling at the hands of the intruders, the police officials quickly accepted the alibi.
Senior police officials defused the situation as they assured the protesters that Lovepreet would be released as the police also now believed that the accused was falsely implicated.
Lovepreet was released the next day by a lower court based upon a police appeal — the prosecutors had turned appellants in one day! Lovepreet received a rousing reception when he reached the Golden Temple on February 24.
The storming of the police station ended peacefully, but it has tarnished the law-and-order record of the Bhagwant Mann-led AAP government.
If the case against Lovepreet Singh was actually framed at the behest of politicians, as alleged by Amritpal Singh, then it points to a deeply politically motivated police force, and if Lovepreet Singh was released to maintain peace, it points out to the fragile state of the police in Punjab.
We had all thought that the Khalistan movement was dead in India and its support groups in the UK and Canada were nothing more than fringes that were visible only in social media-led protests. The Ajnala incident has proved us wrong.
Deep Sidhu, an actor-turned-farm leader had floated an outfit — Waris Punjab De (the inheritors of Punjab) — in 2021. Though Sidhu didn't openly canvass for a separate Khalistan, his successor Amritpal Singh, a young Dubai-returned college dropout, has now started the demand for a separate homeland for Sikhs.
Deep Sidhu died in 2022 and Amritpal, a short-haired, beard-trimming young man, was announced the new head of Waris Punjab De.
On February 23, I watched in horror as Amritpal Singh, now a full-size poster boy of Khalistan, forcibly enter the Ajnala police station with several hundreds of his armed supporters. The sword-wielding and gun-toting men, mostly of the Sikh faith, broke the barricades and threatened the station-in-charge to release their man who was detained by the police upon a complaint of criminal nature.
The rampaging crowd pelted stones at the police station and a few policemen were hurt before they surrendered before the mob. A senior police officer was seen with a bleeding head; his head was bowed down and his eyes downcast. He was speaking to an angry Amritpal in a meek voice as he avoided looking into the eyes of the man who claims to be inspired by the late Jarnail Singh Bhindranwale.
That the morale of the police was at its lowest and the arrogance of the armed protesters was at its peak was evident from the videos on various news television channels. Amritpal was seen repeatedly berating the station in-charge that while he was doing the 'job of the police', of making the youth get rid of 'nasha' (a reference to drug addiction), the police had put his supporter in custody based upon the complaint lodged by a man who was receiving treatment for 'mental illness' from a government hospital.
Why did the police not stop the rampaging crowd from storming the police station?
The answer given is that the protestors were carrying with them the holy book of the Sikhs and attacking them would have been misconstrued as 'be-adbi' or 'dishonour' to the Guru Granth Sahib.
As everyone knows, the issue of be-adbi is extremely sensitive in Punjab. The Guru Granth Sahib is revered by the Sikhs and Hindus alike and an act of be-adbi can cause riots.
While the fear of be-adbi might be a genuine cause, but even otherwise the number of people who stormed the police station was so large that the police couldn't have succeeded in containing them.
This raises a question mark on the intelligence unit of the Punjab police. Why was there no intelligence input on the raid? With good intelligence input the station could have been fortified in advance.
The Ajnala incident is now behind us and perhaps the Punjab police will take appropriate steps to prevent such raids from occurring in future. The focus should now shift to Amritpal.
In an interview to Saurav Sharma of India TV, Amritpal comes across as a leader who is demanding an independent Khalistan but without indulging in violence. He is vehemently opposed to the idea of India. He doesn't believe that India is their motherland where Sikhs have prospered since 1500 CE.
He says Sikhs were marginalised as the states of Himachal Pradesh and Haryana were carved out of Punjab province in 1966. He says Sikhs are leading a life of humiliation and indignity in India. He offers nothing much to support his claim.
When the interviewer pointed out to him that Dr Manmohan Singh, a devout Sikh, was the prime minister of India for 10 years, Amritpal says a few artefacts can't hide the truth of Sikh being treated unfairly in India. That India has had air force and army Chiefs who were Sikhs, is not a substantive issue, he feels.
He keeps talking about the 1984 riots and how its perpetrators are roaming free in Delhi. In between he also talks about the attack on then President Zail Singh's car in 1984.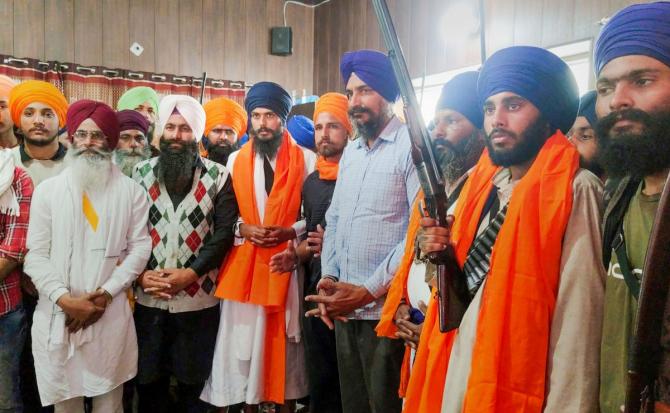 Amritpal is quick to point out how the demographics of Punjab is changing and how outsiders are easily given the right to vote and acquire property in Punjab. He says he doesn't grudge the agricultural labour that comes to till their farm lands, but says they also bring their 'own culture' from the outside!
Amritpal is also very angry that our Constitution doesn't treat Sikhism as a separate religion but terms it as an offshoot of Hinduism. He is okay with Hindus visiting gurdwaras, but says Sikhism explicitly forbids deity worship and Sikhs who visit Hindu temples go there against the tenets of Sikhism.
Amritpal considers wielding guns as appropriate and says that in a gurdwara, arms like daggers and guns are kept as a mark of respect.
Amritpal for now talks about a peaceful agitation for a separate land for Sikhs and refuses to consider himself an Indian. Meanwhile, he has travelled to many countries on an Indian passport.
So, is Amritpal Singh the new Sant Jarnail Singh Bhindranwale? I don't think so.
Amritpal doesn't betray the ferocity of the late Bhindranwale nor does he take a hard-line position. He often switches to English even when the interview is being conducted in Hindi.
He seems to be addressing the fringe groups that reside overseas and indulges in false claims that every child in Punjab roots for a separate homeland for Sikhs.
I also see that most political leaders in Punjab have come out in the open to oppose him, unlike the early 1980s when political leaders were scared of speaking against Bhindranwale.
Amritpal is filling a space among Sikhs that is based on an assertive display of religious rigidity.
With the Akali Dal in tatters and the Congress leadership discredited in Punjab, he sees himself as a contender for the leadership of assertive Sikhism.
He doesn't speak very highly of the Aam Aadmi Party, but he seems against the RSS and links his demand for a separate Sikh homeland with the clamour for a Hindu rashtra by certain elements in India.
Recently, when Home Minister Amit Shah had said that the government would crush any Khalistani movement in India, Amritpal had threatened Amit Shah by citing Indira Gandhi's fate.
Indiraji was killed by her Sikh bodyguards to avenge the desecration of the Golden Temple by the armed forces in the 1984 to flush out the Sikh militants.
When Saurav Sharma asked Amritpal if he was alluding to Indiraji's assassination, Amritpal became defensive and said he was referring to the period of bloodshed in Punjab and he wondered why the consequences of the crushing of the Khalistan movement is always seen to culminate in Indiraji's murder.
Amritpal claims to the inheritor or 'Waris' of Punjab. That he can't be, as he is also trying to cause unrest in Punjab.
He thinks of himself as someone who is doing the job of the police, but this amounts to vigilantism that needs to be neutralised now.
Amritpal Singh has become a major headache for Punjab Chief Minister Bhagwant Mann who is more engrossed in furthering his Aam Aadmi Party's interest in other states. His visit to Maharashtra in support of Uddhav Thackeray, within a day of the Ajnala incident, doesn't augur well for Punjab.
Mann shouldn't forget that he is also Punjab's home minister.
That the law and order situation is Punjab is close to breakdown is evident from the killing of the two accused on Sunday in the Sidhu Moosewala murder case. The killings happened as a result of an alleged intra-gang war inside the Goindwal central jail in Taran Taran district.
These are trying times for Bhagwant Mann. I pray he succeeds in Punjab, not because I have special love for him, but I want the brotherhood of Hindus and Sikhs in Punjab to remain strong for life.
Dr Sudhir Bisht, author and columnist, writes from New Delhi.
Source: Read Full Article