As artificial intelligence (AI) threatens to replace jobs, a new report from Microsoft has suggested that Indian employees are caught between a fear of losing jobs and an opportunity to reduce workload by delegating tasks to technology.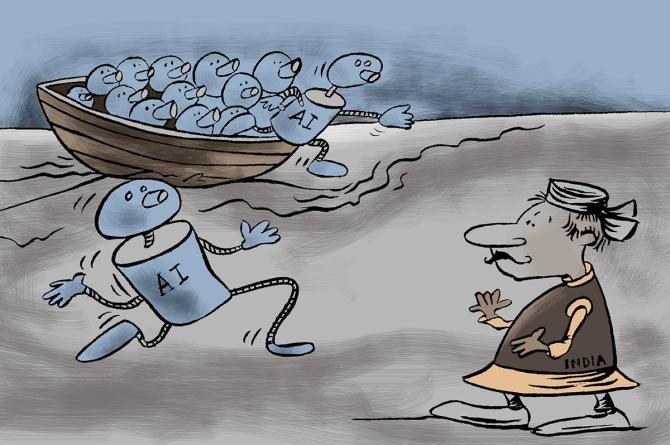 Microsoft's Work Trend Index 2023 found that while 74 per cent of Indian employees are worried about AI replacing their jobs, 83 per cent would delegate as much work to it as possible, to help lessen their workloads.
More than three in four Indian workers would be comfortable using AI not just for administrative tasks (86 per cent), but also for analytical work (88 per cent), and for the creative aspects of their role (87 per cent).
Meanwhile, Indian managers are 1.6 times more likely to say that AI would provide value in the workplace by boosting productivity than cut headcount.
The report also found that 78 per cent people in India don't have uninterrupted focus during their workday.
Moreover, 76 per cent of Indian workers say they don't have enough time and energy to get their work done, and those people are 3.1 times more likely to say they struggled with being innovative.
Within Microsoft 365, the average person spends 57 per cent of their time communicating, and only 43 per cent of their time creating.
This reflects the concern that leaders have.
The Index found that more than three in four Indian leaders (84 per cent) are concerned about a lack of innovation.
The primary culprit disrupting productivity is inefficient meetings, as reported by 46 per cent of Indian workers who feel that their absence in half or more of their meetings would go unnoticed by colleagues.
"As the nature of work evolves, AI promises to be the biggest transformation to work in our lifetimes.
"The opportunity and responsibility for every organisation and leader is to get AI right — testing and experimenting with new ways of working to build a brighter future of work for everyone," said Bhaskar Basu, country head – modern work, Microsoft India.
For this to happen, the Index found that AI aptitude within organisations is a must.
As many as 90 per cent of Indian leaders say employees they hire will need new skills to be prepared for the growth of AI.
A staggering 78 per cent of Indian workers say they currently don't have the right capabilities to get their work done.
However, the good news is that human resource heads believe that AI or generative AI will be a multiplier of human capability.
They feel that instead of taking away jobs, it will instead create more jobs.
"While there are many questions about how this technology will really work, there's going to be a fusion of technology with human capability.
"Its moving into the era of co-pilot.
"Enterprise digital assistance will democratise access to data, insights and actions," said Merlyn Mathew, head, delivery excellence and talent management, Persistent Systems, a technology services company.
She added that AI is going to be a multiplier of human capability.
"This will help us unleash a lot more productivity and creativity and bring new skills to work.
"There will definitely be a transformation of HR processes, which will enhance the way employees experience the workplace, which in turn should boost creativity," said Mathew.
Richard Lobo, executive VP and head of HR, Infosys, cautioned that in this adoption of AI one must not forget the people part.
"We have to fundamentally remember that as a rule, you first have algorithms, then you have investment in technology, and then finally people.
"We should never forget the people piece.
"At Infosys we have 350,000 people.
"It is finally people who will make the difference," he added.
Source: Read Full Article