'The Pangong Tso lake is frozen from September-October to February-March.'
'The night temperature goes to minus 40.'
'The area is like a barren desert. You are out in the open with no trees or bushes to take cover.'
Colonel Sandeep Kumar (retd) served four years in Ladakh, including at the Pangong Tso and Siachen Glacier.
The officer served the Indian Army for 37 years and took early retirement in 2011. His last posting was in Ladakh.
A second generation army officer, his father fought in the 1962 War with China, while his father-in-law served under Field Marshal William Slim in Burma during World War II.
Based in Pune, Colonel Kumar tells Rediff.com's Archana Masih what it takes for soldiers to serve in one of the world's harshest, highest and toughest battle terrain.
'You battle nature every day'
Soldiers serving in Ladakh have to be physically fit because they have to battle the severe weather and the enemy at heights of 16,000 feet.
There's the risk of hypoxia due to lack of oxygen, acute mountain sickness, high altitude pulmonary edema when water fills up in the lungs or cerebral edema when water fills up inside the brain.
Then the only way to save a soldier's life is to bring him to a lower height. He has to be evacuated by a helicopter and dropped at the hospital in Leh at 10,500 feet.
Helicopter visibility becomes impossible during heavy snowfall or blizzard where you can't see beyond three feet.
'Pangong Tso area is a barren; no trees or bushes for cover'
The Pangong Tso lake is at 14,500 feet. It has no marine life and has salty water. The lake freezes in winter. I remember we used to drive on it, play ice hockey, skate!
The lake is frozen from September-October to February-March.
The biggest problem is the wind. The windchill factor is phenomenal.
At about 12 o'clock in the afternoon, the temperature may be minus five or six, but by about four o'clock in the afternoon or in the early part of the evening, the temperature would go to about minus 25.
And by about 7.30-8 at night, the temperature goes to minus 40!
The area is like a barren desert. There is no vegetation, you are out in the open with no trees or bushes to take cover.
'Patrolling the rocky ridges is tough'
Patrols are very tough for the boys because they go along the lake to the Finger areas. You can't climb the ridgelines, but walk up along the slopes. There are rocks and cliffs.
The mountains have very narrow tracks cut into the slopes that go on for miles. There are tracks where only one or two people can actually walk, so patrols move slowly.
Officers do a lot of out of the box thinking out there, you may think that the enemy has four options, but you have to prepare for that fifth option to thwart his designs!
Patrols have to be very careful and always set out with a specific task to gain information.
Say for example, to find out if there is any enemy inside area x, and what is his extent? Or to find any obstacles that he has put like wires or minefields.
Igloos and Siachen winter in minus 45 degrees
The army is very well equipped with thermal gear and medical facilities.
The innerwear is made in Finland and Sweden. At the Siachen Glacier where soldiers are stationed at 20,000 feet, the summer temperature is minus five degrees and winter is minus 55 degrees!
Soldiers have to follow a strict acclimatisation procedure for heights beyond 9,000 feet.
As they keep ascending, they stay for a few days at a given height and keep increasing the walking distance every day.
After they get used to it, the next stage would be 2,000 feet higher and so on.
This is how they gradually acclimatise themselves. It might take nearly a month for acclimatising the body for a tenure at the Siachen Glacier.
Soldiers have to be extremely careful about health and fitness. They can never lower their guard.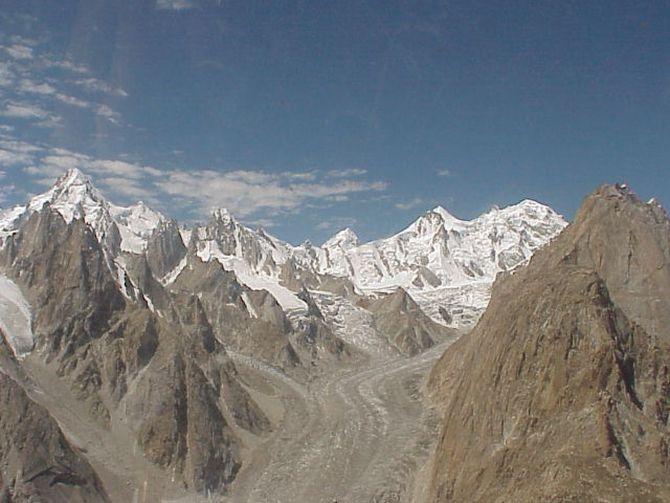 'Serving in the Siachen Glacier is the hardest'
In Siachen, soldiers are battle trained in ice craft where they have to climb up vertical walls of ice that are 1,500 feet high.
They are trained for this because they have to climb the sharp features to get to a particular dominating height. It is very difficult to remove the enemy from heights as we have seen in the Kargil War.
In Siachen there are fibreglass huts, but they can get bombed by the Pakistanis. The ice caves or igloos are better.
How soldiers spend their free time
They generally chitchat, clean their weapons and are getting ready for whatever happens next.
The government has also given satellite phones which can be used to make calls free of charge.
In my time, many wrote letters that were picked up by helicopters.
In Siachen they get into the ice caves which are like igloos and play cards.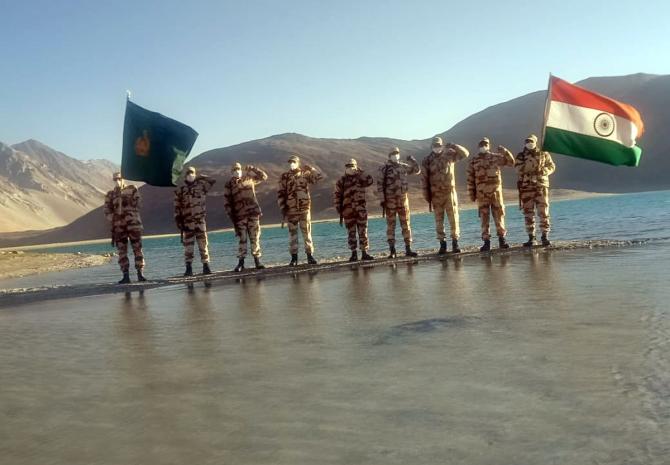 What happens at Border Patrol Meetings
Border Patrol Meetings are also called flag meetings.
Instructions and the agenda for the meeting come from the higher quarters for both China and India.
In Ladakh, it happens in Chushul in the area of Spangur Gap. These are areas where massive battles took place in the 1962 War.
Feature Presentation: Aslam Hunani/Rediff.com
Source: Read Full Article