33 per cent of all road accidents and 35 per cent of fatal accidents took place on national highways and expressways.
Road accidents continue to show an alarming rise in India despite record government investments in infrastructure, with 2022 witnessing over 460,000 mishaps that resulted in the loss of 168,491 lives — an all time high.
According to the ministry of road transport and highways' annual report on road accidents, the states and Union Territories reported 461,312 incidents in 2022, which caused injuries to 443,366 people.
The year marked an increase of 11.9 per cent in accidents, 9.4 per cent in fatalities, and 15.3 per cent in injuries compared to 2021.
'The report underscores the urgency of adopting a comprehensive approach to address the contributing factors to these accidents, including speeding, reckless driving, drunken driving, and non-compliance with traffic regulations,' the highways ministry said in a statement.
'It is crucial that we strengthen enforcement mechanisms, enhance driver education and trai-ning programmes, and invest in improving the condition of roads and vehicles,' the ministry added.
The matter has also brought attention to India's rising fatality ratio in such accidents.
Twelve calendar years have recorded more road accidents than 2022, yet the latter saw more fatalities than ever.
The second-highest number of deaths took place in 2019 — 10,000 fewer than 2022.
While deaths with respect to the number of vehicle registrations have reduced over the past decades, 2022 also saw the highest number of deaths vis-a-vis Indian population, with 12.2 casualties per one lakh people.
There has been little improvement in road safety metrics despite several interventions at the state and central levels.
This has also been a thorn in the side of Road Transport and Highways Minister Nitin Gadkari.
The annual report is based on data sent by police departments of states/UTs in formats as provided by the United Nations Economic and Social Commission for Asia and the Pacific under the Asia Pacific Road Accident Database project.
It serves as the primary source for international monitoring of road safety parameters, where India ranks among the worst performing countries.
India accounts for the highest number of road accident deaths in the world, although mishaps in the US are almost six times more than in India.
According to the report, 33 per cent of all road accidents and 35 per cent of fatal accidents took place on national highways and expressways.
This is despite record investments in improving highway infrastructure.
In FY24, the highways ministry has been provided the highest allocation from the Union Budget — Rs 2.7 trillion.
In 2022, 106,682 accidents, which constitute 23 per cent of the total, took place on state highways and the remaining 202,633 (43.9 per cent) on other roads.
In fatalities, national highways accounted for 36.2 per cent of the total, while state highways and other roads accounted for 24.3 per cent and 39.4 per cent.
The report also found that a large number of accidents remain attributable to human errors.
In 2022, over speeding was a major cause, accounting for 71.2 per cent of the persons killed.
It was followed by driving on the wrong side (5.4 per cent).
Besides the human cost of the accidents, experts and the Centre alike have talked about their economic cost.
In a continuing trend, most victims of these accidents are young.
Adults in the age group of 18 to 45 years made up 66.5 per cent of the victims in 2022 while those aged 18 to 60 years (working population) comprised 83.4 per cent of the overall fatalities.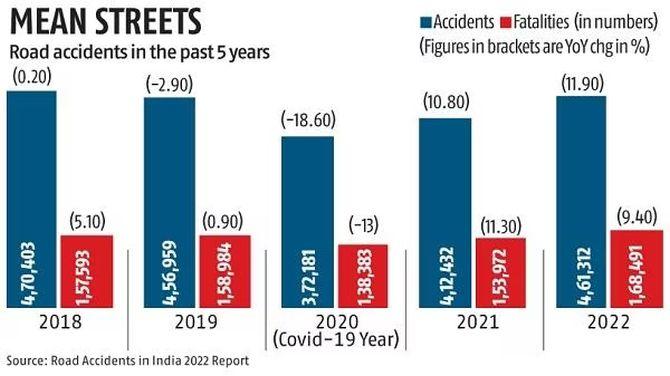 Feature Presentation: Aslam Hunani/Rediff.com
Source: Read Full Article