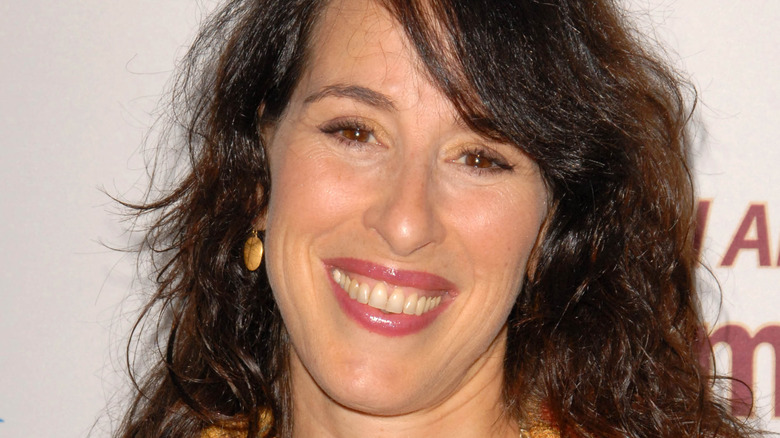 There's no denying the fact that "Friends" is one of the most popular sitcoms out there, despite its 2004 cancelation. The characters on the show, the dynamic between all the friends, and the ways in which their lives changed in their 20s and 30s was, and still is, so relatable that you feel like the main characters are your friends, too, and that their dating mishaps are similar to yours. In particular, Chandler Bing's on-again-off-again relationship with the loud, bumbling Janice just made average life events like dating feel comical and entertaining.
Janice was certainly a fan-favorite character on "Friends," with her nasal laugh and somewhat oblivious demeanor, but what happened to the actress who played her? Well, Maggie Wheeler, the actress behind the iconic character, has gone on to do quite a lot since her days on "Friends," both personally and professionally. So, to see where Wheeler ended up after "Friends," keep reading, because she's been up to quite a lot.
Maggie Wheeler, who played Janice on Friends, took some creative liberties on the show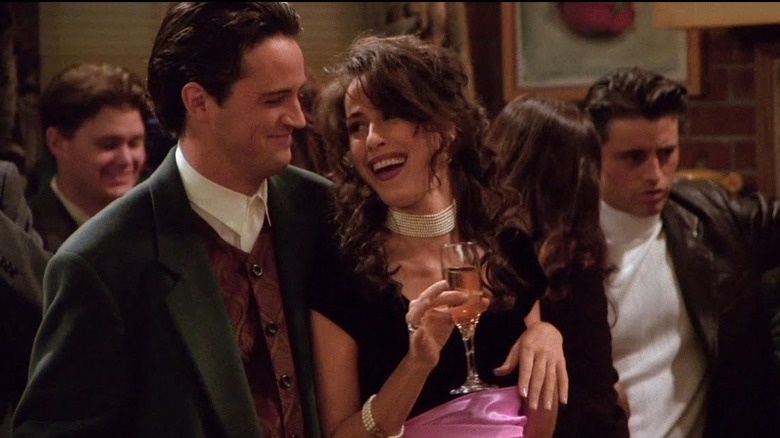 One of the most defining characteristics of Janice on "Friends" was definitely her voice and her laugh. Janice's nasal laugh and catchphrase — "Oh. My. God!" — made her who she is and helped her character stand out. Honestly, without that laugh, she might not have been so entertaining. 
And, as it turns out, we can thank actress Maggie Wheeler, who played Janice, for making that executive decision. "The voice, I just made the decision where I saw the audition scene," Wheeler said during a 2020 interview with the Morning Show on 7News. "I created the laugh because Matthew Perry is so funny, and I knew he was going to make me laugh on set," she explained. "And I thought, Janice better have a laugh because he'll crack me up every time we work together." Truly, Janice's laugh was such a signature characteristic of her role on "Friends," and it made her relationship with Chandler that much more fun to watch. The show wouldn't have been the same without her iconic laugh, and it's impressive that Wheeler, herself, is responsible for it.
Maggie Wheeler had no idea the impact her character, Janice, would have on Friends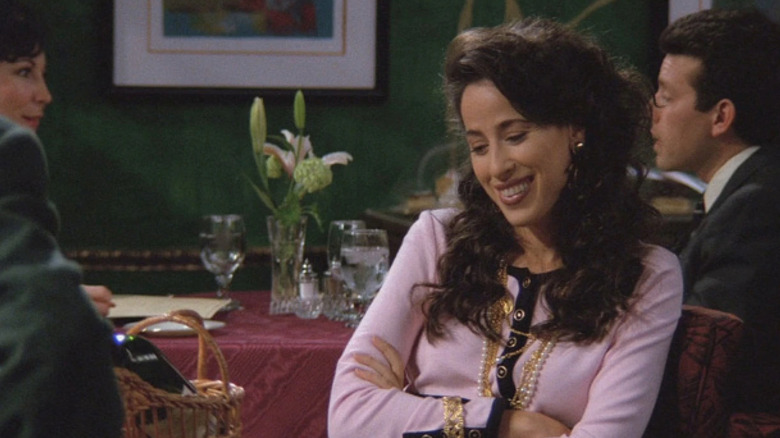 While the role of Janice on "Friends" wasn't exactly a main character, she was still important to the series and would often show up back in Chandler's life at the most inopportune moments even after they'd broken up. Remember when Janice almost crashed Chandler and Monica's wedding? Or had her baby at the same time as Rachel? Or when she almost bought the house next to Chandler and Monica's new home in the suburbs? Janice was so important on "Friends," and Maggie Wheeler loved playing her.
In an interview with the Jewish Telegraph Agency, Wheeler didn't know just how loved Janice would become while filming "Friends," but she loved her time on the series nonetheless. "When you're in the middle of things, while you're filming, you just don't think like that," she said of her character's impact on the series. "I'm just thrilled that the writers and our audience loved her so much." Wheeler added that she would always be grateful for Janice and "Friends" in general. "Janice has been very good to me. I am so glad people connected with her."
In addition to playing Janice on Friends, Maggie Wheeler also starred on this popular sitcom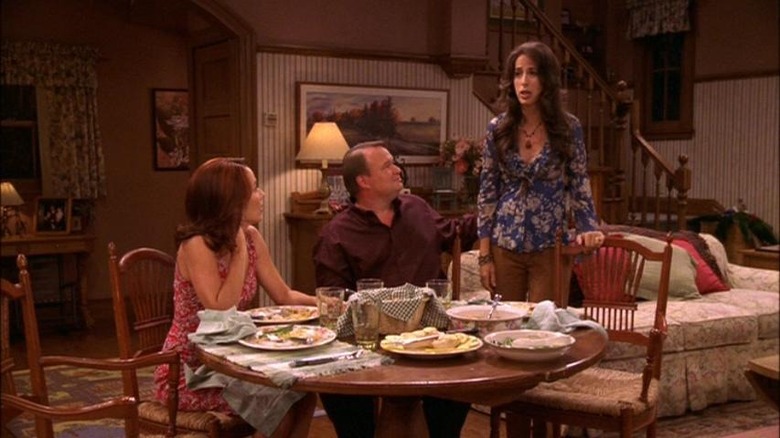 It might not come as a shock to you to learn that Maggie Wheeler, who played Janice on "Friends," was a regular on another sitcom as well. After all, Wheeler was so great at swiftly coming on to the show as Janice that she seemingly proved herself to be a pro at playing recurring characters. And that's exactly what she did with another beloved sitcom during the mid-1990s and early 2000s.
Wheeler played Linda Gruenfelder on "Everybody Loves Raymond" for 13 episodes, though Wheeler revealed she initially auditioned for the larger role of Debra Barone, played by Patricia Heaton (via IMDb). In an interview with Closely Observed Frames, Wheeler said that due to politics she didn't get the role of Debra but that the creators "wrote me into the show and I had the chance to play Linda [Gruenfelder], and to hang out with Ray and Patty and the rest of the gang," she explained. "We had a really great time. It was so much fun to work on that show and I loved every minute." Wheeler's role on "Everybody Loves Raymond" was still significant, and it's pretty cool they made it just for her.
While playing Janice on Friends, Maggie Wheeler appeared in this beloved '90s movie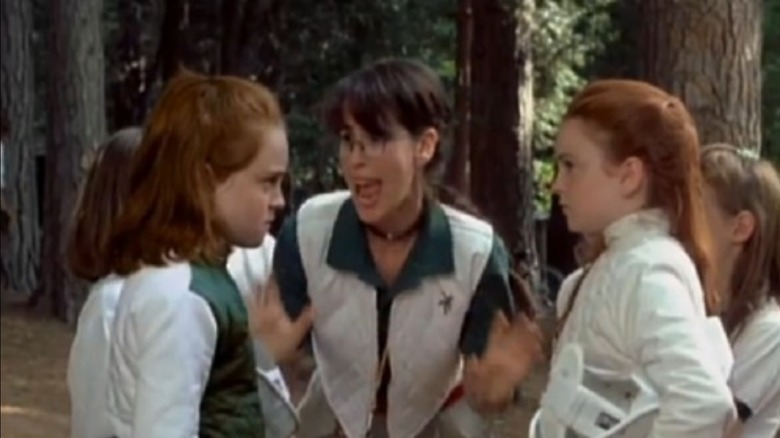 If you're a fan of Janice on "Friends" or the show in general, then you probably have a soft spot for other television shows and movies from the 1990s. The decade was truly the golden age of fun, family films, and nothing proved that quite like "The Parent Trap," the 1998 film starring Lindsay Lohan — whom we don't see in movies much anymore — which served as a remake of the 1961 film starring Hayley Mills. In the '90s version, Lohan played identical twins Hallie and Annie, who were separated when their parents divorced and who unknowingly reunited years later at a summer camp. And who should be their counselor at that camp? None other than Maggie Wheeler.
Yes, in "The Parent Trap," Wheeler played Marva Kulp Jr., the daughter of the woman who runs the camp. Her role is definitely small, but fans of the movie, or of Wheeler's work on "Friends," will be quick to recognize her when she shows up on screen. Most notably, though, Wheeler's voice as Marva is drastically different than her voice as Janice, proving that not only is she a '90s icon, but she also has range.
Friends actress Maggie Wheeler is a mom to two grown (and funny) daughters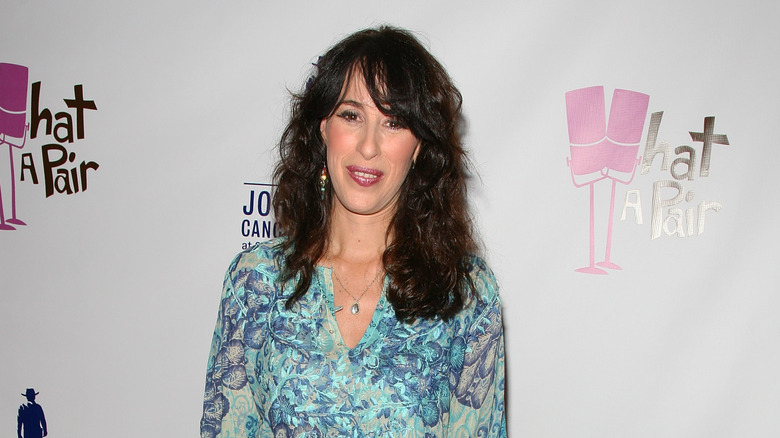 Though "Friends" star Maggie Wheeler is obviously a successful actress, she's also a wife and mother. Her daughters, Gemma and Juno, whom she shares with her husband, Daniel Wheeler, are both in their 20s, which means they were born while Wheeler worked on "Friends" (via IMDb). In fact, she told Closely Observed Frames in an interview that she was actually surprised the writers on "Friends" had her back while she was pregnant. "When I was eight months pregnant they brought me back," she explained of her role as Janice on the sitcom. "How much do I love those writers and producers and creators for deciding to bring me back on the show eight months pregnant!" she continued. 
Though it's been years since she was on "Friends," she'll likely always remember being pregnant while filming. Additionally, Wheeler's daughter, Gemma, seems to enjoy her mother's most famous role. She has gone viral on TikTok (via Insider) for joking about her mother's voice as Janice in a seriously hilarious video. It definitely seems as though Wheeler has raised daughters who possess a great sense of humor, just like their mom.
Maggie Wheeler considers music to be in her blood and even leads a community choir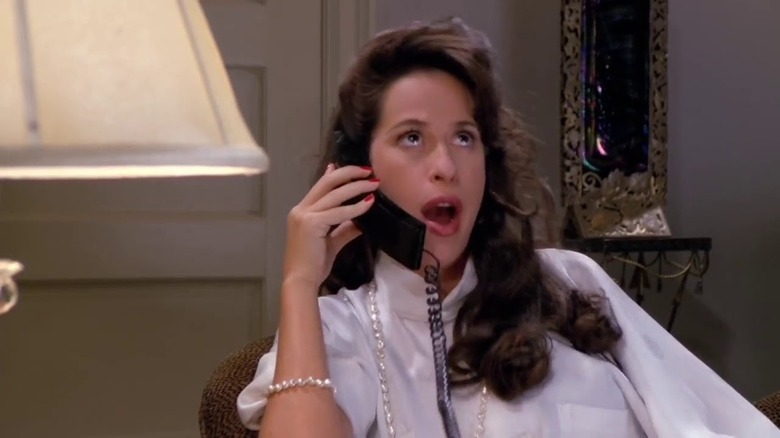 Even if you've seen every episode of "Friends" 10 times and can recite all of Janice's lines on the show, it will probably shock you to learn that the actress behind Janice, Maggie Wheeler, is also very into music. However, she's not just a fan of music, but she's someone who actually sings and directs music. In an interview with the Jewish Telegraphic Agency, Wheeler explained that music was almost like an extension of her. "Music has been my soul food," she said. "I've always loved gospel music and spirituals and the music of Africa." 
Additionally, she told Closely Observed Frames that people might be surprised to learn how hands-on she was with music and singing. "I will say this, for all these years that I've been an actor, I've also been a song leader. Somebody who gathers people together to sing," she said. In fact, Wheeler started a community choir called the Golden Bridge Choir in the early 2000s. It might be hard to picture Janice from "Friends" leading a choir, but, from the looks of it, Wheeler definitely knows what she's doing.
Maggie Wheeler had a ton of small guest roles on top of her iconic role as Janice on Friends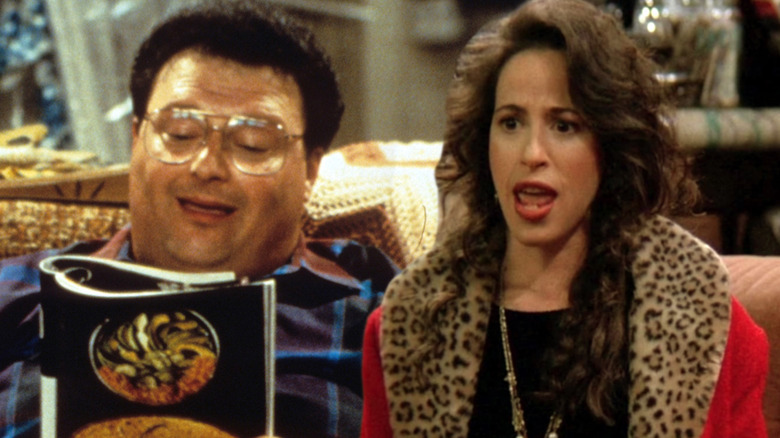 Before, during, and after her time on "Friends," Maggie Wheeler also appeared on a ton of other television shows. Wheeler had guest roles on "Kim Possible," Drake & Josh," "ER," "Friday Night Lights," and "The Closer," among others. And while many of those roles might seem insignificant, speaking to Closely Observed Frames, Wheeler actually hinted that a small role can have a big impact.
Though Wheeler only had a one-episode arc on "Seinfeld" in 1992, she said the experience still had a major impact on her. "What was really incredible about that show was that it reminded me how much I love comedy and it reminded me how much fun it was to be collaborating with people on a comedic project," she said. So while many of Wheeler's roles after "Friends" might not have been as memorable as that of Janice, that doesn't mean she, personally, didn't enjoy or learn from them in some way.
In addition to playing Janice on Friends, Maggie Wheeler had a longstanding role on this series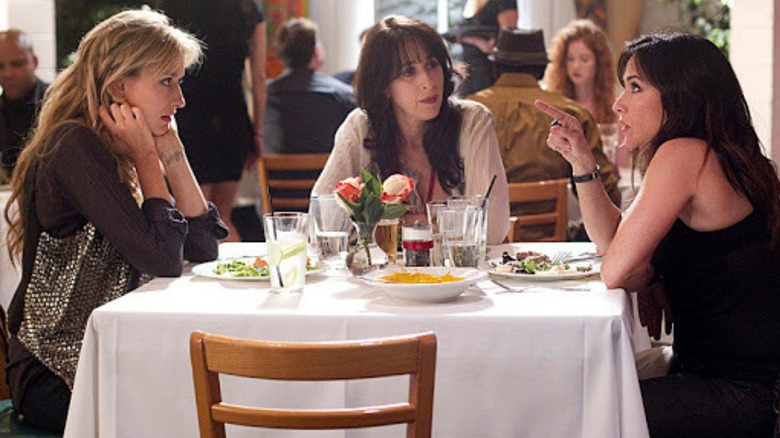 On "Friends," Maggie Wheeler's character, Janice, was definitely entertaining, and she appeared throughout most seasons of the show. But even in some smaller roles, Wheeler still found success. One example: Wheeler played Ophelia on "Californication" in 2013. The comedy/drama series was hugely popular during its seven-year run, and though Wheeler only appeared in five episodes for one season, it was still an impressive role that she thoroughly enjoyed.
In an interview with Closely Observed Frames, Wheeler said that her time on the series was certainly memorable. "When I worked on ["Californication"] I had a blast," she said. "That was so much fun. I loved every minute of that." Though it might not have been as memorable to fans as her time on "Friends," there's no denying that "Californication" was a beloved series, having won two Primetime Emmy Awards, in addition to racking up countless nominations for other awards as well. Having the opportunity to perform on such a prestigious show is no small feat, and it proved that her acting skills are quite impressive.
Friends actress Maggie Wheeler knows her acting career has been a bit of a roller coaster ride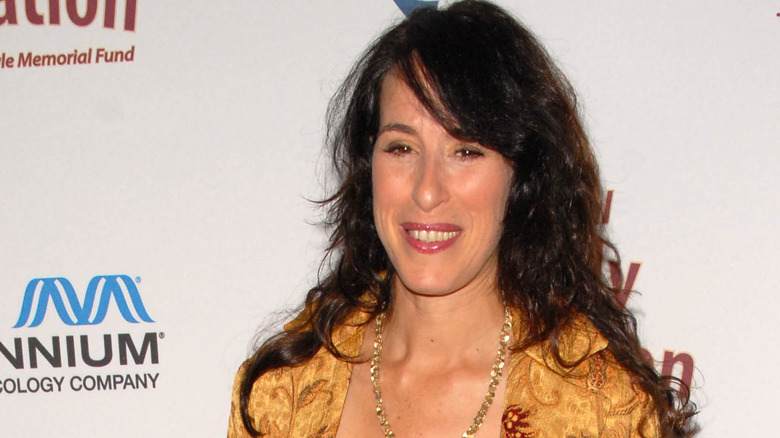 Though you might assume that Maggie Wheeler has had a pretty successful and impressive career since her time as Janice on "Friends" came to an end, she sees it in another way. Speaking to the Jewish Telegraphic Agency, Wheeler explained that she was well aware of how many ups and downs her career as an actor had faced. "Being a professional actress is akin to being a professional gambler," she said. "I love my acting work, but I don't have any control over how often I work."
Obviously, Wheeler has had plenty of great roles in her career, but it's understandable that she would feel it wasn't exactly steady. After all, no actor's career is really steady, is it? "I've been on a roller coaster as an actress throughout my whole career," she continued. And while that roller coaster might not always lead her to her next big break, from her experiences, it sure does sound like one that's a lot of fun to ride.
Maggie Wheeler, who's known for her recognizable voice, lends her voice to other projects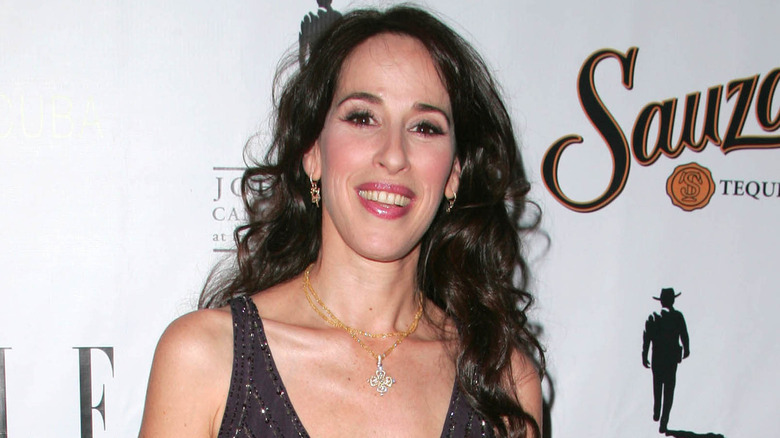 On "Friends," Maggie Wheeler as Janice has a very distinct voice that some might even call endearing, if a little annoying. Still, Wheeler's voice seems to be her golden ticket. Wheeler played Trinette McGoon in the animated series "Archer" for 11 episodes between 2009 and 2017. Obviously, as a cartoon, Wheeler's work was voice acting, something she has said she enjoys. 
In an interview with Closely Observed Frames, Wheeler said that she actually always thought she would find the most success with voice work. "I really, really love doing voice-over," she said of her work on "Archer." "I love doing cartoon work. I imagined when I moved to Los Angeles that that's how I would make my living because I had been making my living doing cartoons in New York." As noted by her IMDb page, in addition to "Archer," Wheeler has also done voice work for "Teenage Mutant Ninja Turtles," "Lilo & Stitch: The Series," "Kim Possible," and the 2019 cartoon remake of "The Addams Family," as Trudy Pickering. Clearly, Wheeler was right about her success in the voice acting business, because people clearly love to hear her talk.
Like many others, Friends star Maggie Wheeler had to pivot as a result of the COVID-19 pandemic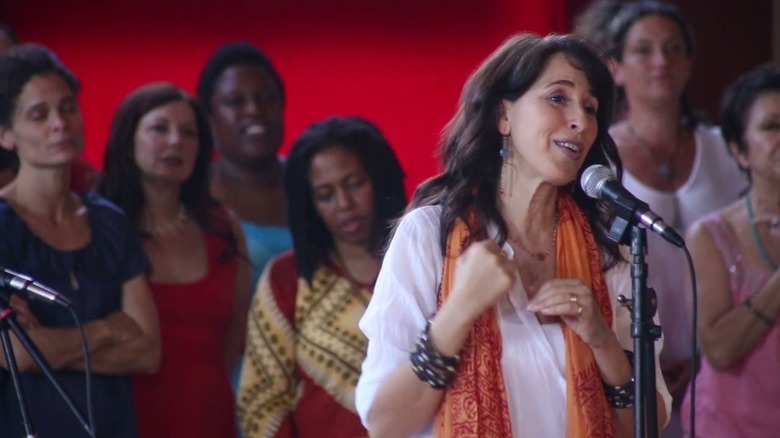 The coronavirus pandemic of 2020 really halted a ton of plans for people, especially in Hollywood. Movie premieres were postponed, television series had to stop production, and even morning news shows went virtual. And, for actress Maggie Wheeler, who played Janice on "Friends," the shutdown from COVID changed a lot of her plans as well, but it may have actually created a new opportunity for her.
In an interview with Closely Observed Frames, Wheeler revealed that the choir she had started years ago, the Golden Bridge Choir, was also impacted by the shutdown, but that it didn't stop her from getting creative and "pivoting," as they say. "When the shutdown happened I had to move the choir online and I also started a large … international online gathering called Together in Song that happens every Saturday," she said. "I have hundreds of people coming from all over the world and three guest song leaders every week." It's pretty impressive that even in the midst of a global pandemic, Wheeler wasn't held back: She managed to not only continue doing what she loved, but also involve others from around the world in a new way. Seriously cool.
Source: Read Full Article