On Valentine's Day fill your kitchen with the heavenly aroma of baked goodies.
Chef Sabyasachi Gorai provides two options.
The simple Walnut Tea Loaf features dried apricots, figs, dates and Earl Grey tea.
The classic melt-in-your mouth Maple Tea Cookies taste as good as they look.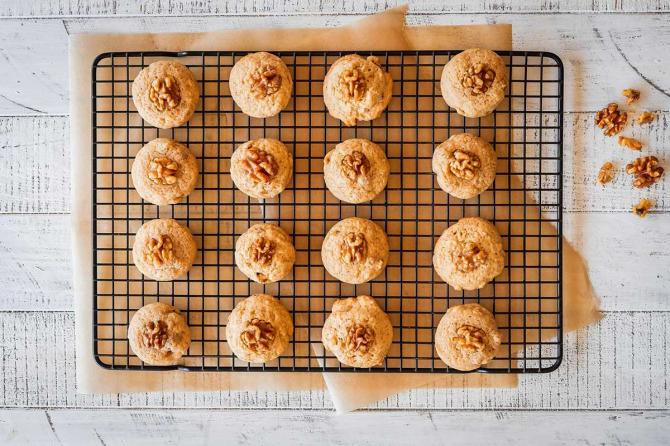 Walnut Maple Cookies
Servings: 12 cookies
Ingredients
1/3 cup firmly packed brown sugar
1 large egg
½ cup maple syrup
1 tsp vanilla essence
2 tsp baking powder
½ tsp salt
2 cups flour
1 cup walnuts, toasted and chopped + 12 whole walnuts,
12 tbsp or 170 gm unsalted butter, softened
Method
Preheat the oven to 180°C.
In a bowl, beat the butter, brown sugar until smooth.
Whisk in the egg.
Add the maple syrup, vanilla extract.
Stir in the baking powder, salt, flour, walnuts.
Scoop 1 flat tbsp each of the mixture, per cookie, onto the parchment paper lined-baking tray to get 12 cookies.
Make sure each cookie is roughly 1½ inch apart.
Place 1 walnut on top of each cookie.
Bake until light golden brown, for about 15 minutes.
Allow the cookies to cool before transferring them to a cooling rack.
Cool completely.
Serve or store in an airtight container.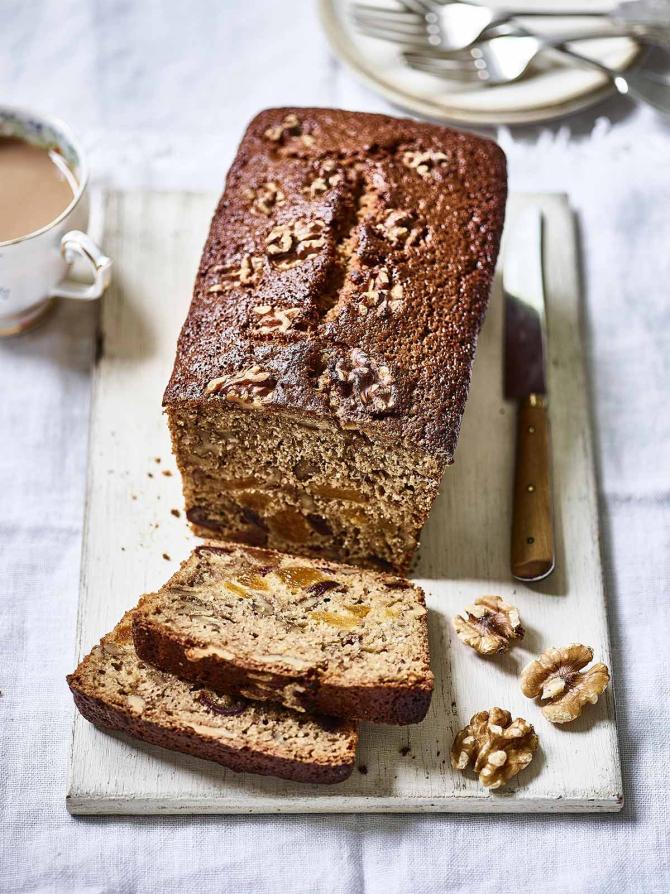 Walnut Tea Loaf
Servings: 1
Ingredients
100 gm dried apricots, roughly chopped
75 gm dried figs, quartered
75 gm pitted dates, roughly chopped
2 bags Earl Grey tea
2 medium eggs
250 gm self-raising flour (flour which has baking powder added)
200 gm light brown soft sugar
75 gm walnuts, roughly chopped + 12 whole walnuts
300 ml boiling water
Butter to grease the loaf pan
Method
Preheat the oven to 180°C.
Grease and line a 1 kg-loaf cake pan (dimensions: 9 inches x 5.5 inches x3.25 inches).
Mix together the dried apricots, figs, dates in a bowl.
Add the tea bags and pour 300 ml boiling water over the mixture.
Leave to soak for 20 minutes, and then discard the tea bags.
Whisk together the eggs, flour, sugar in another large bowl and stir in the chopped walnuts, dried fruits with the tea water.
Pour into the prepared cake pan.
Arrange the remaining whole walnuts on top.
Bake for 1 hour or until a skewer comes out clean.
Cover the cake pan with foil if the top begins to get too dark.
Allow the cake to cool before removing from the pan.
Cut into thin slices and serve warm.
Note: Check the manufacturing date on the packet of the self-raising flour. It should be less than 6 months.
If you don't have self-raising flour on hand, substitute the 250 gm or 2 cups self-raising flour, called for in the recipe, for 2 cups all-purpose flour or maida and 3 tsp baking powder and 1/2 tsp salt.
Chef Sabyasachi Gorai is a consultant chef and mentor.
Source: Read Full Article