Tom Holland has become the face of both Spider-Man and Marvel for a new generation of fans. Although Holland may be a heartthrob to some in his own right, not everyone sees eye to eye when looking at the actor. In fact, there was one person who told Holland that he'd get the part precisely because he wasn't good-looking. At least when compared to other potential Spider-Men.
Tom Holland ignored his agent's advice to nail his Spider-Man audition
Auditions can be nerve-racking for actors, and for Holland it might have been even more so considering the huge shoes he had to fill. In Variety's actors on actors video series, the actor recalled the arduous process he went through to nab the role.
"They always tell you that you did a great job and they will be in touch, and then six weeks go by and you're just waiting and waiting," Holland said according to Indiewire. "Eventually I got a screen test in Atlanta with six other kids and [Robert Downey Jr.] was there. We all tested with Downey, which was crazy. It went so well. It was the best audition I had ever done."
Holland's agents told the No Way Home star that Marvel liked actors to read their parts exactly. But when Downey Jr. went off script, so did Holland.
"My agents had told me that Marvel likes you to learn the words exactly and that you can't improvise and you can't do anything like that," Holland said. "I learned the words exactly, and then on the first take Downey just changed the scene completely, so we started riffing with each other."
Even after his audition, however, Holland was still uncertain if he won the role. However, there was one person who was certain the young actor was going to don the costume. And it was because he looked the part, for better or for worse.
Tom Holland was told he'd get Spider-Man because his competition was too pretty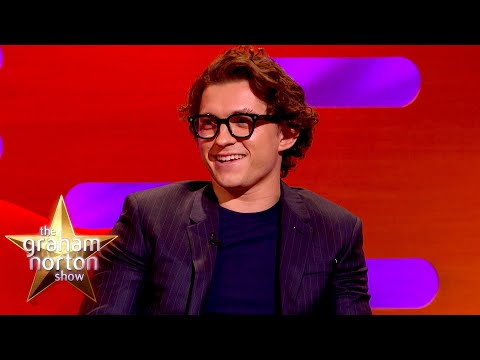 In an interview on the Graham Norton show, Holland went into a little more detail regarding his Spider-Man audition.
"It was a pretty typical process, it was just on a much grander scale. Something that went over seven months," Holland said.
He noted that he flew out to Atlanta several times for screen tests. On his way to his last audition, Holland was given a bit of a backhanded compliment when he was told his looks would get him the part.
"When I was going for my last audition, I was driving there, I was very nervous," Holland recalled. "And I had this driver, lovely guy, but a little bit too honest."
After conversing with the driver, Holland recounted that the driver started looking carefully at him. Studying Holland's facial features, the driver was convinced the actor would be the next Spider-Man.
"And [the driver] goes, 'You know what, kid, I think you're gonna get it,'" Holland said. "I'm like, 'Really? Why?' And I was excited to hear that. And he goes, 'You know, what? I think you're gonna get it because the kid that I just drove there, he is so good-looking.' That's exactly the confidence boost I need."
Holland and the driver had another exchange after he was cast.
"I saw him a few months later and I was shooting the film and he goes, 'I told you.' I was like, 'What'd you tell me? That I was gonna get the part, or that I was ugly.'"
Andrew Garfield also faced criticism for his looks as Spider-Man
Andrew Garfield was someone else who got a bit of flack for being cast as Peter Parker. But Garfield's problem was the exact opposite of Holland's. A fan once posted a thread on Reddit wondering why Garfield was seen as too attractive for Spider-Man. Other Redditors wondered the same thing, remarking that being a nerd didn't necessarily mean being unattractive.
"Garfield was indeed handsome, but peter used to be handsome too," one Redditor wrote.
"Anyone who's read or seen the comics should know peter is actually handsome, he's just awkward," another poster said.
Source: Read Full Article