There's always space for meetha, even when you're fasting, especially if it is made with amaranth flour and jaggery.
Ready in no time, Rajgira Sheera is a rare dessert option among all the savoury food choices available as vrat ka khanna.
The intense brown colour and melt-in-your-mouth texture resembles Aatte Ka Halwa, but this dish is naturally gluten-free and is considered healthier than wheat flour.
Make your Shravan slightly sweeter with this easy recipe.
Rajgira Sheera
Serves: 2
Ingredients
1 cup rajgira or amaranth aatta or flour
¾ cup ghee or cashew butter
½ cup sugar or jaggery powder, reduce or increase the quantity as per your taste
¼ tsp green elaichi or cardamom powder
2 cups hot water
1 tsp chopped almonds, to garnish
Method
Heat the ghee or cashew butter in a non-stick kadhai.
Add the rajgira aatta and roast over low heat, for around 8-10 minutes, stirring all the time, until its colour changes to golden brown.
Add the hot water and cook until the water is absorbed by the mixture over low heat.
Add the sugar or the jaggery powder.
Add the cardamom powder.
Stir and cook till the ghee begins to leave the sides of the mixture.
Take off heat, garnish with the chopped almond and serve warm.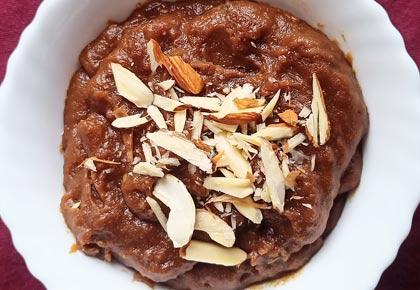 Source: Read Full Article