Kulthi dal or horse gram lentil is very popular in in many regions of India.
In Jammu, it's used to make khatti dal. The lentil is also used to make kebabs and pattice.
Taruna Deepak's Kulthi Kebabs are nutritious, vegan and gluten-free.
Have them with chai/drinks or pack them in your children's tiffin or sandwich them between slices of bread or in flatbread and serve with green chutney.
Add them to a meal of quinoa salad or vegetable biryani, to make the spread more wholesome.
Taruna is a food blogger and says blogging is her 'humble attempt to share my easy, simple yet flavourful and healthy recipes with some occasional indulgence'.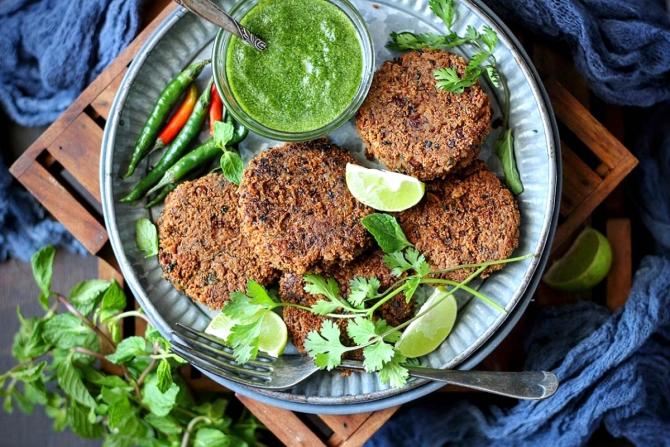 Kulthi Kebabs
Servings: 12-14
¾ cup kulthi dal or horse gram lentil
3 cups water
¼ cup chana dal
3 lavang or cloves
1 bada elaichi or black cardamom
Pinch dalcheeni or cinnamon powder
6-8 sabut kali mirch or black peppercorns
Pinch green elaichi or green cardamom powder
1 tbsp melted ghee or oil + extra to fry the kebabs
½ tsp jeera or cumin seeds
1½ tsp finely chopped ginger
2 tsp finely chopped green chillies
2 tbsp finely chopped fresh green dhania or coriander or cilantro
½ tsp red chilly powder
½ tsp aamchur or dried mango powder
3 tbsp poha or flattened rice
1 medium-sized potato, boiled, peeled and grated
Pinch hing or asafoetida
Large tej patta or bay leaf
Salt to taste, around 1 tsp
Green chutney to serve
Method
Wash the dals, separately, and drain.
Soak them separately in enough water and keep aside for 6-8 hours, preferably overnight.
Discard the water and transfer the kulthi dal into a pressure cooker along with the bay leaf, hing and ¾ tsp of the salt.
Add 2 cups of water and pressure cook the dal over medium-high heat for 2 whistles.
Take off heat and let the pressure release on its own.
Open the pressure cooker and add the chana dal (after discarding the water in which it was soaked).
Pressure the cook the dals together for 1 whistle and let the pressure release on its own.
The dals should be cooked but should not be too mushy.
Strain the dal in a large sieve and allow it to sit for 30-45 minutes, tossing it once or twice.
Meanwhile crack open the black cardamom and extract the seeds from the pod and discard half of these seeds.
Lightly roast the remaining seeds along with the cloves and the black peppercorns.
Once done, grind to a powder using a mortar and pestle.
Add the green cardamom powder and the cinnamon powder to the spice mix and keep aside.
Heat the ghee in a frying pan and add the cumin seeds.
Once they begin to fry, add the ginger and fry for 10 seconds.
Add the cooked dals and roast them over medium heat for 2-3 minutes to get rid of excess moisture.
The roasting time will depend on how well the dal is cooked.
If the dals are overcooked and mushy, you will have to increase the roasting time to get rid of excess moisture.
Be careful not to burn.
Once roasted, mash the dals.
If you are able to mash it easily, take off heat and keep aside to cool.
If there is moisture, roast further.
Soak the poha in 1 cup of water and keep aside till it softens.
Be careful not to oversoak it as the poha will absorb a lot of water and turn very mushy.
Drain the water and squeeze the poha to get rid of extra moisture.
Keep aside.
Coarsely grind or mash the dals and add the spice mix, ¼ tsp salt, red chilly powder, aamchur, green chillies, green coriander.
Add the poha and the grated potato.
Mix well so that everything binds together.
Divide the mixture and roll into 12-14 balls of 2-inch diameter.
Flatten the balls to the size and thickness you prefer.
If the the mixture is not coming together, and is too moist, add a bit more mashed potato or 2-3 tbsp breadcrumbs.
Shallow fry them in ghee or oil over high heat until golden brown.
Flip so both sides cook evenly.
Drain onto a paper towel or tissue-lined plate.
Serve hot with green chutney.
Editor's Note: For Jain Kulthi Kebabs replace the potato with one boiled, peeled and mashed green banana. And use 1 tsp saunth or dried ginger powder instead of fresh ginger, adding it later in the preparation, along with the chilly powder etc.
For a recipe for green chutney use Lahu Kapudskar's Mint-Dhania Chutney.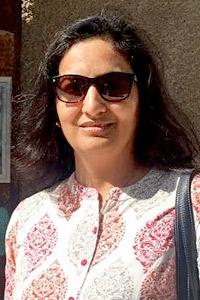 Taruna Deepak lives in Mumbai and is the creator of the food blog Easyfoodsmith.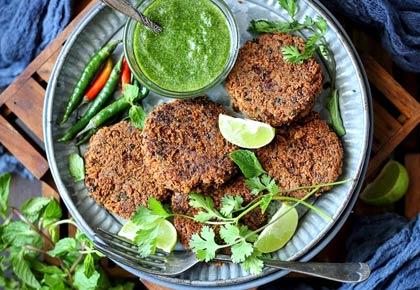 Source: Read Full Article