Gehun Ka Aata Ka Halwa was standard teatime fare in my home back in the day when guests actually came over for chai.
Someone or another would come dropping by in the somnolent afternoons, as the sun was going down, to sit on the verandah and gossip, drink cuppa after cuppa, tuck into hot bhajiyas, samosas, namkeen, chuda and something sweet and laze the time away. Do those days exist anymore?
We always preferred aata in our halwa to semolina or suji because the taste of roasted wheat flour is much more distinct and fragrant.
Aata Halwa is a very quick but sumptuous make. My Ammaji or grandmother (dadi) could make it with her eyes closed, double quick, the moment she saw a guest coming up the walk. So could my mother.
I prefer to strictly stick to precise measurements when cooking this halwa so nothing goes wrong because when the aata is roasting you would not like it to burn or under-roast or the dish to turn out soggy or too sweet.
My Ammaji's Aata Ka Halwa
Serves: 4-5
Ingredients
5-6 cashews, optional
½ tsp oil to fry the cashews
8-12 tbsp ghee
1 cup gehun ka aata or wheat flour
¾ cup sugar
½ cup golden raisins, washed, whole or, if preferred, sliced in half
1 cup water
Seeds of 4 pods green elaichi or cardamom, crushed
Method
Cut each cashew in half and then split so you have four pieces.
In a little frying pan with a dot of oil, roast the chopped cashews, stirring all the time, over low heat, carefully – they can burn very quickly.
When they become pinkish — not even a hint of brown please — take off heat.
And empty onto a plate.
If they remain in the hot frying pan they will continue to cook and can burn.
Keep aside to cool.
In a heavy-bottomed kadhai melt 8 tablespoons of ghee over low heat.
Add 1 cup aata or wheat flour (gehu ka aata) and there should be enough ghee to have a slurry of wheat-ghee roasting (please see the pic above).
If not, add a little more ghee.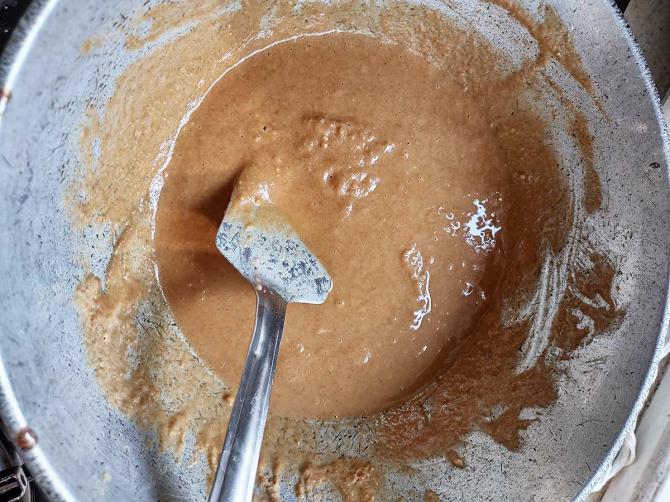 Turn the heat up a tiny bit, stirring all the time.
The colour will slowly start to darken, till quite brown not burnt or too brown, but like a dark toffee colour (like in the pic above) — it will take about 20 minutes.
The colour you get after bhunoing or roasting the wheat flour with the ghee will be the final colour of your halwa.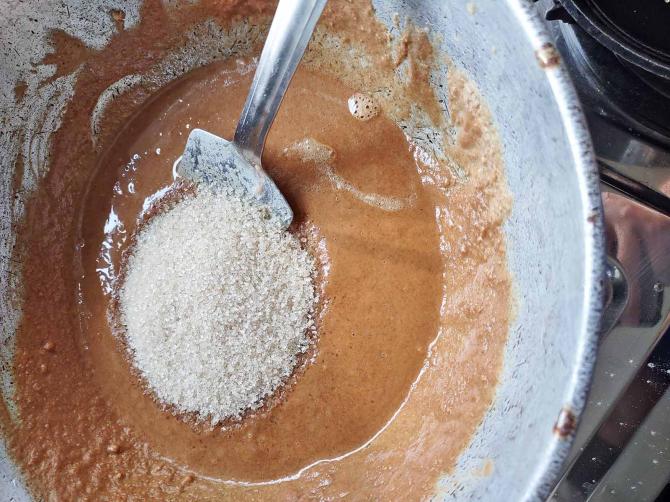 When the wheat flour has roasted to the right colour, lower the heat and quickly add, in succession, ¾ cup sugar, ½ cup washed whole golden raisins (if you prefer, you can chop the raisins), the green elaichi or cardamom powder.
Working quickly, give it a mix and then add the water.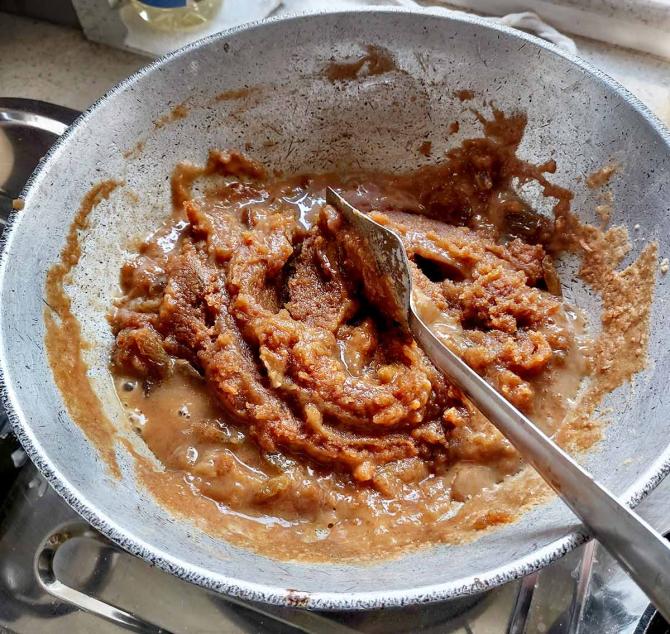 Pour the water in slowly and increase the heat marginally (please see the pic above).
Start with less water.
First add half of the water and let it cook for a few minutes, because you don't want too wet halwa.
It will start swelling after those few minutes.
Fry a minute or two more.
Stir constantly.
Then add all of the rest of the water, if required.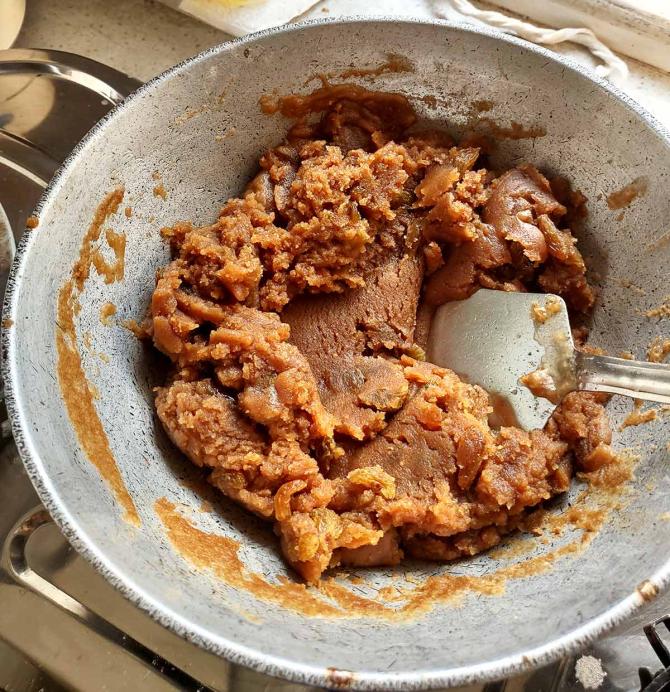 The halwa will cook very quickly, in about 3-4 minutes, and may seem slimy, but that's fine — it will dry out (please see the pic above).
Add the roasted cashews.
Always serve warm.
The halwa can be stored in the fridge for a few days.
To reheat, sprinkle a tiny bit of water and warm on low.
Zelda's Note: For vegan halwa, replace the ghee with cashew butter.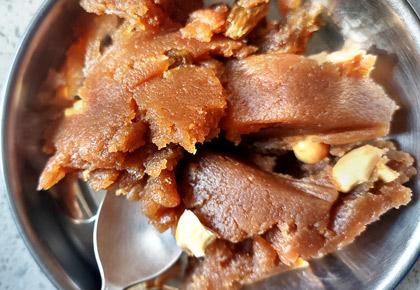 Source: Read Full Article